Family-inspired careers
Two doctors say their grandparent's experience influenced their choices.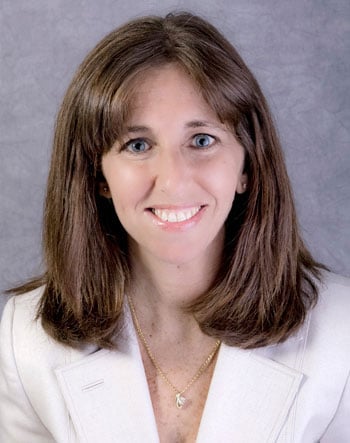 Debra Camal, M.D.
While she was in medical school, Debra Camal, M.D., the Breast Center's medical director, learned there was more to being a good surgeon than technical skill.
"My grandmother had surgery, and i waited for the doctor to come out and tell me how it had gone," says Dr. Camal, who lives in Holmdel with her husband, Thomas (an employee of the New York Transit Authority), three children and one nephew who is "our fourth child." "Finally i went to the nurses' desk to inquire, and they told me he'd left hours ago. i learned forever that family is a part of the process, and while the surgery is important, without communication you lose their confidence."
Dr. Camal was drawn to medicine starting at the age of 5, and urgery interested her most. "i like taking things out and putting them back to fix problems," she says. she attended medical school at the State University of New York Downstate and recalls: "When i started my surgery rotation, i knew that was it from day one." Next came an internship at Brown University, followed by a surgical residency at the University of Medicine and Dentistry of New Jersey.
After joining a general surgery practice, Dr. Camal found that she most enjoyed working with women contemplating breast surgery—again, because of their need for communication. "i like talking to people," she says. "I enjoy discussing treatment options and explaining the pluses and minuses of each."
Big Yankees fans, her family likes to travel to different stadiums to watch baseball, and a trip to Fenway Park in Boston this summer brought their total to 10, she says.
Vlady Ostrow, D.O
After his family emigrated from Russia when he was just 2, Vlady Ostrow, D.O., pediatric endocrinologist, watched his grandparents suffer from chronic illnesses such as diabetes and hypertension. When his grandfather died of a heart attack, "I wished something more could have be done," he says. That wish helped propel him into the medical profession.
Dr. Ostrow, 34, grew up in Philadelphia. He earned his medical degree at Philadelphia College of Osteopathic Medicine and completed residency training at Crozer-Chester Medical Center Department of Pediatrics in Upland, Pennsylvania. He also did a pediatric endocrinology fellowship at St. Christopher's Hospital for Children, Philadelphia.
Pediatric endocrinologists specialize in treating diabetes, thyroid and other hormonal abnormalities in infants, children and adolescents. "I always enjoyed caring for children, but i wanted something more specific than general pediatrics," he says. "And i became very interested in endocrinology—the interplay of the many hormones in the body and how they affect its different organ systems."
Now living in Morganville, he and his wife, Liya, 29, a pediatric dentist, are expecting a second child in December to join their son Julian, 3. "Technology is my vice; gadgets are my obsession," he says, noting his latest purchase, an iPad. He also enjoys being outdoors with his family.
Dr. Ostrow traveled back to his hometown of Kiev in 2004. "I wanted to see where i came from," he says. "I even went to our old apartment, and a woman who was our neighbor is still there. She walked us to the train station when we left Russia in 1979. She still had pictures of our family. It was a nice reunion."