Family Magic
An entrepreneur breathes new life into her grandmother's long-dormant toiletries company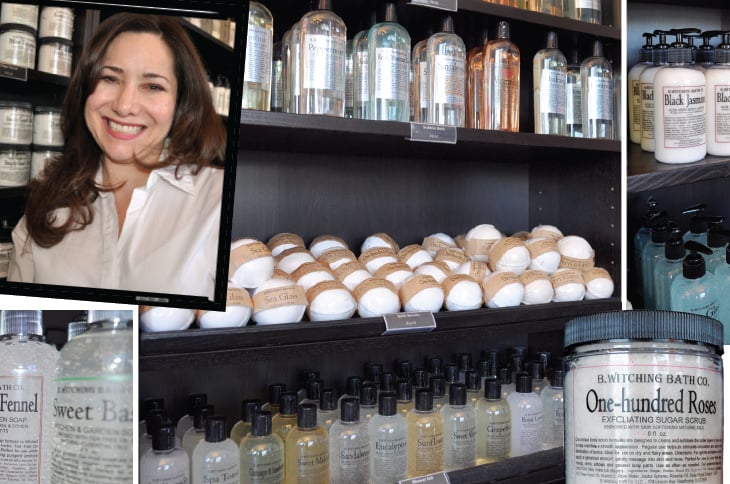 Perhaps you've wandered past that teenytiny storefront on Ridgewood Avenue and wondered what could possibly fit? It's the B.Witching Bath Company, which sells wholesome bath and beauty products there as well as from its corporate headquarters in Hawthorne, online and in almost 700 stores nationwide. We talked to company president Barbara Bruce-Ross about the business:
HOW DID THE COMPANY GET STARTED?
My grandmother, Alice Bruce, began it in 1969. She was handmaking toiletries, first to alleviate dry skin and eczema issues, then eventually creating other products and fragrances. She did that for several decades until her health failed. The family ended up closing down the business, and it was dormant for around 10 years.
HOW DID YOU GET INVOLVED?
When my grandmother was very ill, I used to go and visit her. In August of 2001, I was visiting and she showed me a box. Inside it, she said, were all her formulas. How would I feel about restarting the company? I was like, "Gram, I'm not a chemist." She said to me, "But Barbara, you're a businesswoman." At the time, I was working in finance. I brought the box back to my apartment in Fort Lee, then 9/11 happened, and I was staring at this box in the corner. Eventually I started going through all her papers, asking her questions and playing with formulas. I hired a laborator y in Seattle so that I could work with the people there after the market closed in New York. I was still working my "day job" until about three years ago.
WHAT KINDS OF PRODUCTS DO YOU CARRY?
Lotions, soaps, scrubs, massage oil, shaving jelly, candles and more. We still carry my grandmother's original product, which is the One-hundred Roses Therapeutic Cream. The active ingredients are lanolin and rose hip oil.
WHAT ARE THE MOST POPULAR FRAGRANCES?
One-hundred Roses, Spa Tonic and Sea Glass. I tell customers you want to shop according to a fragrance you enjoy because if you love the aroma, you're going to use it, and if you use it, your skin is going to look spectacular.
WHY DID YOU PICK RIDGEWOOD FOR YOUR RETAIL STORE?
I loved Ridgewood's downtown environment. I love downtown, Main Street U.S.A. I am trying to preserve that little bit of American history. And I love doing business personally. We're not a chain. We know the names of our customers when they come in, and I really wanted that.
DO YOU DO ANY CHARITABLE GIVING?
A portion of our proceeds is donated to the Bruce Museum in Greenwich, Conn., which was started by my family. But more locally, we have a fabulous program called the Soap Box Sale. A charity can take over our store for the day and receive 50 percent of the total sales for that day.
WHAT DO YOU LOVE MOST ABOUT YOUR JOB?
A few things. One is the way we do business as a company. It's very oldfashioned, and that follows through to how I treat employees, how I expect them to treat me and how we treat customers. I don't care how much money we make, it's just the way we're going to do business. Another thing is the creativity. To create products, have them manufactured for us and then sell them is amazing. And maybe a couple who are completely in love takes a bubble bath using one of my products. It's brilliant! We touch so many lives.
GETTING THERE
B.WITCHING BATH COMPANY
103½ E. Ridgewood Ave.
Ridgewood
201.444.0333
bwitchingbathco.com
Related Read: Bergen County's Best Independent Stores 2012