Farewell To Fussy
Thanks to a daughter's advice, an ornate décor in Wyckoff gives way to a cleaner, fresher look.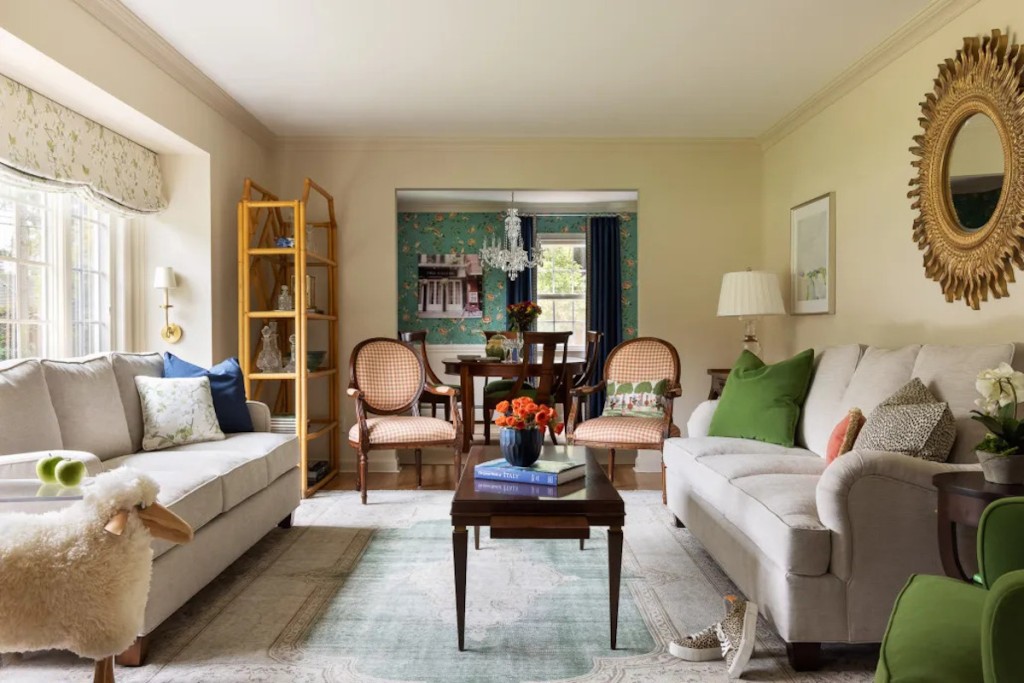 Families are known for sharing, not just good times and traditions, but anything that makes life special. For one Wyckoff homeowner, the sharing involved the name of an interior designer who opened her world to new possibilities—after her daughter first discovered the designer's skills.
Liz had long admired the new designs taking shape in her daughter's house across the street. She finally decided, with a little family persuasion, that it was her turn to redecorate. "My daughter said to me one day, 'Mom, why don't you do something?' And the more I thought about it, the more I thought, you know, a change would be fabulous," Liz recalls. That's how the April 2021 redesign of this four-bedroom extended cape built in 1964 got its start.
Before Wyckoff-based designer Terri Fiori restyled her living and dining rooms, Liz says, her décor was "fussier," with ornate Italian pieces. Collected through a life of many moves, her furniture didn't entirely suit her home of the last 12 or so years, she says.
Fiori's solution is what the designer calls "fresh traditional." "When you have the same style in the room, everything becomes very vanilla," says Fiori. "But adding unexpected touches—it's that yin and yang that makes the room interesting."
Liz remembers how Fiori listened and observed to get a feel for her tastes—right down to the birds she had inadvertently added to every room's décor. Based on her client's bright and happy personality, Fiori introduced pops of color, such as apple green, berry and even (for a lamp) turquoise. It's no surprise that the dining room's chinoiserie wallpaper is not only teal but also features birds.
Because the home's new open flow makes the dining room visible from both the living room and the entry foyer, the wallpaper needed to serve as a "destination" for the eye, says Fiori. The dining room made use of an existing crystal chandelier and mahogany table that happened to be "timeless" with apple-green reupholstered seats. Some modern elements for that fresh vibe included "Two Sisters," a print on acrylic that contrasts with the more traditional chinoiserie, and acrylic rods for the navy window panels with braided tape banding. For texture against hardwood floors, Fiori introduced a sisal rug, which she says grounds the space. "If we had put an Oriental rug there, it would have been completely traditional," she says.
What Liz did to style her home really was a family affair, since this mother of four children and nine grandchildren often hosts her family for the holidays. Any design of the living room had to fit at least 17 people. Fiori met the challenge with two full-sized, oatmeal-colored sofas by Chaddock along with dual checked gingham bergère chairs in berry and the apple-green armchair that Liz calls her throne.
The living room subtly connects two vibrant rooms; both the entry foyer and dining room have captivating walls. So Fiori worked to ensure that the living room, in soft taupe with pops of color, did not overwhelm but hinted of what was to come. The berry and greens look "almost as if we pulled them from the [dining room] wallpaper," she says. Completing the look are blush-toned floral Roman shades, which don't "fight with the beautiful view outside," as well as cheetah pillows, a starburst mirror and a streamlined cocktail table.
For the living room to perform as a true bridge depended heavily on the imported wool rug, which features a soft-green oversized medallion that helps balance the look. As the unexpected touch for that yin and yang, Fiori featured a cobalt blue table with a marble top by Ambella Home, and for vintage, there's not only the rattan shelving from 1stDibs but a wood-andwool sheep, which is fun but functional with its acrylic top.
"Less is more," says Liz, summing up the design wisdom that helped her home shed its ornate persona. "It gave me a feeling of renewal."
Text by Donna Rolando
Design by Terri Fiori
Photography by Mike Van Tassell