Fighting Cancer with Radiation
Effective treatment requires the finest technology—plus skillful, caring professionals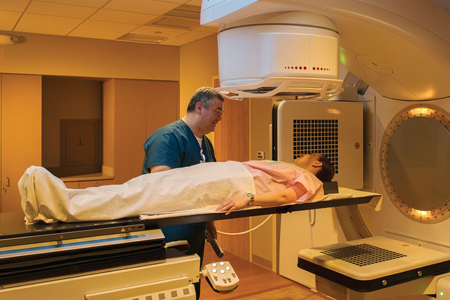 Choosing a place to go for radiation treatment for cancer? You'll want to look for up-to-date technology, because the equipment that delivers radiation therapy is constantly improving in its ability to target cancer cells precisely without harming nearby healthy tissue.
Fortunately, Saint Barnabas Medical Center recently added three new pieces of equipment designed to do just that:
The Elekta agility linear accelerator can deliver stereotactic body radiotherapy, which employs a three-dimensional coordinate system to precisely locate and target small, well-defined tumors in the body while minimizing radiation to adjacent normal tissue and allows treatment of small- or moderate- sized tumors in either a single dose or a limited number of doses.
The wide bore 4-D computed tomography (CT) scanner can account for the movement caused by the patient's breathing as it delivers radiation. "This scanner helps find the tumor more accurately and spares normal structures," says Alison Grann, M.D., chair of the Department of Radiation Oncology.
Finally, a new ultrasound system is now in use specifically for women with breast cancer. Following a lumpectomy procedure (surgical removal of a tumor leaving intact the surrounding breast tissue), the system takes images of the cavity left after the tissue is removed, in order to better define the treatment area for radiation. It is aimed at making sure the margins of the cavity are more accurately defined to better pinpoint the treatment. "Ours is the only such ultrasound system in New Jersey," says Dr. Grann.
Of course, technology is only part of what a prospective patient looks for in a radiation treatment center, as the doctor explains. "The key to a good department is the staff," she says. "Having excellent physicians is critical, but there is more to delivering radiation than the physicians. You also need good physicists, who oversee the machines and ensure that the radiation is delivered safely and accurately. And you need a dosimetrist— the professional responsible for creating a radiation treatment plan—who is well trained in radiation treatment particulars, including the dosages, the angles of radiation and the timing involved."
Every day the department staff at Saint Barnabas, which also includes nurses, radiation therapists and social workers, meets to discuss the plan for treating each patient. Staffers meet again before the therapy is started. "One error could have critical consequences, so we have multiple layers of oversight throughout the process," says Dr. Grann.
"We take care of both the technical side and the patient as a whole," she adds. "We recognize that every patient is different, and we listen to our patients to try to make things as easy as possible for them. We really care."—d.l.