Fink's BBQ [Restaurant review]
This Dumont standout blends local flavors with Southern soul—a tasty combo for summer.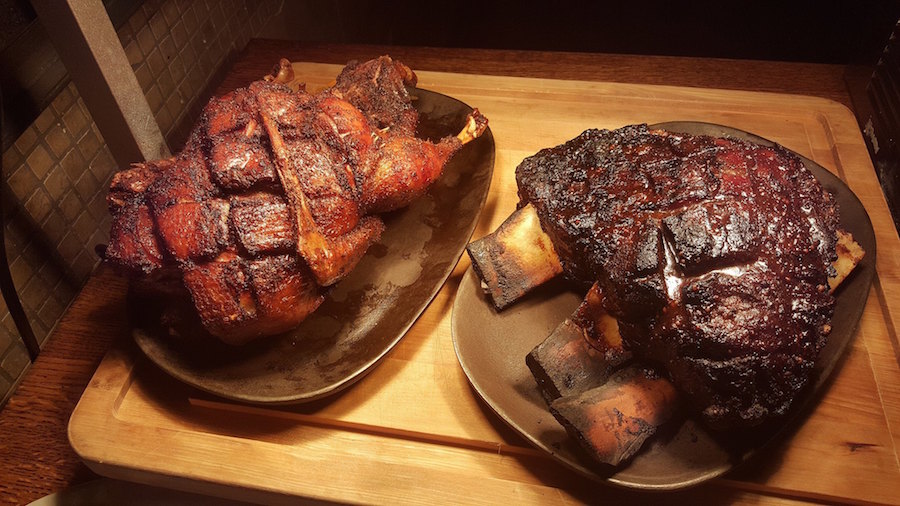 When in the mood for a summertime cookout, I toss a couple of steaks, burgers and hot dogs on the backyard grill to share with family and friends. But when the taste for real barbecue hits, I leave it to a place like Fink's BBQ Smokehouse in Dumont to replicate that Southern-comfort flavor I crave.
I visited Fink's on a recent rainy evening to celebrate summer's eve. The eatery is located along busy Madison Avenue, where commuters catch city-bound buses and locals browse the windows of the varied storefronts. That homey, neighborhoodtype feeling is also captured inside the restaurant. A wall separates the very active U-shaped bar and relaxed dining room, where my guest and I sat, but every inch of this establishment says, "All are welcome here." (The inviting aroma of smoked meats might have something to do with that.)
To start, we shared a plate of Fink's popular Porkenfries, a blustery mix of crispy french fries and tender pulled pork that's slathered in cheddar and Muenster cheeses with a dollop of sour cream on top. Forget this appetizer if you're counting calories, but give it a shot if you want moist, sweet pulled pork that has enough vinegar-based bite to please any proud Carolina barbecue pro. Tip: Eat these fries with a fork so you get the pork and cheeses with every bite.
If you have a hankering for more meat (that is why you're here, isn't it?) and you don't want to limit what goes on your plate, the Pit Sampler at just under $20 is a great deal—and so I ordered it for my main course. The platter comes neatly arranged with six spareribs, a hefty mound of chopped beef and more of the delicious pulled pork featured in the Porkenfries. Already knowing the top quality of the pork, I dove for the ribs to give them a taste. Pit masters use just the right amount of rub as to not detract from the natural flavor of the rib, and they drizzle an appropriate amount of sauce so diners don't get overly sticky fingers. And while many might argue that fall-off-the-bone ribs are actually overcooked, the meat of Fink's ribs fell right off and were among the most tender I've ever tried. The morsels of delicate beef were just as flavorful as the pork, but these cubed cuts were definitely overshadowed by the ribs.
Fink's fires up other meats too—and it does them just as well. My friend enjoyed a pair of buttermilk-fried chicken sliders that she customized with a mashedpotato- and-honey topping. Though her chicken was mouthwatering and cooked to perfection—crisp outside, tender inside—my friend stared longingly at the amount of food on my end of the table. Even our sides—a light corn soufflé and bourbon glazed roots like carrots and yucca—couldn't stop her from reaching over to grab a few forkfuls (and a rib) off my plate. Good food, after all, is meant to be shared.
After our feast, we decided to share the chocolate soufflé for dessert. I'll admit that we were overwhelmed by dinner, so much that we couldn't finish the sweet treat—a shame because the soufflé was a delight. I'd be remiss not to mention the attentive staff, particularly Chad, who explained the menu and alerted us to available alternatives and substitutions. Also of note are the options offered to seafood lovers and non-carnivores: There are shrimp and catfish dishes and assorted salads that might even tempt the biggest meat eater.
But let's be honest: Pork, beef and poultry rule at Fink's, and they certainly do it all right. —Darius Amos
Fink's BBQ Smokehouse, 26 W. Madison Ave., Dumont, 201.384.3210; finksbbqsmokehouse.com