Fixing reflux
An incisionless procedure may relieve GERD when medications don't.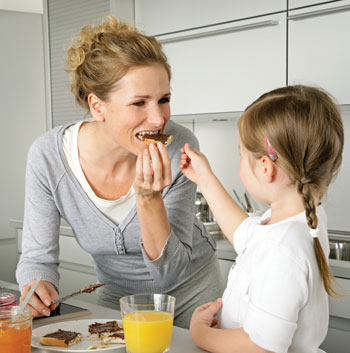 Seventy-five-year-old Suzanne Childers wasn't asking for much from life, but one simple pleasure eluded her. "At my age, i should be able to drink an extra glass of soda if I want," she says. But because Childers is one of the estimated 15 million Americans diagnosed with chronic gastro-esophageal reflux disease (GERD)—also known as acid reflux—severe heartburn was keeping her from enjoying soda as well as many of her favorite foods.
A widow with two daughters and one grandchild, she suffered from severe reflux that was not relieved by multiple anti-reflux medications. So she turned to the specialists at the Center for Minimally invasive Esophageal and Gastric Surgery at Monmouth Medical Center, where a cutting-edge endoscopic treatment option for severe heartburn known as EsophyX is offering patients lasting relief from this chronic condition.
in October, Monmouth gastro-enterologist Ben Terrany, M.D., and minimally invasive surgeon Steven J. Binenbaum, M.D., performed the incisionless procedure that is an alternative to conventional surgery.
"GERD causes the backward flow of the stomach's acidic contents, or reflux, into the esophagus," Dr. Terrany explains. "The lower esophageal sphincter valve— the muscle that lies at the base of the esophagus and the stomach—normally acts as a barrier to keep food in the stomach, but this valve is usually weak or relaxed in an individual who has GERD."'
He notes that the EsophyX device provides an incisionless solution to a disease that today is typically treated with medications, either proton pump inhibitors (PPIs) or histamine receptor antagonists (H2 blockers). While medications often alleviate GERD symptoms, they don't solve the underlying anatomical problem and generally don't stop disease progression, according to Dr. Terrany.
"GERD could be a progressive disease, and the medications may lose their effectiveness over time," he says. "Since pharmacological therapy does not treat the underlying causes of reflux, the deteriorated anatomy of the anti-reflux barrier, lifelong medication therapy is re- quired for most people. For certain patients like Suzanne with severe GERD, medication and lifestyle changes bring little or no heartburn relief. The EsophyX procedure can allow these patients to return to a normal lifestyle without medication or dietary restrictions and provide a long-term solution to what for some is an everyday problem."
This revolutionary endoscopic procedure corrects the root cause of GERD. With the patient under general anesthesia, the EsophyX device is introduced into the body through the mouth and advanced into the esophagus under visualization of a video camera inserted down the central shaft of the device. The device is then used to form and fasten several tissue folds to create a robust anti-reflux valve at the gastroesophageal junction, resulting in the ef- fective elimination of GERD.
Most patients go home the next day and can return to work and most normal activities within a few days. In the weeks following the procedure, a natural healing process fuses and cements the tissue folds to create a durable anti-reflux barrier.
"This is a completely incisionless procedure performed safely, quickly and with minimal patient downtime," Dr. Terrany says. "The procedure is called a natural orifice surgery (NOS) procedure because the EsophyX device is introduced into the body through the mouth, rather than through an abdominal incision."
Advantages of incisionless surgery over conventional laparoscopic or open GERD surgery include shorter hospital stays, less patient discomfort, faster recovery, no visible scars and typically higher patient satisfaction. The procedure effectively eliminates GERD, according to Dr. Terrany, who is fellowship-trained in gastroenterology and holds board certification from the American Board of Internal Medicine and in gastroenterology and liver disease.
"My condition is 90 percent improved," says Childers. "In the first week, I was restricted to a liquid diet," she says, adding that she "never wants to see chicken soup again." After that, she was able to "pretty much eat whatever I wanted." Now she is off all anti-reflux medications and has returned to her active lifestyle.
"I keep busy," she says, noting that she is an active volunteer with First Baptist Church of Long Branch's Family Promise program, which, along with a host of other area churches, hosts families in need of places to stay.
What is GERD?
Gastroesophageal reflux disease (GERD) is the frequent movement (reflux) of stomach acids back up into the esophagus. Most people experience such reflux from time to time as heartburn, a burning sensation below the breastbone that occurs after eating or at night. GERD is believed to affect 10 to 20 million Americans.
People with GERD usually have an abnormal function of the valve-like tissue structure between the stomach and the esophagus. GERD may be aggravated by other factors, including obesity and smoking.
While most people with GERD will lead a fullly normal life, a few develop complications. Chronic irritation of the esophagus by stomach contents, for example, may lead to the growth of abnormal lining cells, a condition known as Barrett's esopha- gus. GERD has also been shown to be a risk factor for the development of cancer at the site where
the esophagus and stomach join.
To find out more about the EsophyX incisionless procedure to treat GERD, please call 888-SBHS-123.