Flavorful Flowers
Edible blooms such as roses, marigolds and pansies add a dash of color and a special taste to your spring dishes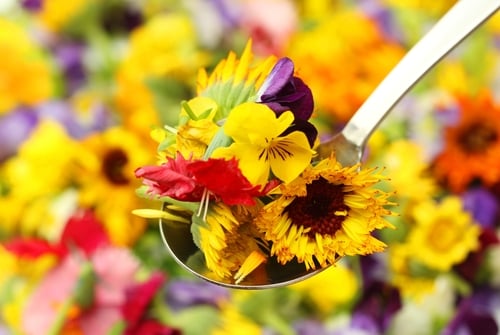 Did You Know?
Flowers moved from the garden to the table more than two millennia ago. The Romans—no strangers to the pleasures of the palate—enlivened a variety of dishes with roses and violets. The Chinese have long spiced and beautified their food with daylilies and chrysanthemums. In the 13th and 14th centuries, English cooks plucked roses, elder flowers and hawthorn blossoms to add flavor and zest to drinks, soups and sauces. And the pickled flower buds of the Mediterranean evergreen Capparis spinosa have been used in cooking for more than 2,000 years (today we call them capers). In fact, if you've ever enjoyed saffron rice or savored a stuffed artichoke, you're well acquainted with edible flowers: Saffron is composed of the dried golden stigmas of the autumn crocus (Crocus sativus), and artichokes are essentially oversized flower buds. Many flowers are edible, though not all are flavorful. (For a useful list, go to ces.ncsu.edu and search "edible flowers.") Among the best-tasting, with flavors that range from peppery to sweet, are carnations, dandelion buds, daylilies, marigolds, nasturtiums, chive and squash blossoms, dianthus, hibiscus, lavender, pansies and violets, and most herb blossoms.
Power
Edible flowers are gorgeous, yes, but they're also good for you. Many are rich in vitamins C and A and offer a wealth of other nutrients. Borage flowers, for example, contain B vitamins, calcium, iron and disease-fighting linolenic acid. Hibiscus blooms—which can be boiled to make an herbal tea—deliver calcium, phosphorus, iron, B vitamins and vitamin C. The blossoms of most herbs have nutritive and medicinal properties (and flavors) similar to those of the herbs themselves.
Buy · Store · Grow
You can buy edible flowers in season at farmers' markets and some supermarkets, but since blooms offer optimal flavor, texture and nutritive value when freshly picked, it's best to grow them yourself, organically. Never harvest harvest roadside flowers or use florists' blossoms, both of which are likely to carry pesticides, and don't eat any flowers you aren't sure are safe, since many—including azalea blossoms and lilies (except for daylilies)—are toxic. Pick flowers in the morning and store them in the refrigerator for as short a time as possible between damp paper towels in a plastic bag or container. Rinse them well and pat dry just before serving. Unless you're using pansies, violets or violas, you'll also want to remove bitter-tasting pistils and stamens.
RECIPE
Sauteed New Potato Salad with Watercress and Chive Blossoms
Ingredients:
²/³ cup extra virgin olive oil, plus 3 Tbs. for the dressing and 1 Tbs. for sautéing
1 Tbs. lemon juice
2 bunches watercress (you can also use baby spinach)
2 lbs. new potatoes, sliced into ½ inch rounds
¼ cup balsamic vinegar
1–2 Tbs. Dijon mustard
1 tsp. coarse salt
Freshly ground black pepper to taste
10–12 chive blossoms (if chive blossoms are out of season, you can use a mixture of chopped chives and virtually any edible herb blossom)
4–8 nasturtium flowers
Preparation:
Whisk together the lemon juice and 3 tablespoons extra virgin olive oil; toss the watercress in the dressing.
Sauté the potatoes in 1 tablespoon olive oil over medium heat until just golden brown.
Whisk together the vinegar, mustard, salt, pepper and ²/³ cup extra virgin olive oil, then drizzle over the potatoes.
Place a portion of the watercress on each plate, then top with potatoes. Separate each chive blossom into small florets and sprinkle on top of the potatoes.
Garnish each serving with nasturtium flowers.
Related Read: POWER FOOD Meet the Kiwi