Floral Notes
Flowers and springtime go hand-in-hand, so try Mexico's most beloved cocktail—sorry, margarita. After one sip of this fruity, tequila-based conconction, it'll be a favorite of yours too.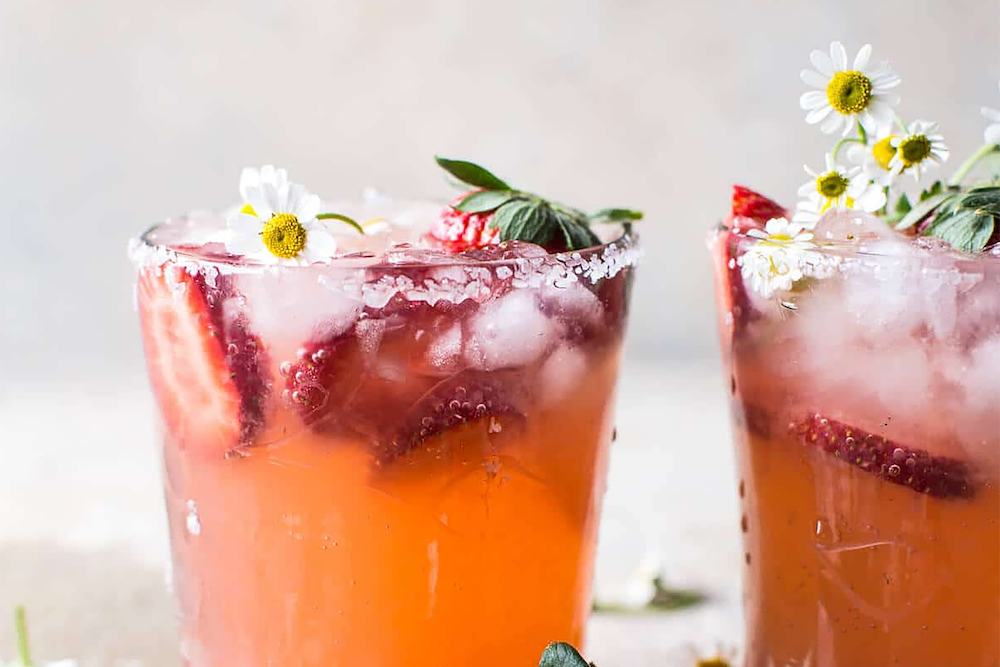 INGREDIENTS
FOR THE CHAMOMILE HONEY SYRUP:
¾ cup water
⅓ cup honey
1-2 chamomile tea bags
FOR THE DRINKS:
3 oz. fresh grapefruit juice (about half of 1 grapefruit)
2-4 Tbs. chamomile honey syrup, depending on your taste
2 oz. tequila
4 fresh strawberries, sliced
sparkling water for topping off
crushed ice
INSTRUCTIONS
CHAMOMILE HONEY SYRUP:
Combine water and honey in a small saucepan and bring to a low boil, simmer 1 minute and remove from the heat. Add the tea bag, cover and steep for 5-10 minutes. Remove the tea bag and allow the syrup to cool completely. Store in the fridge.
DRINKS:
Add the grapefruit juice, chamomile syrup, tequila and strawberries to a glass. Using a muddler (or even the end of a rolling pin), gently push the strawberries down until they release their juices and are lightly smashed. Add a handful of ice and then add sparkling water to top off. Give the drink a gentle stir. Taste and add more chamomile syrup if desired. Garnish with fresh chamomile flowers (yes, they're edible!) and strawberries if desired.
"Substitute the grapefruit juice in this recipe for fresh pomegranate juice. Grapefruit juice is a bit too acidic and pomegranate juice would taste more pleasant, plus it's full of antioxidants."
—Rosalio Roja, chef, Riviera Maya, Bogota