Focus on Pets
A professional photographer's tips for taking memorable photos of your furry friend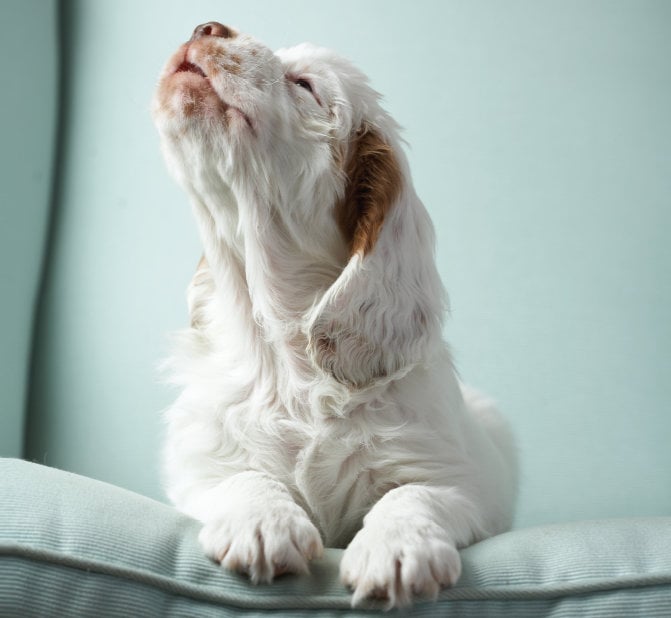 What do paint cans, pit bulls and pumpkin pies have in common? All are among the many subjects that have been captured through the lens of photographer Laura Moss. The Jersey City resident's work has appeared in the pages of Better Homes and Gardens, Country Living and House Beautiful. She's also the creative mastermind behind many of the covers and feature articles you see in Bergen Health & Life.
Moss previously volunteered her talents to the Liberty Humane Society in Jersey City, serving on the board of directors and taking photos of adoptable pets so that they're more appealing to potential new owners. She also develops annual calendars called "For the Love of Pit Bulls" (available on amazon.com), which feature whimsical shots of the often-misunderstood breed. Here she offers six tips on capturing a frame-worthy photo of your prized pet—no fancy equipment required:
Relax.
"Your pet will be nervous if you are," says Moss. "If you want a picture of your dog acting calm, speak to him calmly and put him in situations where he's comfortable. Then just hang out with him and capture him in his own environment."
Get dirty.
If your pet doesn't mind the camera, try to be as close to him as possible. "Get down on the ground so you're on your pet's level," advises Moss. "I usually end up completely covered in dirt by the end of a shoot."
Make noises.
"Sometimes making high-pitched sounds will prompt a pet's interest—causing him to look up at you with his ears cocked and head tilted, which makes for a great picture," she says.
Consider the background.
"Black dogs are better against dark backgrounds, like a dense forest, a stone wall or even a dark couch. Almost all pets—white pets especially—will photograph better on an overcast day or at dawn or dusk than in bright sunlight. And always avoid settings that have a mix of lighting, like under a tree when the sun is mixed with the shade."
Explore and experiment.
Gone are the days of expensive film developing. Digital cameras allow users to take as many photos as they'd like and pay to print only the best shots. Moss recommends using this to your advantage: "Take a lot of photos, experimenting with different angles from different levels or just zooming in on certain body parts, like your dog's eye," she says.
Use your phone's camera.
If you're like most people in the New York City area, your cell is practically an extra appendage. Use it! "My iPhone takes phenomenal pictures," Moss says, adding that she recommends downloading the CameraBag app ($1.99) to enhance the photos you take.