Formalwear 101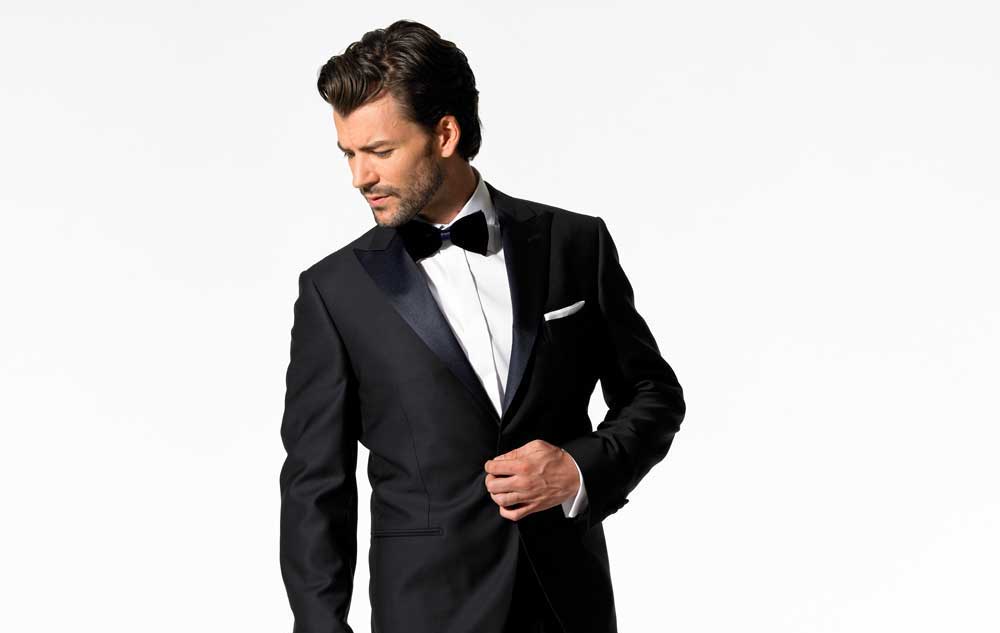 The holidays in Bergen mean you'll be off to many Black-Tie Optional, Black- Tie and White-Tie events. Our fashion pro provides great advice to help you score high grades, sartorially speaking, with these formalwear tips.
Black-Tie Basics
Black Tie: The words conjure up images of life's most meaningful moments—weddings, fundraisers and galas. What's the secret to looking sensational? First, start with a tailored-fit tuxedo, one with either a peak lapel or shawl collar, advises Jorge Hernandez, formalwear specialist at Sal Lauretta for Men in Midland Park. Next, you'll need a shirt. There is no one correct style— formalwear today is about personal taste. Whether your shirt is pleated, pique or French/plain front, there's a collar for every man: rounded, wing, point, spread or cutaway. No formal look is complete without an appropriate bow or neck tie and a stud set. (A cummerbund is optional and should be worn with a bow tie only.)
Make It Yours
Men can wear a great suit to a formal event, but a tuxedo is special and different. And the key to any formal look is to make it yours. Pair your tux with a French cuff shirt, which can be a classic laydown collared shirt with pleats (which would require studs) or a simple yet elegant fly-front shirt. "Cufflinks are also a great expression of taste and personality," Hernandez says. "And neckwear says a lot about you and your style. My personal choice is to always wear a bow tie as it reads more formal and stylish." Need a finishing touch? "Do not forget your suspenders," he adds. "They will not only keep your pants up (no belt loops on tuxedo pants), but they're also fashionable and stylish." Remember, have some fun and let your personal style shine.
Avoid Rentals
Avoid renting a garment unless it is absolutely required by a bride or groom. Many rental tuxedos are made with inexpensive fabrics, and the sleeves typically have closed sleeve construction (cheaper) to make alterations easier. "There is nothing worse than wearing a cheap-looking garment," Hernandez says. Also consider that dry cleaning rarely removes all the dirt, perspiration, etc. from most men's clothes. Plus, after five events, it would be a wise investment to own your own tuxedo. In fact, Hernandez says, every welldressed man should own at least one tuxedo that gets upgraded every two to three years as styles change.