Free Screenings for Lung Cancer
A research study offers smokers help in detecting this cancer early, when treatment is most effective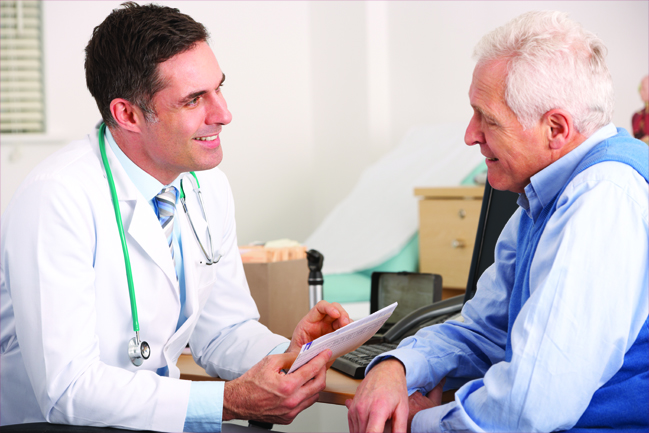 Who is Eligible To Be Screened?
To receive a lung cancer screening at no cost, you must be in what is considered a high-risk category. These include:
+ Current or former smokers between ages 55 and 74 with a history of 30 pack-years or more. (A pack-year is the number of packs smoked per day multiplied by the number of years. For example: 1 pack a day for 30 years equals 30 pack-years.)
+ Current or former smokers age 50 or older who have a 20 pack-year smoking history and one of the following additional risk factors:
– exposure to radon, asbestos, silica, diesel fumes, chromium or nickel
– personal history of prior lymphoma or smoking-related malignancies such as head and neck cancer, bladder cancer or esophageal cancer
– family history of lung cancer
– diagnosis of chronic obstructive pulmonary disease (COPD) or pulmonary fibrosis
If you or someone close to you smoked cigarettes for many years, you've probably worried about the danger of lung cancer. And your worry is understandable—that dreaded disease kills more than 160,000 men and women each year, making it America's most lethal cancer, claiming more lives than breast, colon and prostate cancer combined. But now, there's something you can do about it.
As with most cancers, the earlier lung cancer is discovered, the better the chances of a cure; when it is found at its earliest stage, up to 92 percent of cases can be cured. Research shows that the best way to detect lung cancer early is through a low-dose computed tomography (CT) scan (rather than, say, a chest X-ray or a sputum test). And Saint Barnabas Medical Cen- ter is participating in an international study that offers high-risk individuals this screening free of charge.;
It's part of the International Early Lung Cancer Action Program (I-ELCAP), in which a group of 48 institutions in nine countries is studying the benefits of early detection of lung cancer by CT screening and the best practices for using it.
According to research, annual CT screening allows at least 80 percent of lung cancers to be diagnosed at stage 1, the earliest stage. And the costs of CT screening for lung cancer compare favorably with similar screenings for breast, cervical and colon cancer.
Current smokers who take advantage of the free screening also can receive counseling to quit smoking, says Bridget Saggese, R.N., nurse navigator for the lung cancer program at Saint Barnabas. "If the test does identify cancer, my role is to steer patients to the proper follow-up and navigate them through the system," she says. —D.L.