Fulfilling A Vision
Thanks to Leon and Toby Cooperman and their historical gift, The Cooperman Family Pavilion will soon be built with Saint Barnabas Medical Center's largest donation ever.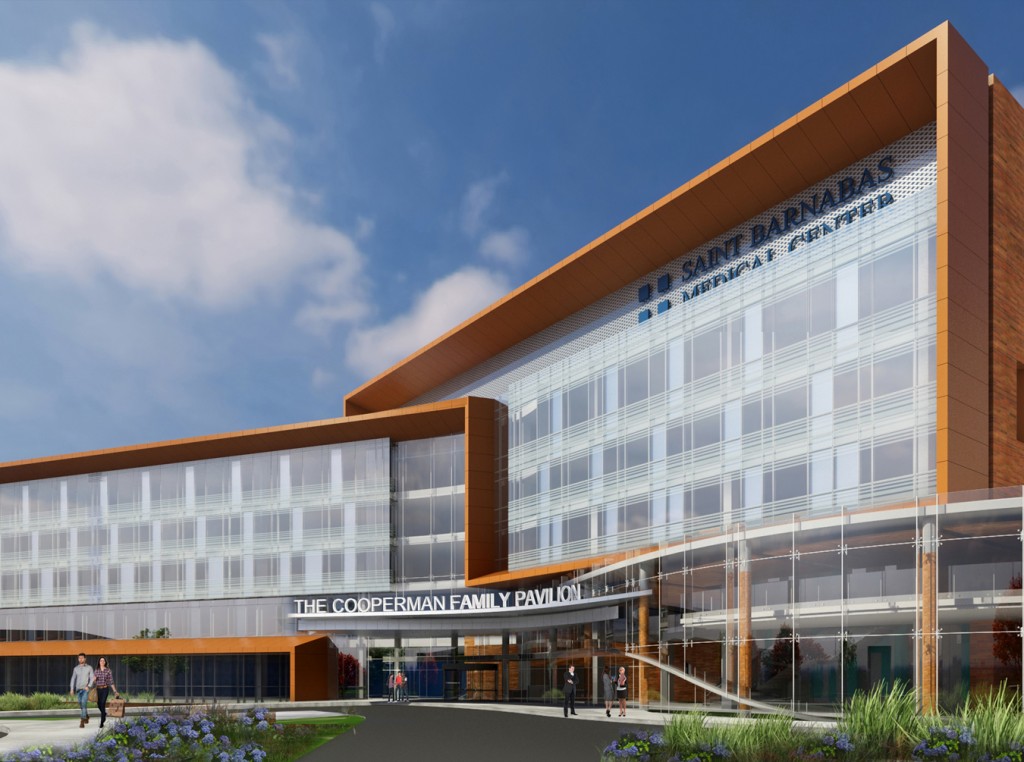 The Cooperman Family Pavilion will soon be built with Saint Barnabas
Medical Center's largest donation ever.
Saint Barnabas Medical Center is pleased to announce the largest single gift in its history and one of the largest gifts ever to a New Jersey hospital. The Leon and Toby Cooperman Family Foundation has pledged $25 million toward the Saint Barnabas Medical Center West Wing Initiative. "Leon and Toby Cooperman have provided the instrumental stimulus to engage the community for the successful future of Saint Barnabas Medical Center," says Barry H. Ostrowsky, president and chief executive officer of Barnabas Health. "The Cooperman family's generosity is unparalleled in our history and assures our neighbors of the importance and magnitude of the project we plan. We are exceptionally grateful."
As Saint Barnabas Medical Center approaches its 150th anniversary in 2015, this gift represents the cornerstone of a bold strategic vision to create a new 200,000-square-foot, five-floor Cooperman Family pavilion to advance the provision of care for our community. "We are determined to build on our exceptional reputation by developing a world-class infrastructure that represents the level of excellence our patients deserve and have come to expect from Saint Barnabas," says John F. bonamo, M.S., M.S., president and chief executive officer of Saint Barnabas Medical Center. "We are tremendously honored and fortunate to have the support of Leon and Toby Cooperman."
Leon Cooperman's involvement with the medical center spans close to three decades, first as a trustee and ultimately as chairman of the Saint Barnabas Medical Center Foundation. He is now chairman emeritus. "Mr. cooperman has been incredibly generous to the medical center with his time, expertise and financial resources," says Dr. Bonamo. "We are grateful for his vision, inspiration and guidance throughout the years."
The Coopermans are signatories to the warren buffett giving pledge, a commitment in which affluent individuals join with the famous investor in promising to devote the majority of their resources to philanthropy. "Next to my children and grandchildren, helping others is the most enjoyable part of life," remarks Mr. Cooperman. He explains that both he and his wife feel it is "our moral imperative to give others the opportunity to pursue the American dream by sharing our financial success. As Andrew Carnegie once said, 'he who dies rich dies disgraced.' And as Winston Churchill believed, 'we make a living by what we get, but we make a life by what we give.'"
The Coopermans embody these philosophies as they make this historic gift to Saint Barnabas Medical Center. "Over the years, our family has benefited from the excellent care provided by the medical center," says Mr. Cooperman. "We are thrilled to be in a position to make this gift. Saint Barnabas Medical Center is very important to our family. More than ever, hospitals need the support of private citizens to assure their continued provision of quality medical care to the communities they serve, and I encourage others to fol- low my lead."
Both Coopermans come from humble beginnings. Mr. Cooperman, a plumber's son who grew up in the South Bronx, was the first member of his family to graduate from college. The majority of his schooling was in the Bronx Public School System. He worked his way through Hunter College and received an M.B.A. from Columbia University Graduate School of Business. That opened the door to his first full-time job, at Goldman, Sachs & Co., where he became a general partner, founded the asset management business, and held numerous prestigious positions within the company until his departure 25 years later to launch his own private investment firm, Omega Advisors.
Mrs. Cooperman has spent her life passionately advocating on behalf of the developmentally disabled. A graduate of Hunter College with a master's degree in special education, she recently retired from a career as a special education specialist at the Early Childhood Learning Center in Chatham. Her leadership in community organizations is wide-reaching. She has served as a board member at the JCC MetroWest for more than 30 years and as an officer and board member of Jewish services for the developmentally disabled and Jespy House. She also served as a board member of the Jewish Community Foundation of MetroWest, the Crohn's and Colitis Foundation, the former Theresa Grotta Rehabilitation Center and numerous other organizations.
The Cooperman Family Pavilion will feature a floor dedicated to a new Neonatal Intensive Care Unit and new units on three floors offering all private rooms. The ground floor will offer cardiac, vascular, pulmonary and electroencephalography diagnostic services in a location convenient for outpatients. Other key elements of the overall west wing initiative will include a new expanded surgery center, a parking garage that connects to the new building, and two new parking areas on campus that will be designed to provide better access for patients and visitors.
In addition to Saint Barnabas Medical Center, the Coopermans have supported many other organizations, including the JCC MetroWest, their alma maters Hunter College and Columbia Business School, and New Jersey Performing Arts Center in Newark. As Mr. Cooperman concludes, "In life, everyone has the choice to be a consumer or a giver, and my wife and I choose to be among the latter. We are not hedonistic; we don't have a lot of material needs or wants. And we recognize that we have been incredibly fortunate. That places an obligation on us to maximize the opportunities we have to give back and help others—an obligation that we joyously embrace." —D.L.