Game Changer
This local exotic meats distributor has lured Manhattan chefs across bridge and tunnel with his high-quality products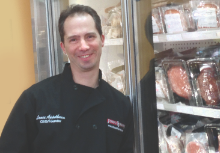 SEVENTEEN YEARS AGO, WHEN Lance Appelbaum started Fossil Farms— an exotic meats and game distributor
in Boonton—its corporate headquarters were in his parents' basement in Paramus. The garage served as the warehouse, and the billing department was Appelbaum himself, who paid for all expenses with a checkbook he kept in his back pocket. Today, Fossil Farms sells directly to some of the top restaurants in the tri-state area. Morris/Essex Health & Life spoke recently with Appelbaum:
HOW DID YOU WIND UP IN THE EXOTIC MEATS BUSINESS? I was 20 at the time and wanted to own a business, and I discovered that exotic meats were an untapped niche market. The inspiration came when I was on a ski trip in Colorado with my brother, and I saw a lot of game and other meats on a restaurant menu. I owe it all to one waitress who raved about ostrich and bison—that they're low in fat and calories and high in protein. When I came home and did research, I realized that this area could use that type of business.
HOW DID THE COMPANY GET ITS NAME? This is my favorite story to tell! As a kid, I didn't call my father "Dad"; it was always "Fossil." I would kid him, "You're so old you don't know what you're talking about, Fossil!" It caught on; his friends and col- leagues called him Fossil, and he would even introduce himself that way. When I needed a name for the company, the idea to call it Fossil Farms just hit me. I didn't think there was a better way to honor my dad, who's also my mentor. He loves it.
WHAT TYPES OF MEAT DO YOU SELL? We started with ostrich but now also carry kangaroo, alligator, rattlesnake, yak and a lot more. But we also have "standard" meats like chicken, beef and lamb that are raised in New Jersey and are higher-quality than meat you'd buy at a grocery store.
IS ALL OF YOUR MEAT FROM NEW JERSEY? Most of it is from the tri-state area. However, we have sources as far away as Texas, Colorado and Montana. What's more important to us than location is that we work exclusively with small family farms. The quality is better than in large-scale places—there are no growth hormones or additives in the product. I believe in truly natural foods, and we deal only with farmers who feel the same.
WHO ARE YOUR MAIN CUSTOMERS? We serve 
a very wide range, including home chefs, local supermarkets and restaurateurs.
 We recently worked with Pig & Prince in Montclair and Il Capriccio in Whippany as well as some top New York City chefs.
ANYONE WE MIGHT KNOW? Tom Colicchio from Bravo's Top Chef. Tom always says you don't need to do a lot to make an ingredient taste good, especially exotic game.
AREN'T EXOTIC MEATS EXPENSIVE? Our products do cost more than what you'd
 find at a bulk store or supermarket, but they're also of better quality. The food is healthier, and the animals are raised in an old-fashioned, natural way.

WHAT'S NEXT FOR THE COMPANY? We hope to offer gourmet dog treats (like jerky and bones) by the end of this year. Pets are part of the family, and we believe our customers will appreciate high-quality items for them. —MAUREEN SCULLY