Gastroenterology Group of Northern NJ
Sylvan Ave.: Marc A. Fiorillo, M.D., Michael E. Meininger, M.D., Mitchell K. Spinnell, M.D., Barry M. Zingler, M.D.
Grand Ave.
: Sandarsh Kancherla, M.D., Kenneth P. Rubin, M.D., Mark S. Sapienza, M.D.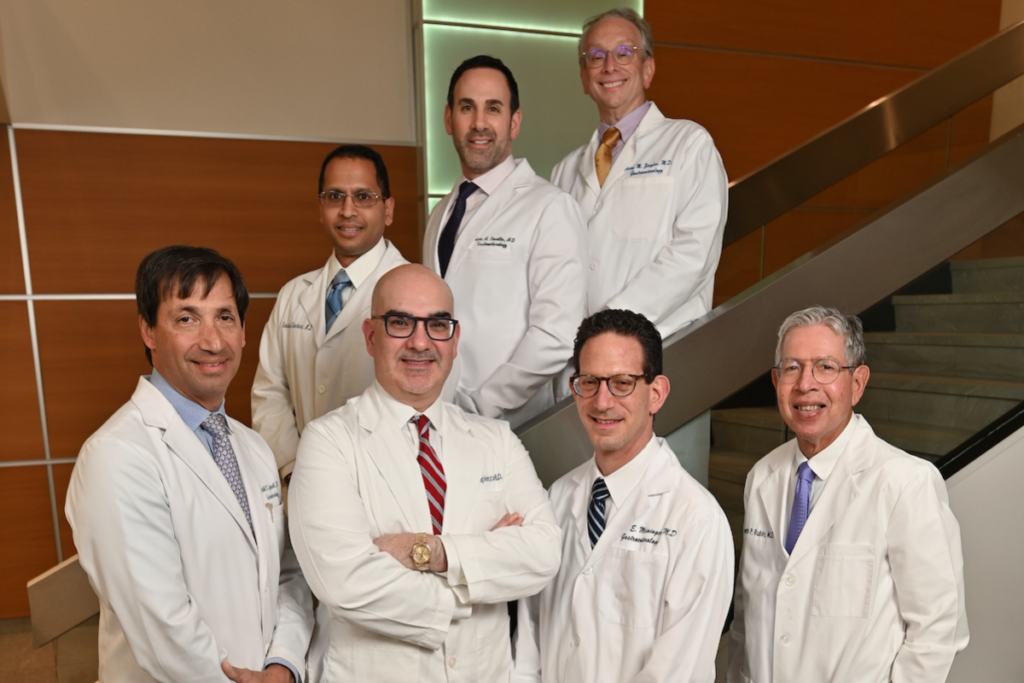 420 Grand Ave., Suite 101, Englewood, NJ 07631 • 201.569.7044
140 Sylvan Ave., Suite 101A, Englewood Cliffs, NJ 07632 • 201.945.6564
www.englewoodgi.com
The Gastroenterology Group of Northern New Jersey represents the premier gastroenterology practice in the region. We stand out because it is our goal to provide excellence in clinical care in a safe and compassionate environment.
The practice provides expertise and care in all aspects of gastrointestinal diseases, including acid reflux, Irritable Bowel Syndrome, Crohn's Disease, Ulcerative Colitis, hepatitis, pancreatic and gallbladder diseases, and screening for colon cancer and polyp detection. We use biologic and immune modulating therapies for some of these conditions. Many of our physicians have specialized training in advanced endoscopic procedures including ERCP, endoscopic ultrasound, and video capsule endoscopy. Infusion therapy for severe or chronic diseases is done in-house for patient comfort.
Our new clinical research division gives patients access to new medical treatments unavailable elsewhere. In addition, we are proud to be part of a new state-of-the-art endoscopy center in Englewood Cliffs in partnership with Englewood Hospital and Physician's Endoscopy. Board-certified anesthesiologists and skilled nurses are on site to make the experience comfortable and safe.
Our gastroenterology practice has provided high-quality care to the community for over 50 years. Our eleven physicians are fellowship trained and board certified in both gastroenterology and internal medicine and are frequently listed as Top Doctors in the New York Metro area. All of our physicians are members of the Institute for Patient Blood Management and Bloodless Medicine and Surgery at Englewood Hospital and are skilled in bloodless procedures and in the medical management of patients who do not accept blood products. In addition to Englewood Hospital, physicians have privileges at Holy Name Hospital. Many of our doctors and staff are fluent in Spanish, Italian, Russian, and Korean. Our entire practice wishes to congratulate the Top Doctors, including Drs. Marc A. Fiorillo, Sandarsh Kancherla, Michael E. Meininger, Kenneth P. Rubin, Mark S. Sapienza, Mitchell K. Spinnell, and Barry M. Zingler.