Gatherings
Whether it's at a volunteer center or fundraiser, Bergenites always show up to support their friends and neighbors.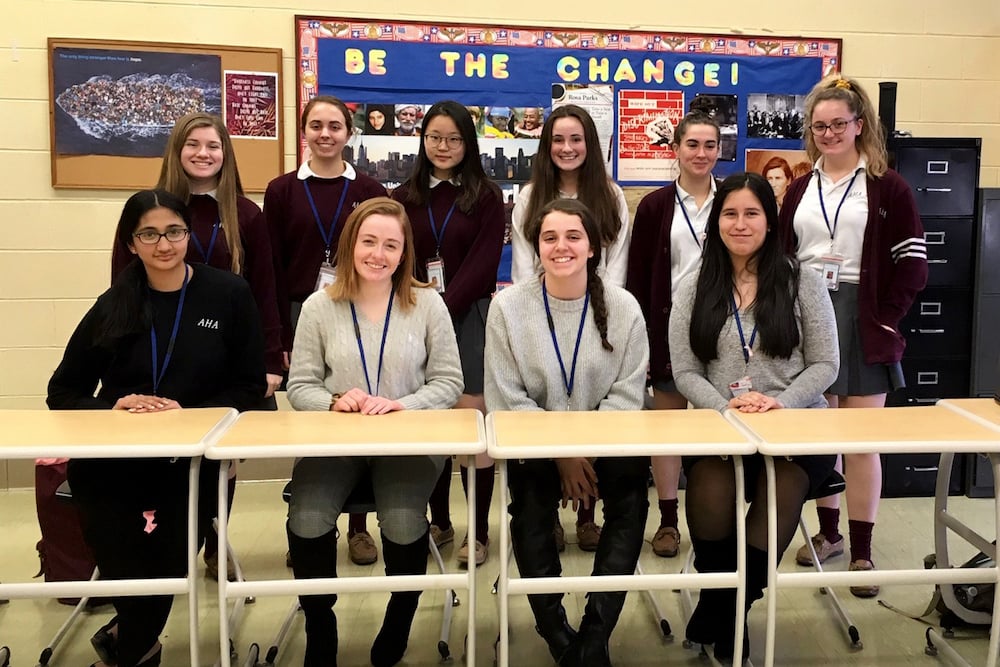 ACADEMY OF THE HOLY ANGELS
The Model United Nations group from the Academy of the Holy Angels (AHA) in Demarest recently attended the 2019 Harvard Model UN Conference in Boston. While at the event, the AHA students learned about the Republic of Moldova, the nation that the delegation represented at the conference. Approximately 3,000 students attend the program, and nearly half are from schools around the globe.
IMMACULATE HEART ACADEMY
The Immaculate Heart Academy (IHA) in Washington Township recently held its 2019 beefsteak in the IHA gymnasium. Parents, alumnae, faculty, staff and coaches enjoyed dinner, which was catered by The Brownstone in Paterson, as well as music by Magic Moments Productions in Paramus.
ENGLEWOOD IDOL
The 14th annual Englewood Idol competition recently took place at bergenPAC in Englewood. The singing competition is open to any high school student who resides or goes to school in Englewood. Genesis Capellan, a senior at Dwight Morrow High School, was crowned this year's idol for her singing.
WORLD AIDS DAY CONFERENCE
The AIDS Outreach Program at Hackensack Meridian Health Hackensack University Medical Center recently hosted the 19th annual World AIDS Day prevention-focused conference for more than 300 high school students. The conference gives educators and medical professionals an opportunity to create a dialogue with teens to help them make better choices about their health. Hackensack University Medical Center began the World AIDS Day conference for teens in 1999 with 76 attendees from five schools in Bergen County.
THE SHANNON ROSE
The Irish pub, with locations in Ramsey and Clifton, and Kohler Distributing Company donated a combined $12,766 to St. Jude Children's Research Hospital this winter. The Shannon Rose raised money through charity events and menu specials, and Kohler matched all funds raised by the restaurant.
BERGEN VOLUNTEER CENTER
The Bergen Volunteer Center held its Fifth Friday Forum at the Stony Hill Inn in Hackensack, where approximately 200 local leaders discussed the status of cannabis in Bergen County. A guest panel was comprised of William Caruso, Anthony Cureton, Dianna Houenou, Valerie Vaineiri Huttle, Scott Rudder and Todd Sherer.