Gatherings
Whether it's at a charity gala or networking event, Bergenites always show up to support their friends and neighbors.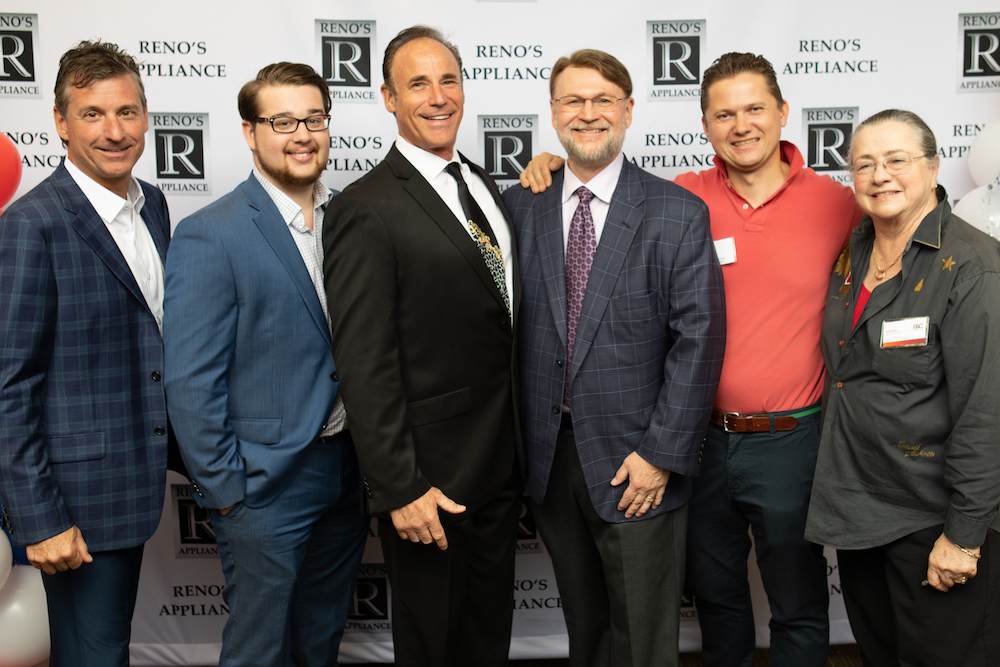 Businesses in and around the county, including BERGEN magazine, recently gathered at a networking event at Reno's Appliance in Paterson. Attendees mingled with other guests and enjoyed appetizers and drinks. From left to right: Glen Lumia, Devin Moran, Richard Gaynor, John Cioletti, Rob Krakowiak, Rosalie Berlin
FAMILY PROMISE
Family Promise of Bergen County, a Ridgewood-based nonprofit group, recently received a $10,000 grant from the TD Charitable Foundation. The donation will assist the organization in its mission to provide temporary shelter and support for homeless working families. Christopher Gallagher, Thomas Hewitt, Jane He, Kate Duggan
ANDIAMO MOTORCYCLE CHARITY RUN
More than 1,000 riders and thousands of participants are expected to attend the 20th annual Andiamo Motorcycle Charity Run, which ends with a block party at Andiamo Restaurant in Haworth. The 60-mile motorcycle ride will support the Englewood Health Foundation, Haworth Volunteer Ambulance, Special Olympics, Haworth Police Auxiliary, Andiamo Scholarship to St. Therese School and other local charities. To register or for more info, visit andiamorun.com or call 201.384.1551. From left to right: Rick Sposa, Warren Geller, Don Dickstein, Debra Albanese, Michael Gutter at last year's Andiamo Benefit Motorcycle Charity Run
THE COMMUNITY CHEST
The Community Chest in Englewood held its annual Women's Leadership Luncheon and Scholarship Presentation at the Elisabeth Morrow School in Englewood. The program honored women leaders Molly Craig-Berry, president of the Englewood Board of Education; Arthorine Walker, special education teacher at Dwight Morrow High School; and Tami Luchow, founder of nonprofit group Care for Life and Limb. From left to right: Billie Singer and Alexa Miller receive The Community Chest's Women's Leadership Scholarship awards, Molly Craig-Berry, Tami Luchow, Arthorine Walker, Shelly Wimpfheimer
SHOPRITE OF NEW MILFORD
Community leaders, associates and neighbors helped celebrate the grand opening of ShopRite in New Milford. The store, owned and operated by Inserra Supermarkets, offers an array of groceries containing both private label and national brands as well as daily deliveries of fresh produce, including organic items that are both locally grown and sourced from around the world. Friends, family and community leaders gather at the grand opening of ShopRite in New Milford.
DIABETES FOUNDATION
The Diabetes Foundation recently presented its Corporate Champion Award to Franklin Lakesbased Becton, Dickinson and company at its annual Visions of Hope gala at The Venetian in Garfield. Proceeds from the event go toward the ongoing Diabetes Foundation programs throughout New Jersey. From left to right: Laurence Hirsch, M.D., Ginine Cilenti, Stanislav Glezer, M.D.
THE VALLEY HOSPITAL AUXILIARY
The Valley Hospital Auxiliary in Ridgewood awarded scholarships to 32 local students representing 15 Bergen County high schools as well as nine college students who re-applied for ongoing scholarships. With more than 800 members, The Valley Hospital Auxiliary is celebrating its 75th year as an organization, and since its inception, has raised more than $18 million in support of hospital programs. 8 Scholarship winners are honored during a recent awards presentation.