Gatherings
Whether it's at a charity gala or volunteering event, Bergenites always show up to support their friends and neighbors.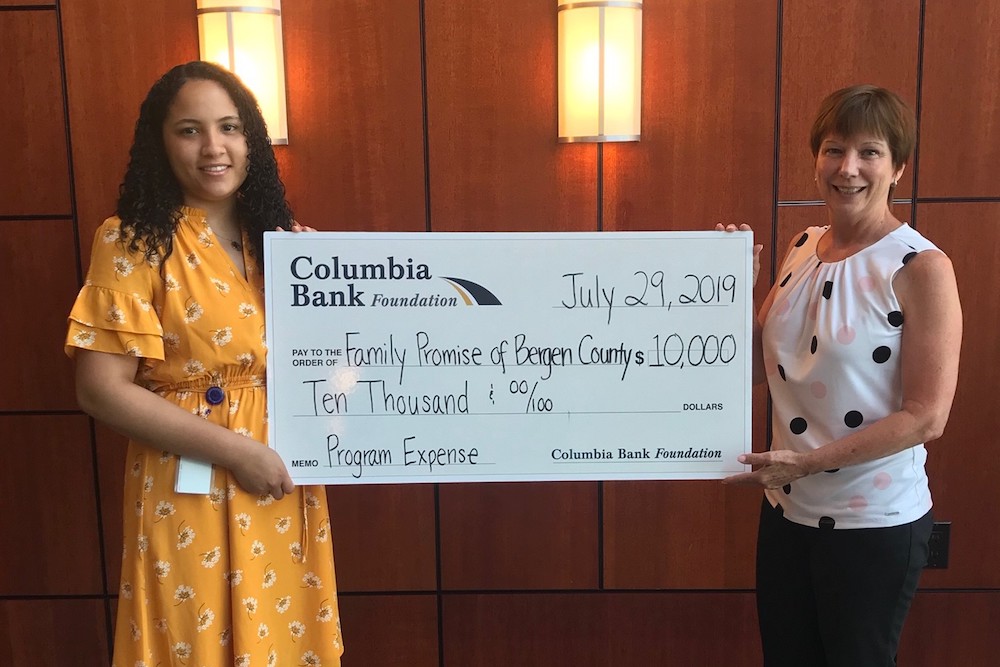 FAMILY PROMISE
Family Promise, a Ridgewood-based nonprofit organization, was awarded a $10,000 grant from the Columbia Bank Foundation for their New Leaf Apartment program. The program allows families to live in one of four apartments while counseling and advising them on how to work on their personal and professional goals. Family Promise's overall mission is to break the cycle of homelessness in Bergen County.
DWIGHT MORROW HIGH SCHOOL


Dwight Morrow students pose with new Principal Benjamin

Suro

at the "Life's Good: Experience Happiness" pop-up presented by LG Electronics.

Students from Dwight Morrow High School in Englewood were visited by representatives from LG Electronics' "Life's Good: Experience Happiness" program for the second year in a row. Participants visited six interactive stations where LG employees provided tips and education on how the teens and parents can manage and reduce stress.

SAINT BERNARD PROJECT VOLUNTEERS FROM ACADEMY OF THE HOLY ANGELS


AHA volunteers

Jeziah

Rodriguez (center), Kristen Chung (center right) and Gail Fair (back right) pose with other volunteers and

Purifico

, whose home in Puerto Rico suffered damage.


From left to right: Gail Fair, Kristen Chung, Allison Bart, Molly Brooks,

Jeziah

Rodriguez, Alana

Pomponio

, Kathleen Sylvester.

Volunteer students and administrators from Academy of the Holy Angels in Demarest traveled to Puerto Rico this summer to help renovate three homes damaged by Hurricane Maria. Specifically, the volunteers helped remodel the bedroom of a 98-year-old double amputee whose home suffered serious mud damage.

SPECIAL GAMES IN TENAFLY


Participants and volunteers watch with anticipation as a bowler lobs a ball down an outdoor lane.


A volunteer for the annual Special Games shares a warm embrace with a participant.
The Kaplen JCC on the Palisades Chuck Guttenberg Center for the Physically Challenged in Tenafly held its annual Special Games field day on Sunday, Sept. 22. Nearly 200 volunteers and individuals with disabilities, ages 4 to 70, participated in outdoor activities like soccer, basketball and volleyball, and ended their long day of play with a kosher barbecue and a live DJ.


From left to right: Undersheriff David

Borzotta

, Chief Warrants Officer Cora Taylor, Freeholder Chairwoman

Germaine

Ortiz, Bergen New Bridge President and CEO Deborah

Visconi

, Bergen County Executive James J. Tedesco, Freeholder Vice Chairwoman Mary J. Amoroso, Bergen New Bridge Foundation Chairman John

Cosgrove

, Freeholder Chair Pro- Tempore Dr. Joan Voss, Assemblywoman Lisa Swain and Freeholder David Ganz.

BERGEN NEW BRIDGE MEDICAL CENTER 9/11 CEREMONY

A remembrance ceremony was held on Sept. 11 at Paramus' Bergen New Bridge Medical Center's memorial site dedicated to those who lost their lives 18 years ago. The site, partially funded by the medical center's employees and supporters, was flooded with hundreds of attendees who gathered to hear featured speakers and honor the fallen.


All BELIEVE. Conference attendees, including 100 students, 13 chaperones and three guest speakers gathered for a

beachside

photo.

IHA'S BELIEVE. CONFERENCE

Immaculate Heart Academy in Washington Township recently held its inaugural BELIEVE. Conference at Icona Diamond Beach Resort in Wildwood Crest. The three-day conference, which aimed to promote personal growth among IHA's young women, included a formal dinner, three female keynote speakers, a beach bonfire and a celebratory Mass. Speakers included U.S. delegate Katie Prejean McGrady, author Lisa Cotter and IHA alum Isabella Somera.