Get Your Freekeh On
Move over, quinoa—freekeh is quietly staging a takeover.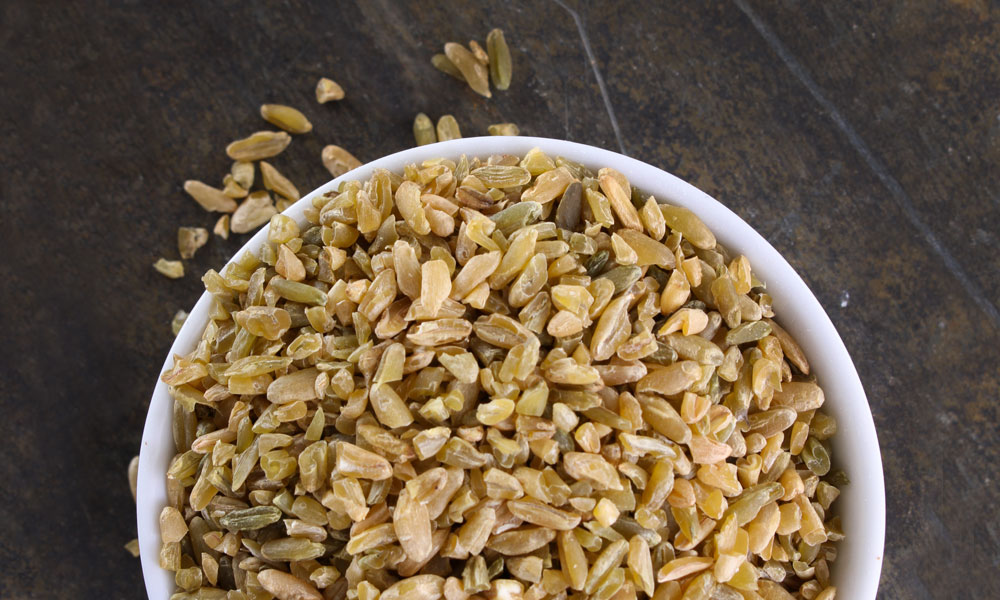 Tired of quinoa and want to shake up your meal plan? Then give freekeh a go. This ancient whole grain (pronounced free-kah) has long been a staple of Middle Eastern and Northern African diets but only recently began gaining popularity in the United States. Freekeh comes from durum wheat that's harvested when it's young and green and then fire-roasted. After the charred outer shell is rubbed off, the grain in the middle, which retains a subtle smoky, nutty flavor, can be boiled and used in dishes in place of rice, farro, barley, millet and other grains.
Power Up
Compared with superfood power-player quinoa, freekeh comes out on top with less fat (1 gram in ½ cup cooked compared to 2 grams in the same amount of quinoa), and more protein (6 grams vs. 4 grams) and fiber (4 grams vs. 3 grams). At only 130 calories per serving, it's a better choice than rice or pasta for those hoping to lose weight. It's also rich in magnesium, which helps with energy levels and digestion; iron, which oxygenates red blood cells; lutein, which promotes eye health; calcium, which benefits the bones; and vitamin B6, which boosts the immune system. Plus, freekeh ranks low on the glycemic index, making it a smart choice for those who have diabetes or are at risk of the disease.
Buy/Store /Serve
The grain is sold already removed from its shell and looks similar to barley or wheatberry. To prepare it, simply cook it as you would any other grain. Bring 2½ cups of water per 1 cup of dried freekeh to a boil. Lower the heat and allow it to simmer until the water is absorbed, and then fluff and allow to cool. You can also soak freekeh in water overnight and heat it up the next day. It's available both cracked and whole—the cracked variety cooks in about half the time as the whole, similar to rolled oats vs. steel-cut oats. Once cooked, use the grain in salads, in soups, as a pilaf, or on its own as a side dish, served with meat or fish.
Did You Know?
Freekeh is also called farik, which comes from the Arabic word for "to rub," referring to how it is prepared. According to some sources, the grain was discovered two millennia ago after a Middle Eastern wheat field was set on fire during an ambush. When villagers recovered the young grains from the field, they discovered the center had not been destroyed and was still edible.
Where to Find It
Looking to purchase freekeh at a market in Bergen County? Head to Whole Foods (multiple locations), Stop & Shop (multiple locations) or Sahara Fine Foods in Hackensack.