Going for the Gold
For a chef's kitchen in Alpine, a designer has a dream client: a homeowner who isn't afraid to dig into the crayon box.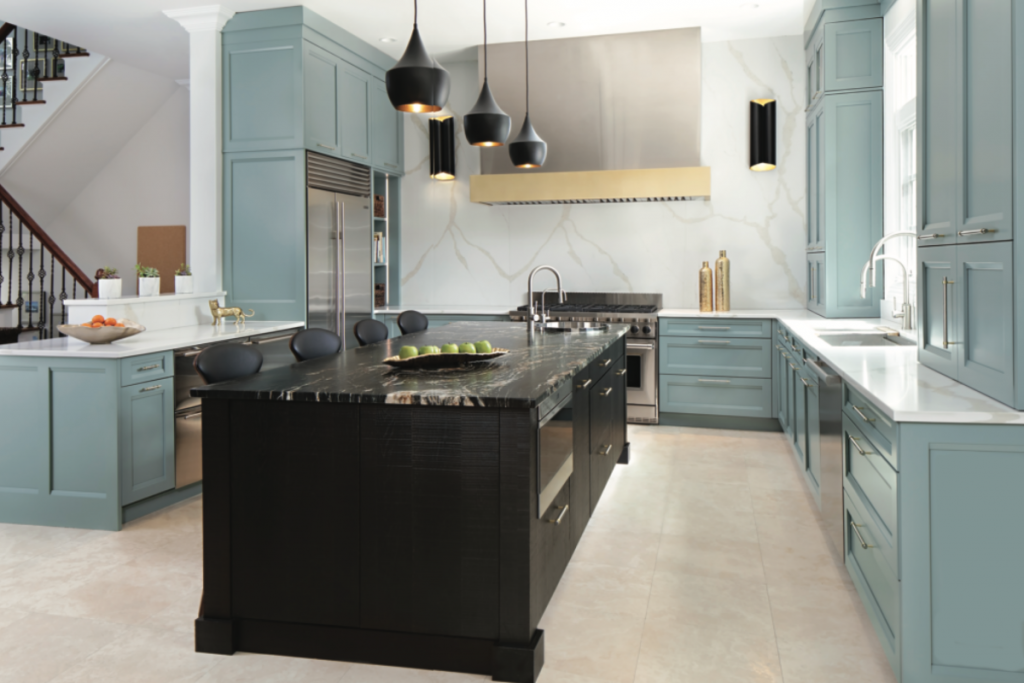 It's a good rule for designers: When undertaking a major redo, don't trash the previous designer whose work you're about to transform. Especially when it's you.
Designer Aparna Vijayan of Ulrich Inc. in Ridgewood had an understandable sense of déjà vu when she was assigned to fashion a new look for a chef's kitchen in Alpine. She'd designed it herself 20 years before. But this was a different time, with a different homeowner and a new mandate. Her mission this time, for a family of four, was to shake off the ornate, traditional kitchen design she had created for the original owners and go daring with color and style.
"This is all new," Vijayan says of the reno completed in February. "The only thing we kept was the [limestone] floor."
The homeowner had lived for a decade with the original owner's cherry cabinets, but styles change. She welcomed not only a more contemporary décor, but also an easy-breezy chef's kitchen in sync with her family. Changing the layout to include the refrigerator in the work triangle helped do the trick.
Given free rein with color, Vijayan chose a silver pine-painted finish for the perimeter cabinetry and butler's pan- try/bar. For a striking contrast, the island and tall-storage pantry have an oolong-black matte textured effect to their European style cabinetry with rough-sawn oak veneer.
"We found the perfect slab for the island," Vijayan says. The island's interplay of black and gold on leathered Belvedere quartzite also dazzles in the butler's pantry/bar.
Adding to the drama are island pendants by Tom Dixon with matte black and hammered brass, and the Amore custom hood in brushed stainless steel and satin gold. Even the Waterstone faucets show black and gold tones.
A serene effect comes from the Aurea Stone Dinergy quartz, which lightens up the kitchen backsplash and perimeter counters in just the right measure. "I wanted something more dynamic yet still soothing and calming, and I think the results achieved that goal," says the homeowner.
For a family that likes to cook, a 48-inch Galley sink, a reach-in pantry and high-end appliances such as a Wolf range were a winning recipe.
Think black bunny rabbits have a place in a butler's pantry/bar? Vijayan's design with a parade of bunnies on gold wallpaper says absolutely. "I love crazy, dynamic wallpaper," says the homeowner. Gold spices up the ceiling as well, while the Bianco Carrara backsplash gets its gentle curves from inlaid brass. Completing the look are a hammered brass sink and Hampton chandelier.
Beyond the kitchen, the hexagon-shaped breakfast room features a Sputnik chandelier—a new twist for the vaulted ceiling in this manor-style home.
With no holds on creativity, the kitchen's second go-around illustrates what can happen when bold and colorful hues are given play.
Says the homeowner: "I love the kitchen."
By Donna Rolando
Design by Aparna Vijayan
Photography by Dove & Co. Studio