Gone to the Dogs
Resorts that cater to your best friend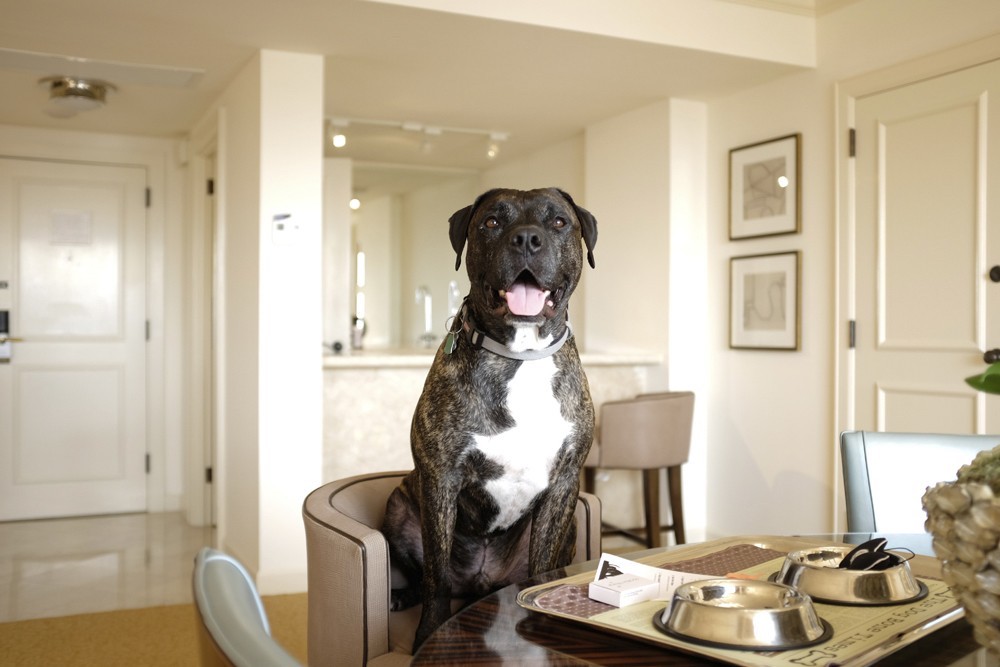 Can't imagine vacationing without your pet? Don't worry—some luxury hotels go out of their way to keep Fido's tail wagging.
From coast to coast, there are elegant hotels that not only treat you like a king or queen, but respect your pup's royal pedigree too. Pets are welcomed—not just allowed—in these luxe lodges far from home, which pamper them with treats, concierge walking, lush grounds for romping and other perks. Five standouts are spotlighted here.Truth be told, it may cost a little more to take Fido along. But is your best friend worth it, or what? And think what you'll save on kennel costs!
CYPRESS INN,
CARMEL, CALIFORNIA
Dogs will know they're getting the luxe treatment when they're served grilled chicken in a doggie bowl. But what could be more appropriate for an establishment co-owned by actress and animal rights activist Doris Day? Right in the heart of Carmel, this historic landmark inn with 1920s-era Spanish architecture has been called the nation's most dog-friendly hotel. But it's not only the inn that loves our furry friends. The city, too, is simpatico and puts out a dog-friendly guide to its attractions. For instance, dogs can run along the beautiful Carmel Beach or stroll on a leash through the quaint village where store owners are ready with a doggie treat and water.
Other highlights—for humans—are king suites with fireplaces, live music in the hotel's cozy living room and breakfast with fresh fruit and baked goods. Also check out Terry's Restaurant & Lounge for Moroccan chicken, grilled rack of lamb and other fare made with fresh local ingredients.
Is the lodging industry going to the dogs? Que será, será!
FOUR SEASONS HOTEL,
HOUSTON, TEXAS
Ruff will feel like a VIP (Very Important Pet) when he stays with you in this swanky spot in jumpin' downtown Houston. The hotel's pet policy, says management, is designed so that owners are stress-free and don't have to worry about their pets. A concierge handles daily dog walks and amenities like special bowls, toys and water bottles all to make the place seem like home. And if you prefer to take your dog for a longer walk, nearby Discovery Green is a great option.
Humans can find their luxury pampering at Four Seasons' Spa & Fitness Center. Discover a variety of massages to nurture your body, or have some fun with yoga and wine at a group exercise class. This spa, with many eye-catching features, made the cover of Ameri-can Spa magazine in 2016.
Then there's the spacious lobby, which not too modestly calls itself "Houston's Living Room," ready for sipping, socializing or just relaxing. Also, don't miss the chic bourbon bar, Bayou & Bottle, or the Topgolf Swing Suite, featuring golf simulators. While your dog lives the life of Riley at this raved-about facility, maybe you can focus on your game.
THE ST. REGIS ASPEN RESORT,
ASPEN, COLORADO
Want to trade walking the dog for relaxing poolside with a straw-berry daiquiri or spend more time on the powdery slopes? At this resort you have only to whisper your wish, and guilt is gone. The staff at the redesigned St. Regis, including a "fur butler" is happy to take the leash for a while, and also provides bowls, treats and a doggie bed while you leave your cares behind at the Reméde Spa. (Try the soothing waterfall, oxygen lounge or the cold-and-warm plunge pools.) There's also a fitness center and gift boutique.
Although most people come for the slopes, that's only part of the outdoor fun in a region also known for horseback riding, bicycling and whitewater rafting. By day, take Rover for a romp at Ruby Park only a few minutes away. By night, Mountain Social beckons you to sip a cocktail by the fireplace and reflect on this best-ever vacation for you and your four-legged friend.
THE PENINSULA HOTEL,
NEW YORK,
NEW YORK
Right down to its location—just four blocks from Central Park—The Peninsula is a pooch paradise. While you might visit for the abundant shopping and entertainment in Midtown Manhattan, your pet will love the park and the pampering that starts with a personalized welcome card and water bottle. Any dog 60 pounds or under is welcome. Fido will have all the comforts of home—a doggie bed, bowl and treats—and (if you're in a suite) a collar, leash, bandana and small toy, all with the Peninsula logo.
He'll wag his tail and you'll be worry-free as you discover the award-winning Peninsula Spa, the cutting-edge fitness center and the glass-enclosed pool. Perhaps, after a day of hitting the stores, your much-deserved rest will come on the sun terrace with its panoramic city views, followed by a taste sensation at The Peninsula's signature Clement restaurant, and when the sun sets, a toast in the rooftop bar, Salon de Ning.
THE COTTAGES AT NANTUCKET BOAT BASIN,
NANTUCKET,
MASSACHUSETTS
For a laid-back beach experience both you and your pet will love, this inn offers 17 "Woof Cottages" that are often in demand. Dogs are greeted by their own pet concierge, a lab/spaniel named Bailey, who knows this famous island like the back of his paw.
Guests and their pooches have all the comforts of home, including a full kitchen to make favorite meals, doggie beds, personalized pet tags and nautical chew toys—just right for lodgings with views of the blue harbor.
Dog-walking services are available, but visitors may also enjoy taking a long trek with their pet at neighboring Sanford Farm.
After making their pet happy, visitors can indulge themselves with a first-class massage or spa treatment at the nearby White Elephant Spa, where the scenery rivals the serenity you experience. Or hop on a complimentary bike for a tour of the town, perhaps stopping for a bite at one of the many eateries. There's also a free bus to Nantucket's beaches—a not-to-be-missed destination.