Grill and Chill Winners and Recipes
Wow the crowd at your cookout with these recipes from the winners of our first Grill & Chill contest.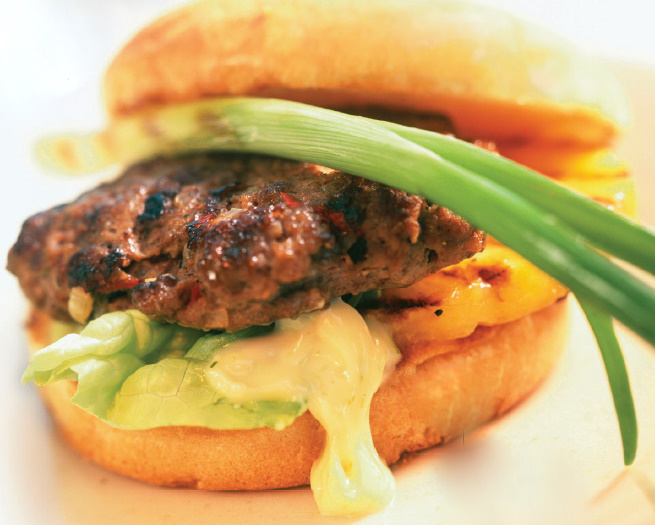 Consider this a mini cookout intervention. Starting now, you're through with serving nothing but boring hot dogs, burgers and beers. The editors of Bergen Health & Life teamed up with Ridgewood's Drew Nieporent, founder of Myriad Restaurant Group (which owns such culinary giants as Tribeca Grill, Centrico and Nobu in New York City) and Hawthorne's Cheryl Slocum, contributing food editor at Country Living magazine and author of food blog itsaboutourfood.com, to pick the three best-tasting dishes submitted in our first Grill & Chill recipe contest. These food and drink recipes, born from the backyard barbecues of Bergen County, will delight guests at your next outdoor soirée.
Marc Mangano
37, Hillsdale, Insurance Broker
Grilling tip
"Grilling is done with high heat over direct flame, while barbecuing is low- and slow-cooking."
"Half the battle of cooking is passion," says this former professional chef, who was trained in French cuisine at the Culinary Institute of America. "Many of my other recipes have a lot of fat—I wanted to submit one that was a little healthier to fit Bergen Health & Life," says Mangano. So he brought the turkey burger from the West to the East, spicing it up with vibrant ingredients such as lemongrass, ginger and Chinese mustard. To be, as he says, "instantly zipped away to a little Polynesian Island," try it with his Thaijito, a Thai play on the Cuban mojito.
Mark's Winning Recipe: Asian Turkey Burgers with Grilled Pineapple and Sesame Ginger Mayonnaise
Time: 45 minutes to 1 hour. Serves 6
Ingredients
Sesame Ginger Mayonnaise
3 tablespoons mayonnaise
2 teaspoons minced fresh ginger
1 teaspoon minced garlic
2 teaspoons sesame oil
1 tablespoon honey
1 teaspoon lime juice
2 teaspoons soy sauce
Turkey Burgers
1 stalk lemongrass
1 tablespoon minced fresh ginger
2 teaspoons cilantro
1 tablespoon chopped scallions
3 cloves garlic
2 teaspoons Chinese mustard
1 tablespoon sesame oil
2 tablespoons hoisin sauce
1 tablespoon soy sauce
1 teaspoon red chili paste
2 tablespoons lime juice
1½ pounds ground turkey meat
½ bottle Soy Vay Veri Veri Teriyaki Sauce
6 slices fresh pineapple rings, peeled and cored
6 brioche rolls
vegetable oil
salt and pepper
cilantro leaves
Preparation
Sesame Ginger Mayo
Whisk together mayo, ginger, garlic sesame oil and honey. Mix in lime juice and soy sauce, then let sit for 30 minutes.
Turkey Burgers
Combine first 11 ingredients and puree in a blender into a smooth paste. In a large bowl, combine the pureed mixture and the turkey meat (avoid overmixing). Form the mixture into six patties (about 4 oz each). Dip each patty into the teriyaki sauce and set aside. Prepare your grill with lump charcoal and a small chunk of wild cherry wood. Brush each pineapple slice with teriyaki sauce and grill for 5 minutes on each side until grill marks appear on both sides, then set aside. Generously brush the patties with vegetable oil, season with salt and pepper and place on the hotter portion of the grill (toward the center). Grill each side for 7½ minutes, continually brushing with teriyaki sauce. Cook burgers thoroughly, until no pink is showing. Place a burger on the bottom portion of each brioche bun and top with a grilled pineapple slice and a few cilantro leaves. Drizzle each burger with the sesame ginger mayonnaise and place the top bun on the burger.
Mark "Cookey" Eisen
53, Park Ridge, Account Manager for a trade publication
Grilling tip
"It is always good to wipe some olive oil on the grates before grilling."
Mark Eisen didn't get the nickname "Cookey" by making a fancy burger here and there for dinner parties. He earned it the hard way as a chef in the Navy, often cooking for more than 500 Navy and Marine Corps personnel. Today he is the cook of his home, and at the Park Ridge fire department where he volunteers. He learned that his "Cookey"-burgers were scrumptious when his fire department made them at a local charity cook-off against other fire departments and won. He pairs his flavor-rich burgers with a gin-spiked lemon tea that has a "slight kick and makes you feel like you're chilling out at the beach."
Cookey Hamburgers by Mark "Cookey" Eisen
Time: 30 minutes. Serves 12
Ingredients
Bun Spread
4 tablespoons chopped sun-dried tomatoes
1 cup mayonnaise
Hamburgers
4 tablespoons olive oil
1 cup finely chopped onions
1 cup red bell pepper, finely chopped
1 cup chopped mushrooms
2 cups finely chopped spinach leaves
5 pounds ground top sirloin
1 cup feta cheese
3 cups prosciutto, thinly sliced
12 slices fresh smoked buffalo mozzarella
12 ciabatta rolls
10 tablespoons Parmesan cheese
2 garlic cloves
6 cups greens
salt and pepper to taste
Preparation
To prepare spread, mix mayonnaise and sun-dried tomatoes and set aside. Place an oiled skillet on the grill and let sit until oil is hot. Cook onion, peppers and mushrooms until tender. Add the spinach and cook until wilted. Transfer to a large bowl and add beef, feta cheese, salt and pepper and mix gently. Add oil to skillet and cook prosciutto, transferring to a paper towel once crisp. Cook burgers for 4 minutes on each side, adding a slice of mozzarella to each for the final minute. Brush rolls with olive oil, rubbing garlic and sprinkling Parmesan on the inside, and toast lightly. Spread rolls with mayo mixture, lay greens on the bottom half and top with hamburger and prosciutto.
Jennifer Whitney
38, Hillsdale, Editor for a global consulting company
Grilling tip
"Close the hood while grilling, and don't flip the meat too often."
Jennifer Whitney loves mangoes. She always has them on hand—fresh, frozen and in-between. Her pork tacos with mango salsa recipe was born one warm spring day when she had a taste for something light. "I had mango and pork on hand, and I played with flavors and came up with this delicious recipe," says the self-taught cook (well, with help from her mother's "a little of this, a little of that" culinary tutelage). Jennifer recommends using good-quality pork loin and likes to serve the recipe as an unexpected twist at backyard parties. To chill, she pairs it with a mango-based cocktail inspired by a trip to Cancun.
Jennifer's Tequila-Lime Pork Tacos with Mango Salsa
Time: 1 hour 35 minutes. Serves 4
Ingredients
Tacos
4¾ inch-thick slices of pork tenderloin
1 lime
2 tablespoons tequila
1 teaspoons jerk seasoning
½ teaspoon cumin
½ teaspoon garlic powder
3 splashes vinegar
2 teaspoons olive oil
4 flour tortillas
sour cream, lettuce and other desired taco fixings
Salsa
2 ripe mangoes (or use thawed frozen mango)
chopped into small chunks
½ onion, chopped
7 slices of pickled jalapeño (more or less to taste)
2 teaspoons flavored vinegar
Preparation
Taco
Place pork and the first eight ingredients in a resealable plastic bag and refrigerate. Let marinate for at least 1½ hours. Grill marinated pork for 5 minutes on each side. Slice thin strips of pork loin and place in center of a flour tortilla. Top with mango salsa and other fixings. Serve with Spanish or Mexican rice.
Salsa
Mix all ingredients at least 1 hour ahead of time for best taste.