Grilled Cauliflower With Green Tahini Sauce
By Pamela Schulz, owner, True Food, Edgewater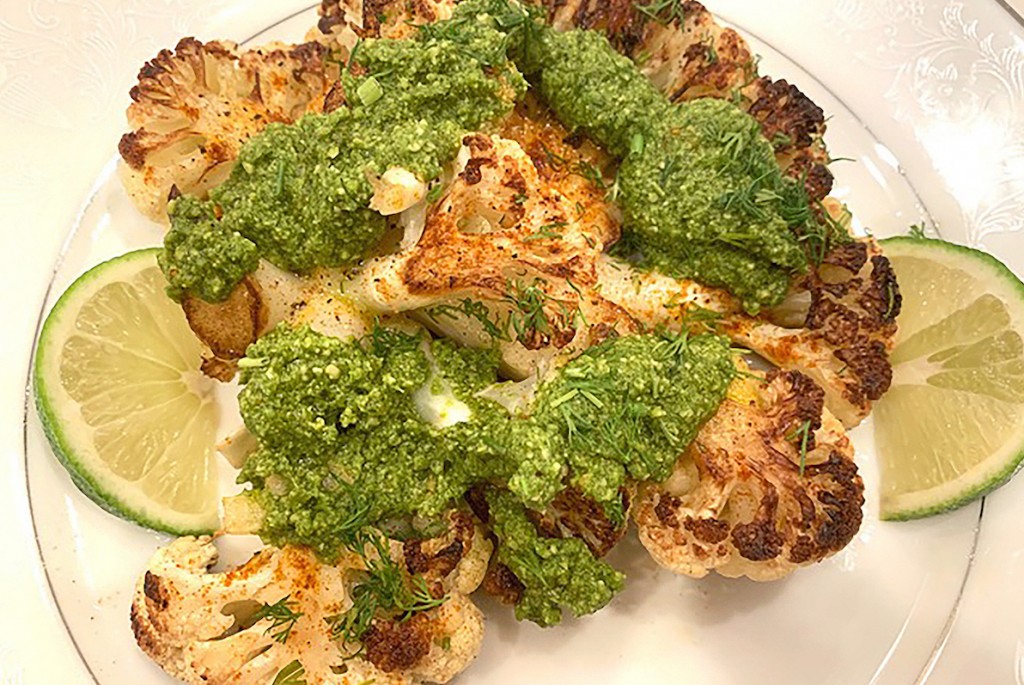 Yields 2 to 4 servings
INGREDIENTS
1 large head cauliflower
1⁄4 cup olive oil
1 Tbs. garlic, grated
1 Tbs. paprika
1 Tbs. cumin
1 lemon, zested and juiced
1 tsp. sea salt
1⁄2 tsp. black pepper
1⁄2 bunch parsley
1⁄2 bunch Italian parsley,

for garnish

2 limes, wedged, for garnish
For the sauce:
2 cups olive oil
1⁄2 cup Tahini
1⁄2 cup lemon juice
1 Tbs. garlic
1⁄2 bunch parsley
1⁄2 bunch cilantro
1⁄2 bunch spinach
1 Tbs. sea salt
1 Tbs. black pepper
DIRECTIONS:
For the sauce:
Purée all sauce ingredients in a blender or food processor. Add water if needed to thin to desired drizzling consistency.
For the cauliflower:
Season the olive oil by whisking in the grated garlic, paprika, cumin, lemon juice, sea salt and black pepper. Create cauliflower "steaks" by cutting the head in half down the center—do not remove the stem—then cut each half lengthwise so you have four steaks. Season both sides of the steaks with salt and pepper and brush with olive oil.
Grill the cauliflower steaks for 4–5 minutes on each side over medium flame (times will vary depending on size of cauliflower steaks). Remove when steaks reach desired charring.
Plate the cauliflower and drizzle the sauce over each steak. Garnish with chopped Italian parsley and lime wedges, then serve.