Grow, Eat, Write
Best-selling author Elizabeth Gilbert shares her love of gardening— and cooking secrets from a surprisingly hip ancestor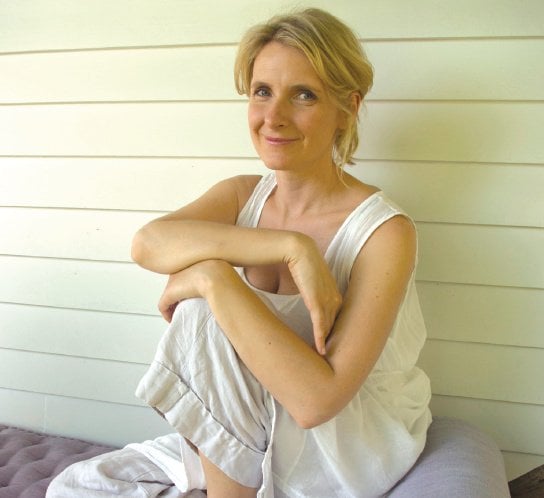 To every thing there is a season, and this has been Elizabeth Gilbert's season of roots. The peripatetic writer, author of the 2006 mega-bestseller Eat, Pray, Love, has married (the subject of her second bestseller, Committed) and settled down, choosing the quaint Hunterdon County river burg of Frenchtown as home base.
There Gilbert has rediscovered the joy of cultivating a garden. "I like a big, wild, loose garden that looks like a British cottage garden with everything tumbling all over itself," Gilbert says. "My sister calls it 'gladiator' or 'cage match' gardening— you put everything out there together and see what lives."
Serendipitously, it was while unpacking at her new home that Gilbert reconnected with a forgotten strand of family history. She found a copy of a cookbook, At Home on the Range, written in 1947 by her paternal great-grandmother, Margaret Yardley Potter. Delighted by the book's wit and surprisingly modern take on cooking—with its emphasis on buying local, using fresh ingredients and venturing into unknown cuisines—Gilbert arranged for it to be republished this year.
HANDS IN THE SOIL
Best known now for her solo world travels, Gilbert was a country kid who grew up on a Christmas-tree farm in Connecticut. Her mother raised chickens and goats and grew produce for the family's meals.
"She was a pragmatic gardener, with every inch of the garden used productively," Gilbert remembers. "I learned great old-timey tricks for keeping food throughout the winter. We put up preserves, and we had onions in the root cellar. We'd put mulched leaves over the carrot patch. I remember digging the snow away in January to harvest those carrots, and they were the sweetest, most wonderful things ever."
But Gilbert craved more exotic pleasures. She went to New York University, then forged a career as a globetrotting journalist and author. So she was somewhat bemused to find herself, several years after her blockbuster memoir was published, back in the garden—digging into the soil of her Frenchtown property to plant beans and tomatoes. The hobby began as an antidote to writer's block but became a passion.
Over time, she realized that blooms, not vegetables, would be her bliss. "I was trying to imitate my mother's garden, but I recognized that the difference was, she was there 24 hours a day, probably 350 days a year," she says. "You can't go away for huge blocks of time as I do and manage that. Fortunately, we have wonderful farmers' markets in the area, and there are restaurants in town, like the Lovin' Oven, that specialize in farm-to-table meals."
A LIFE ON THE PAGE
"Farm-to-table" wasn't a term of art in Margaret Yardley Potter's day, but it's one she would have appreciated. "My great-grandmother was writing at the end of World War II, an unfortunate moment in American culinary history when frozen and processed foods were being sold to women as the modern way to cook," says Gilbert. "But she was really a locavore, someone who'd be at home in today's Brooklyn or Portland.
"She'd say, 'Don't go buy berries in season, when the greatest joy is to go outside on a bright, clear day and pick them yourself.' She'd advise you to talk to the ethnic people in your neighborhood. 'Do you have Jewish, German, Italian people living nearby? Find out what they're eating because they tend to be eating better than you!' These were the kinds of things people just weren't saying in the 1940s."
Potter's book brims with recipes for wild asparagus, fresh tomatoes, the perfect white sauce, "pot roast á la mode sentimentale" and killer cocktails. Her voice, says Gilbert, is "a cross between Dorothy Parker and M.F.K. Fisher." Potter dared to embrace the unusual, and the book also contains recipes for eels, tripe and cockscombs with wine. "She belongs much more to this moment in the food conversation than to the moment in which she was writing," says Gilbert.
Reading her great-grandmother's book, Gilbert considered for the first time that her own love of writing may, in part, have been her "Gima's" legacy—"that there may be such a thing as a Family Voice, and that I may have been lucky enough to have inherited some of mine from Margaret Yardley Potter." Certainly Potter had the gift of finding the world in even the most everyday activities—as does Gilbert. The garden Gilbert cultivates so assiduously? She credits it with inspiring an interest in plants that formed the basis for her next novel. It's about a 19th-century botanist.
Even setting down roots, it seems, can lead to a journey.