Growing Contentment
A well-planned garden can delight the senses—and nurture the spirit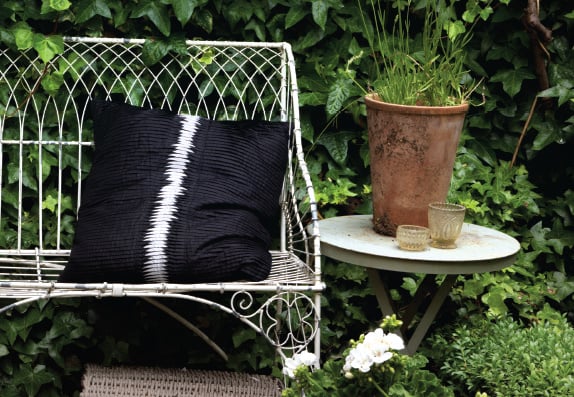 "To sit in the shade on a fine day and look upon verdure is the most perfect refreshment," wrote Jane Austen. That, of course, was years before research confirmed what most of us instinctively know: that gardens and greenery have therapeutic benefits. In fact, research from the Center for Health Systems and Design at Texas A&M University has shown that viewing natural scenes reduces stressful thoughts and is associated with wakeful relaxation. As a result, many hospitals, including Hackensack University Medical Center, have incorporated "healing gardens"—green, blooming havens in which patients can sit or walk—into their landscape design. More and more of today's homeowners are borrowing the concept, according to Mitch Knapp, president of Scenic Landscaping in Haskell.
"People are looking to make their yard into a personal sanctuary, a place that provides stress relief and relaxation," he says. While there's no established formula for creating a personal healing garden, there are general guidelines. The space should contain elements that appeal to all the senses. It should be easy to maintain, lest the stress of needing to weed and trim cast a pall on your peacefulness. If the setting is serene, the soul will follow, says Lois Kramer, who has lectured on feng shui in the garden for Midland Park–based Jacobsen Landscape: "If we choose to mindfully create a space that connects to what we want, magical things can happen."
1 Water works
The visual charm and soothing sound of moving water can be achieved with waterfalls in pools that create white noise, or with urns or olive jars that continuously spill into a pond or basin filled with decorative rocks, says Knapp.
2 Please touch
Include "ooohh, gotta touch that" plants such as velvety lamb's ear or an umbrella pine with irresistible rubbery needles, suggests Knapp.
3 Chime in
Having outside chimes allows you to "hear" the breeze. The sound also creates a vibration that will clear the space of negative energy, says Kramer.
4 Fluttering and flight
"Place plants that attract hummingbirds or butterflies, like cardinal flower, sea thrift daylilies and echinacea," says designer Carmia Schepmoes of Jacobsen Landscape. "Watching a bird or butterfly relaxes you and engages your senses."
5 Scents-ability
Adorn your garden with especially sweetsmelling blooms, Knapp advises: fragrant viburnum, hyacinths and Miss Kim lilacs in spring; Knockout roses for summer.
6 Go native
To keep your garden low-maintenance, choose plants native to the local area, Schepmoes says—such as sedges, St. John's wort, rose mallow, slender blue iris, black-eyed Susans, columbine flowers and cinquefoil.
Related Read: Putting the Garden into the Garden State