Have a ball in Cooperstown
Baseball may be the diamond in this quaint hamlet's crown, but the area offers a whole roster of family-friendly fun-even if you don't know an 'RBI' from a 'BYO'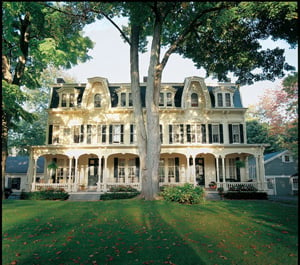 The sleepy village of Cooperstown, N.Y., at the southern tip of Otsego Lake about 75 miles west of Albany, is home to only about 2,000 souls. But every spring-when umpires across the land yell "Play ball!"-its renown as the home of baseball's Hall of Fame awakens once again.
The town got its name back in the 18th century, when it was part of a parcel of land purchased by the father of Last of the Mohicans author James Fenimore Cooper, who grew up here. Though baseball was supposedly invented in a Cooperstown cow pasture in the 1830s by Abner Doubleday, historians today find that claim spurious. Still, the national pastime's shrine here is the real deal.
The National Baseball Hall of Fame and Museum (607-547-7200, community.baseballhall.org), open since 1939, is the ultimate indulgence for connoisseurs of the great game's history. Allow at least three hours, and start with "The Baseball Experience," a 13-minute multimedia presentation in the 191-seat Grandstand Theater. Then take your pick: There are bronze plaques for all 289 players voted so far into the select Hall of Fame. In the Records Room, track active and all-time leaders in virtually every category of diamond stats. And take in the "No-Hitters Wall," featuring an actual baseball from every no-hitter in the majors since 1940.
Once you've had your fill of our nation's pastime, get a glimpse of its past: At the Farmers' Museum (1-888-547-1450, www.farmersmuseum.org), stroll through a true-to-scale farming village circa 1845, where costumed experts describe each period building's function. The museum features some 23,000 agricultural artifacts-and a monument to human gullibility called the Cardiff Man. He's a weathered-looking 10-foot stone figure supposedly "discovered" in 1869 as validation of the Bible's mention of "giants in the earth." In fact, the outsized figure was a hoax perpetrated by an atheist cigar manufacturer.
The Fenimore Art Museum (1-888-547-1450, www.fenimoreartmuseum.org) boasts a fine collection of include "In Our Time: The World as Seen by Magnum Photographers" (April 1 to September 6) and "John Singer Sargent: Portraits in Praise of Women" (May 29 to December 31). If you're more than aesthetically hungry, there's a café overlooking Otsego Lake; for an even closer look at the lake, taker an hour-long tour from The Glimmerglass Queen Tour Boat Company (607-547-9511, ext. 1; www.lakefrontmotelandrestaurant.com).
Culture hounds visiting in July or August might visit the Alice Busch Opera Theater, home to the Glimmerglass Opera (607-547-2255, www.glimmer glass.org). During its summer festival, the group will perform Puccini's Tosca, Copland's The Tender Land, Mozart's The Marriage of Figaro and Handel's Tolomeo.
A 45-minute drive east of Cooperstown takes you to Howe Caverns (518-296-8900, www.howecaverns.com), New York State's second most-popular natural attraction, which draws 200,000 visitors annually. Your 80-minute guided tour begins with an elevator ride 156 feet below the earth's surface, leading to what's billed as "a prehistoric underground cavern 6 million years in the making." There's also a Lantern Tour on Friday and Saturday evenings and a special two-hour Adventure Tour.
End your day at an eatery so nice they named it twice: Yum Yum Shack (607-547-8088, www.yumyumshack.com) might not sound refined, but the colorful spot is run by Culinary Institute of America-trained chef/owner Dave Neil and features such unexpected gems as halibut curry stew and pork chops with blue cheese-tarragon cream. We suspect you'll find it a home run.
The Inn The Inn at Cooperstown (607-547-5756, www.innatcooperstown.com), built in 1874 as the annex to the luxurious Hotel Fenimore, was fully restored in 1985. Close to in-town attractions, the quaint spot offers a luxury suite with two fireplaces, a spa bath and flat-screen TVs. Rates vary from $108 to $490 per night. (A two-night reservation is required for any Saturday-night stay April through October.)
7 FREE things to do on your Cooperstown visit
Watch cider being made in an authentic 1856 water-powered mill at the Fly Creek Cider Mill (607-547-9692, www.flycreekcidermill.com).
Enjoy a picnic by Lake Otsego, the source of the Susquehanna River, in Lakefront Park.
See a baseball game at historic Doubleday Field, opened in 1939. In season, games run all day long.
Visit two local art galleries: the Smithy-Pioneer Gallery (607-547-8671, www.smithypioneer.org) and the Cooperstown Art Association (607-547-9777, www.cooperstownart.com).
Tour Goodyear Swamp Sanctuary, a wetland at the northwest end of Otsego Lake that features waterfowl, reptiles, amphibians-plus plenty of trails to explore.
Learn about the Belgian-style ales of Brewery Ommegang (607-544-1800, www.ommegang.com), and the varietals bottled up at Bear Pond Winery (607-643-0294, www.bearpondwines.com).
Swing on through the Cooperstown Bat Company (1-888-547-2415, www.cooperstownbat.com), open Tuesdays and Thursdays June through August.
Source: Cooperstown Chamber of Commerce