Have a Skin-Safe Winter!
Your need for protection from the sun doesn't end when warm weather departs.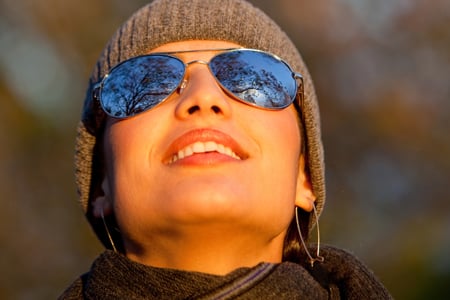 The sun may have slipped low in the sky, but that doesn't mean you should put the sunblock away. "The winter sun can be just as damaging as the summer sun," says Franz Smith, M.D., a surgical oncologist and skin cancer expert at Saint Barnabas Medical Center.
Skin cancer is the most commonly diagnosed cancer in the U.S., he says, and it is almost always associated with sun exposure. Spending time outdoors in winter, as skiers, snowboarders, hunters and other winter sports enthusiasts do, puts one at increased risk for overexposure to the sun's ultraviolet (UV) radiation. And the higher altitudes that skiers and snowboarders attain increase that risk even more. UV radiation exposure increases 4 to 5 percent with every 1,000 feet above sea level, says the Skin Cancer Foundation (SCF ). Also, snow reflects up to 80 percent of the UV light from the sun, so those rays actually hit your skin twice.
Yes, the days are shorter and the temperatures colder, but the basic guidelines for skin safety are the same in winter as in summer. "The best way to protect your skin is with sunscreen," Dr. Smith says. "I recommend a broad-spectrum product [that is, one that protects against both UVA and UVB rays] with a minimum SPF [sun protection factor] of 15, and it is critical to reapply it every two hours." Be sure to cover every bit of exposed skin, including the lips (use an SPF lip balm) and the underside of the chin, as well as the ears, neck, scalp and hands, even on cloudy days. (Up to 80 percent of the sun's rays can penetrate clouds, the SCF says.) And don't forget to protect your eyes as well with UVblocking, wraparound sunglasses or goggles.
Even if you're not the outdoorsy type in winter, beware of the year-round danger of tanning beds. "Despite the fact that they're popular here in New Jersey, they're not without risk," Dr. Smith says. "They've been associated with premature skin aging and an increased incidence of skin cancer." "Self-tanning" lotions, though, are generally harmless. "You can get the aesthetic appeal without the risk," says the doctor.
—D.L.
3 more skin-protection tips
Need to spend time outdoors? Try to do so in the early morning or late afternoon or evening, before 10 a.m. or after 4 p.m., to decrease the amount of time spent in the most intense sunlight.
If you must be outside most of the day, take breaks every two hours to reapply sunscreen.
Drink plenty of water to avoid dehydration. Source: Skin Cancer Foundation