Healing a broken ankle
After a scary injury, treatment puts a young athlete back in action.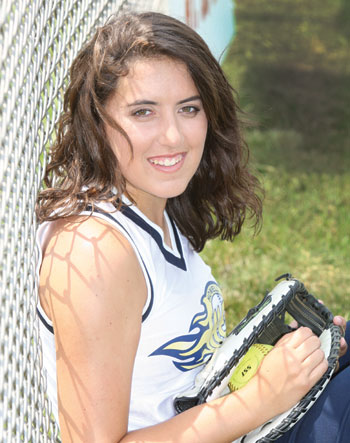 For High School Softball player Jillian Olsen, it was a routine sliding drill that turned out to be anything but routine.
Jillian, 15, who recently completed her freshman year at Brick Township High school, was injured while sliding into second base at a softball practice on March 29, 2009—which happened to be the 49th birthday of her fther, Wayne. Her cleat got caught in the dirt, but she kept sliding, causing her ankle to "pop" backwards.
Both she and her parents knew right away that it was not just a simple twisted ankle, and looking back on the accident a year later, they point to the decision to turn to The Children's Hospital at Monmouth Medical Center as the key to her full recovery.
"Her foot was literally hanging off the ankle," says her mother, Barbara Olsen. "We took her to our local hospital, where she was splinted and told to see an orthopaedist within four days."
Noting how difficult it was to get in to see an orthopedist, she says that a nurse in Jillian's pediatrician's office recommended they go to the emergency room at The Children's Hospital at Monmouth Medical Center, where they would have access to specialists in pediatric orthopaedics.
"At Monmouth, we were met by a phenomenal nurse, Big Mike, who was wonderful and explained everything to us and to Jillian," Barbara says. "Jillian said that at the other hospital she was scared because she was in pain and didn't know what was going to happen. But at Monmouth everyone took the time to talk to her and explain everything that was going to happen."
"She was treated at Monmouth with warmth and open arms," Barbara adds. "They put her in a private room in an area away from the commotion of the emergency room, and they checked on us frequently."
At Monmouth they also met Lawrence Stankovits, M.D., a fellowship-trained pediatric orthopaedic surgeon who immediately put the Olsens at ease.
"Dr. Stankovits was very gentle and also spoke directly to Jillian, explaining everything," Barbara says, noting that he showed them the X-rays that revealed a growth-plate fracture in her ankle, and presented three options.
Wayne notes that after discussing the severity of the injury, Dr. Stankovits explained the treatment options as an orthopaedic surgeon and as a father—and that by putting those two roles together he put the family at ease.
"He talked to us about the growth plate, and how it was not a just regular broken bone in the ankle," Wayne says. "We asked what he would do if this were his daughter, and he said he would go to the operating room and under anesthesia try and set the ankle, and if that didn't work, do surgery to insert a pin."
The Olsens agreed with the recommendation, and Dr. Stankovits took Jillian to the operating room, where he inserted a titanium screw to fuse the fracture. She was released from the hospital the next day.
"A fracture in a child can be very different from a fracture in the same location in an adult," Dr. Stankovits says. "Some injuries, if left untreated or improperly treated, can cause permanent damage and interfere with proper physical growth. Whether an arrest of growth occurs depends on the treatment provided."
Following the surgery, the Olsens were shocked at how fast their daughter bounced back.
"She had a cast and then a couple of weeks later a boot, and when he took the boot off, Dr. Stankovits told her to ease back slowly, and she never looked back," Barbara says. "By the fall, she was playing field hockey, and in the spring she was back on the softball field with no
pain—and no limitations."
In fact, she was again sliding into base without hesitation. Jillian—whose 17-year-old sister, Corinne, also plays softball for Brick High School—notes that if her ankle had not been treated properly, she would not have been able to return to sports, which are very important to her and her family.
"Right now she's at her peak, and nothing is holding her back," Wayne says. "The sky's the limit."
"There is never a bit of pain for her when she's playing—she's not afraid to slide, or run all out," Barbara adds. "As parents, we find it very reassuring to know that we made the right choices. Going to Monmouth—I'm 100 percent confident that we made the right choice there."
Monmouth's Emergency Department, which treats more than 15,000 children each year, is staffed by pediatricians with fellowship training in pediatric emergency medicine and supported by physicians like Dr. Stankovits with specialty training in a host of pediatric areas.
"As a designated Children's Hospital, we see a high volume of pediatric patients regularly in our Emergency Department," says Catherine Hanlon, M.D., chair of emergency medicine at Monmouth. "And we have specialists in every area of pediatric care available to consult with or examine patients."
The growth plate
Also known as the epiphyseal plate or physis, the growth plate is the area of growing tissue
near the ends of the long bones in children and adolescents. Each long bone has at least two
growth plates, one at each end. The growth plate determines the future length and shape of
the mature bone. When growth is complete, sometime during adolescence, the growth plates
close and are replaced by solid bone.
Because the growth plates are the weakest areas of the growing skeleton—even weaker
than the nearby ligaments and tendons that connect bones to other bones and muscles—they
are vulnerable to injury. Injuries to the growth plate are called fractures.
4 signs that require a visit to the doctor
Inability to continue play because of pain following an acute or sudden injury
Decreased ability to play over the long term because of persistent pain following a previous injury
Visible malformation of the child's arms or legs
Severe pain from acute injuries that prevents the use of an arm or leg
To learn more about the pediatric emergency department at The Children's Hospital at Monmouth, or for a referral to a pediatric orthopaedic surgeon, call 888-SBHS-123.