Healing Horses
These majestic creatures help humans—children and adults alike—heal.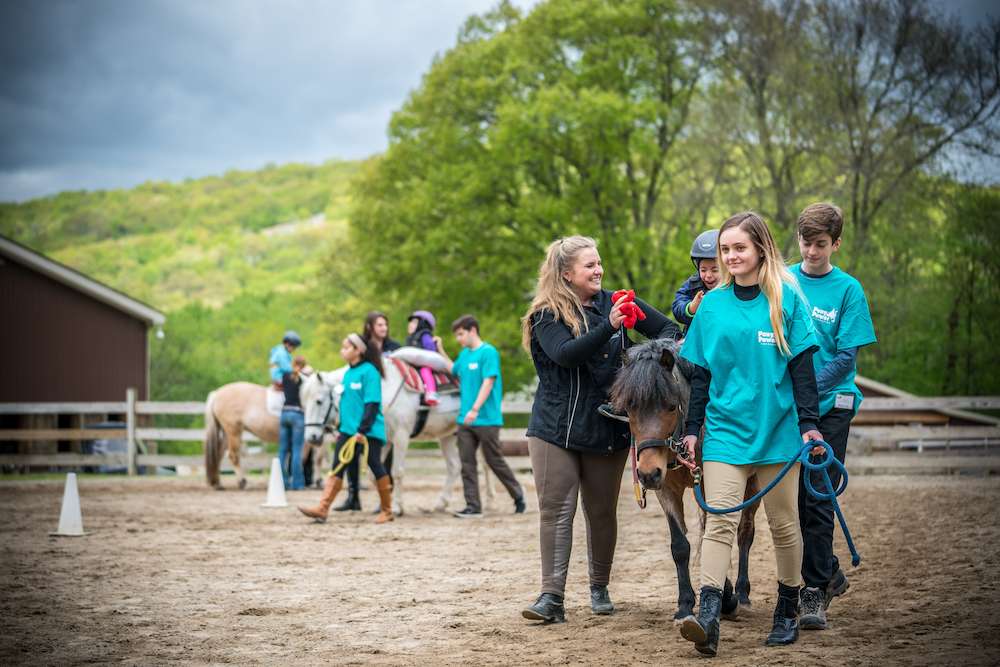 For one hour each week, 29-year-old Ridgewood resident Marcus Workman heads to a farm nestled in the foothills of the Ramapo Mountains and gets to be a rancher. He brushes and grooms his horse, puts on a saddle and a bridle, then mounts up for a ride.
Workman isn't just enjoying fresh air and horsing around. He has autism and is participating in equestrian therapy—a combination of animal-assisted physical, occupational and emotional therapy—at Pony Power Therapies in Mahwah.
Pony Power is a nonprofit that provides horse-assisted activities to kids and adults with a range of developmental, physical and emotional challenges. Horses make good therapists—like people, horses are are sensitive to nonverbal cues. They mirror people's behaviors and emotions. If a therapy participant approaches a horse with fear, the animal will respond similarly. Therapists work with horses to teach social connectedness, non-verbal communication skills and even mindfulness.
"Therapy on the farm is quieter, less hurried and not noisy like a classroom or a sports activity," says John Workman, Marcus' father. "It's a relaxing atmosphere, and at the same time, he is getting a form of physical and occupational therapy while perched up 3 or 4 feet above his usual vantage point."
According to Workman, his son struggles to communicate, but when focused on the horse, he feels less pressure to speak. "In therapy, Marcus was taught to pay attention to the animal and a bond develops very quickly between him and the animal he is caring for," Workman says. "He was taught that if he grooms a horse in a particular way, the horse will relax. And it's remarkable because you can see both the animal and Marcus relaxing at the same time."
Socialization is another component of Marcus' treatment. "In some cases there is another young man with autism on the other side of the horse while Marcus is grooming, and the two will interact," says Workman. "Now, you have two young men who don't really communicate and the horse is facilitating interaction. The therapist is trained to use grooming to coax these guys to come outside of themselves and be more communicative. That is a big deal in the autistic community."

Dana Spett, a lifelong Bergen County horsewoman who grew up in Old Tappan, established Pony Power. Spett's had horses since age 5, started the New York University equestrian team and competed internationally. When one of her three daughters displayed signs of sensory challenges as a 4-year-old, Spett tried a type of therapy that made crystal-clear sense to her—riding.
"Right off the bat, my daughter made a connection with the horse that seemed to coordinate the challenges she was having," Spett says. "Being on the horse gave her calmness and mastery. It was the right ingredient for her to put everything together and stimulate a brain change to coordinate her sensory experience. And, she felt proud and happy."
That experience had such an impact on Spett, that in 2000, she decided to transition from her career in social work to creating Pony Power. Spett started with a rented stall in Paramus, four riders and a donated horse named Mat. Within three years, demand for both riding and non-riding therapy was so high, Pony Power moved to an old farm in Mahwah.
All riders work with an equestrian therapist, two volunteers and a horse, of course. For little ones at Pony Power Therapies, big smiles can mean big breakthroughs.
Today, nearly 180 participants, who range in age from 2 to 84, work with 24 horses that roam more than 13 acres with the inspiring mountain backdrop.
Pony Power is a fully dedicated year-round Professional Association of Therapeutic Horsemanship member center. A slew of volunteers and 13 full-time staff members work with a range of special needs populations including autism spectrum disorders, cerebral palsy, seizure disorders, developmental disabilities, mental health challenges, Alzheimer's and dementia, addiction and recovery, visual impairments and traumatic brain injury.
One of those volunteers is Jaime Patriarca. Two years ago, the former Lyndhurst resident, now living in Essex County, became involved with Pony Power through a corporate community outreach program her employer offers. Because Patriarca's son has autism, she felt emotionally drawn to the organization. Her one-day commitment turned into two years of devoting time to the farm. "Because my son is autistic and non-verbal, it was such a good opportunity for me," says Patriarca. "When I interact with a special needs or autistic rider, and I get a smile or simple hello, I understand how much of an accomplishment that is."

Patriarca's 6-year-old son Jeremy participates in riding therapy and she sees the experience through a mother's eyes. "Jeremy lacks the ability to communicate, so to see him able to interact with his instructor and [volunteers] is an indescribable feeling," she says. "We have a dog at home; but my son does not interact with the dog at all. Horses have been the only thing Jeremy has been able to bond with. He gets right on them and doesn't stop smiling until he gets off." Therapeutic riding also can benefit participants with physical limitations.
For a rider with paralysis, the movement of the horse gives the rider the feeling of the appropriate human gait. Muscles throughout the rider's body can feel the horse make adjustments for bumps, inclines and declines in the landscape, creating sensations the rider won't feel in a wheelchair.
Not all participants at Pony Power ride the horses. By simply grooming, feeding and learning about veterinary needs, participants gain an understanding of following step-by-step processes. They observe the horse and become more aware of body language. Leading a horse helps participants regulate anxiety and stress as well as improve their spatial awareness.
Horse-assisted activities and their benefits differ for every participant. Both Patriarca and Workman have noticed their children have improved posture, increased eye contact and better communication skills after working with the animals.
This September, Patriarca's 3-year-old daughter will join her big brother at the farm for a sibling ride. "Because my son is non-verbal and the age difference between them, my children don't interact at all," says Patriarca. "I'm hopeful a sibling ride will spark interaction between them and I'm really looking forward to seeing that."