Healthy Breakfast
Erase sugary cereals from the morning menu and treat the kids - and you - to natural ingredients.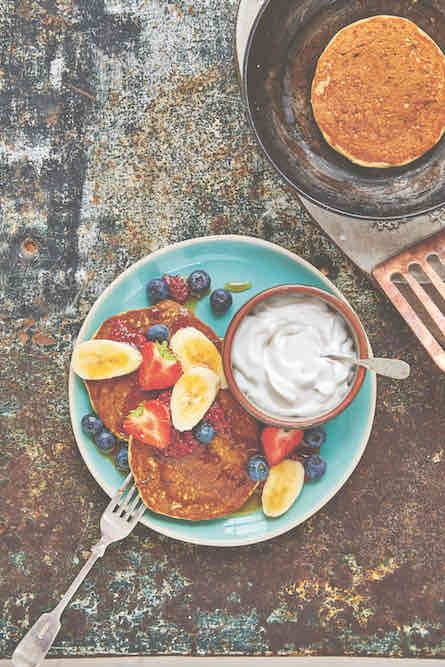 Fluffy Gluten-Free Pancakes
Yields: 5 servings
INGREDIENTS
½ cup gluten-free oat flour
¾ cup buckwheat flour
1 cup homemade applesauce (see pg. 77)
½ cup dairy-free milk
2 Tbs. maple syrup
1 tsp. baking powder
1 tsp. baking soda 2 tsp. lemon juice
1 tsp. vanilla extract
FINISHING TOUCHES
sliced bananas
fresh berries jam
coconut yogurt
drizzle of maple syrup
DIRECTIONS
Place all the ingredients in a blender and purée until smooth. Heat a nonstick skillet over medium-high flame and when hot, pour 2⁄3 cup of pancake batter into the center of the pan. Spread it into a circle with the back of a spoon, keeping it reasonably thick. Cook for 2 to 3 minutes.
Slide a spatula underneath the pancake, flip it over and cook for another 2 to 3 minutes before removing it from the pan. Put the pancake on a warm plate and cover with a dishcloth. Repeat until you have used up all the batter.
Serve with banana slices, berries, jam, coconut yogurt and a drizzle of maple syrup.

Probiotic Chia & Spirulina Jar
Yields: 4 servings
INGREDIENTS FOR THE CHIA PUDDING
2 cups nut or seed milk
1 Tbs. honey or other sweetener (optional)
½ tsp. vanilla extract
1⁄3 cup chia seeds
INGREDIENTS FOR THE PROBIOTIC SPIRULINA YOGURT
2 cups cashew yogurt
¼ tsp. vanilla powder
1 Tbs. honey or other sweetener (optional)
½ tsp. spirulina powder
pinch of salt
FINISHING TOUCHES
1 cup strawberries, sliced
2 Tbs. bee pollen (optional)
¼ cup coconut chips
DIRECTIONS
To make the chia pudding, blend the nut or seed milk with the honey (optional) and vanilla extract in a mixing bowl. Stir in the chia seeds until well combined. Soak until the seeds have absorbed all the liquid and become gelatinous. This mixture will keep for 3 days in a sealed container in the refrigerator.
To make the yogurt, blend all the ingredients together in a high-speed blender.
To assemble, put a layer of strawberry slices around the edge of the bottom of a parfait jar and add some yogurt. Spoon a layer of chia pudding on top of this. Finish with more strawberry slices, the bee pollen (if using), coconut chips and sliced almonds.
Sprouted Quinoa Granola With Homemade Applesauce
INGREDIENTS FOR THE GRANOLA
1 cup homemade apple sauce (see below)
¼ cup maple syrup
3 Tbs. tahini
1 tsp. vanilla extract
12 oz. sprouted quinoa
½ cup sunflower seeds
½ cup pumpkin seeds
2 tsp. ground cinnamon
pinch of salt
¼ cup raisins
¼ cup goji berries
INGREDIENTS FOR THE APPLESAUCE
10 medium apples, peeled, cored and sliced
1 cup water n pinch of ground cinnamon
sweetener of choice (optional)
squeeze of lemon juice (optional)
Note: Most apple varieties will work in this sauce, but a sweet variety will eliminate the need to add sweetener.
DIRECTIONS TO MAKE THE APPLESAUCE:
Put the apple slices in a large saucepan, add the water and cover. Bring to a boil over medium-high heat, then reduce the heat and simmer, stirring occasionally, until the apples break down into a thick sauce. This will take about 20 minutes.
Pour the cooked apple slices into a blender and whizz until smooth. Add any of the optional ingredients to taste. Store in a refrigerator for 1 week, or freeze.
DIRECTIONS TO MAKE THE GRANOLA:
Preheat the oven to 300°F. In a small bowl, mix together the applesauce, maple syrup, tahini and vanilla until you have a thick paste.
In a large mixing bowl, combine the quinoa, sunflower and pump-kin seeds, cinnamon and salt. Pour the applesauce mixture over the quinoa and seeds and stir to combine. Spread the granola evenly over a baking pan lined with nonstick parchment paper and bake in the oven for 20 minutes. Remove the pan, stir the granola minimally to ensure you keep nice big clumps and bake for another 20 minutes, until toasted.
Allow the granola to cool, then stir in the raisins and goji berries. Store in an airtight container.