Healthy Lunchbox Tips
5 back-to-school suggestions for making kids' midd ay nutrition a success story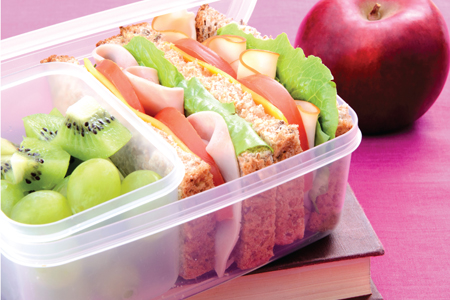 Before you know it, your kids will be back in their school day routine— and that includes lunchtime. Why not let that ritual help set the pattern for a lifetime of healthy eating? Deanna Schweighardt, a registered dietitian at Saint Barnabas Medical Center, offers five easy-to-remember bits of advice:
1. Be positive.
Sometimes it's only fear of the unfamiliar that leads kids to reject a new lunch-box item. Recruit your young fussy eaters as helpers in packing their meals, and help them understand that many healthy foods have qualities similar to what they crave in not-so-healthy items. Blueberries are sweet like candy, for example, and salt-free, butter-free popcorn is crunchy like greasy chips.
2. Make it fun.
Variety in form and presentation can spice up fare that might otherwise seem ho-hum. Whole-wheat pita isn't just better for you than a spongy white-bread slice; it also provides a pleasing pocket. When packing that lunch, experiment with low-fat yogurt parfaits, whole-wheat pretzels and veggies with a container of healthy (but tasty) dip. Place chunks of whole-wheat bread, turkey, cheese, cherry tomato and lettuce on a skewer to make a boring sandwich into a fun kabob. Or try an "inside-out" sandwich, with mustard on deli turkey wrapped around a breadstick.
3. Seek balance.
Aim to represent the food groups just as you would with a home dinner, emphasizing veggies, fruits and whole grains over meats, cheeses and similar items. And don't forget portion control. "Kids aren't adults," Schweighardt says, "so don't feed them as if they were."
4. Don't give up.
Switching your children to healthier eating is easiest when done gradually, says Schweighardt. Integrate healthy choices into home meals as well, so that when these items show up in the lunch box they aren't startling. And make sure there's a familiar favorite in that box as well. Don't give up if a child rejects a new food once; the second time could be the charm if the youngster really gives it a chance.
5. Let dessert be special.
What law requires that every day's lunchbox must contain a sugary, fatty dessert? Schweighardt recommends letting fruit be the sweet-tooth satisfier some days, replacing those junkier temptations. Then, when the occasion calls for a special treat, consider rewarding your child, say, with oatmeal raisin cookies you made together over the weekend—they're healthier than the packaged kind.
—jessica kinsella