Heartfelt Thanks To The Community
Monmouth Medical Center Offers 'Heartfelt Thanks' to the Community for Supporting Its Inaugural Cancer Awareness Campaign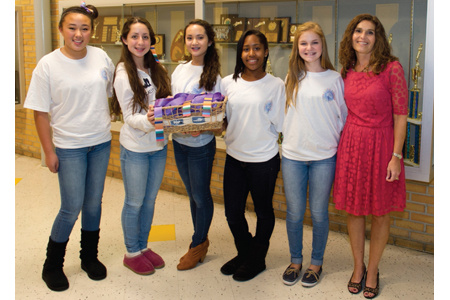 Monmouth Medical Center's Roll Out
The Ribbons campaign—launched
last summer to raise awareness of
cancer in all its forms—recently
concluded its inaugural six-month
run that featured thousands of
colorful, personalized ribbons tied to
a Promenade of Hope—a half-mile
stretch of railing along the boardwalk
in Long Branch.
This spring, Monmouth Medical
Center will return to the Long Branch
beachfront for a special event in
advance of the 2014 return of Roll
Out The Ribbons designed to provide
a heartfelt thanks to the community
for its incredible support of the first
campaign. The event, which will
be held in May at Pier Village, will
feature a host of health screenings,
entertainment, dance instruction,
refreshments and giveaways.
According to Frank J. Vozos, M.D.,
FACS, president and chief executive
officer of Monmouth Medical Center,
there's no better time than May—with
its May Day celebration of life and
renewal and observance of Family
Support Month—to show the hospital's
heartfelt thanks to the community for
supporting Roll Out The Ribbons. He
notes that the campaign was designed
to do just that—bring the community
together to support the fight against
cancer, a single enemy that takes on
many forms.
"We all know that there is strength
in numbers and that one unified voice
speaks louder and more clearly than many different ones,"
he says. "Monmouth
is dedicated to this
long-term awareness
campaign created to bring together the
surrounding communities in the fight
against all types of cancer, and we are so
grateful for the incredible support our
local community has demonstrated for
Roll Out The Ribbons."
As an example of this support,
he points to the Tinton Falls Middle
School, where more than 500 ribbons
were personalized by the school's
students. An initiative of five students
who learned about the Roll Out The
Ribbons campaign and undertook the
project to earn leadership hours for
National Junior Honor Society, it was led
by Emma Ledesma and Taylor Wilson,
eighth-graders at the Tinton Falls Middle
School whose own families have been
touched by cancer. During the student
advisory period, they worked with fellow
eighth-graders Elizabeth Daily, Renee
Ribecca and Mika Battaglia to visit every
classroom to explain the campaign and
ask each student to fill out a ribbon.
Taylor, whose grandfather has had
prostate cancer, said many students
told them how their families had been
affected by cancer, adding that many
students asked for more ribbons that
they could fill out at home.
"The message of Roll Out The
Ribbons is that there is hope," said
Emma, whose mom is a breast cancer
survivor.
Spanish teacher Paulette Schulte,
an advisor to the Tinton Falls Middle
School National Junior Honor Society,
said the students created awareness
that those facing cancer should not
feel isolated, and that we can give each
other hope through this community
spirit that exists both inside and
outside of the school.
"The students realized that many
of us are going through the same thing
and that we can support each other," she
said. "It was so good for the students to
walk away with that awareness.
"The girls took all of the initiative
on this project—it was their idea, they
organized it and coordinated it," she
added. "These girls acted as really good
role models to their peers, and for the
younger students, they also modeled
the behavior of Junior Honor Society
members."
The Tinton Falls Middle School
is a charter member of the National
Junior Honor Society. Academically
qualifying eighth-grade students are
invited to apply for membership and
must demonstrate 30 hours of service,
and 20 hours of leadership, in school
and/or the community. Selected NJHS
members serve as positive role models
and peer mentors.