Helping Out After A Storm
Two physician-led humanitarian groups from Saint Barnabas Medical Center teamed up to aid the devastated Philippines.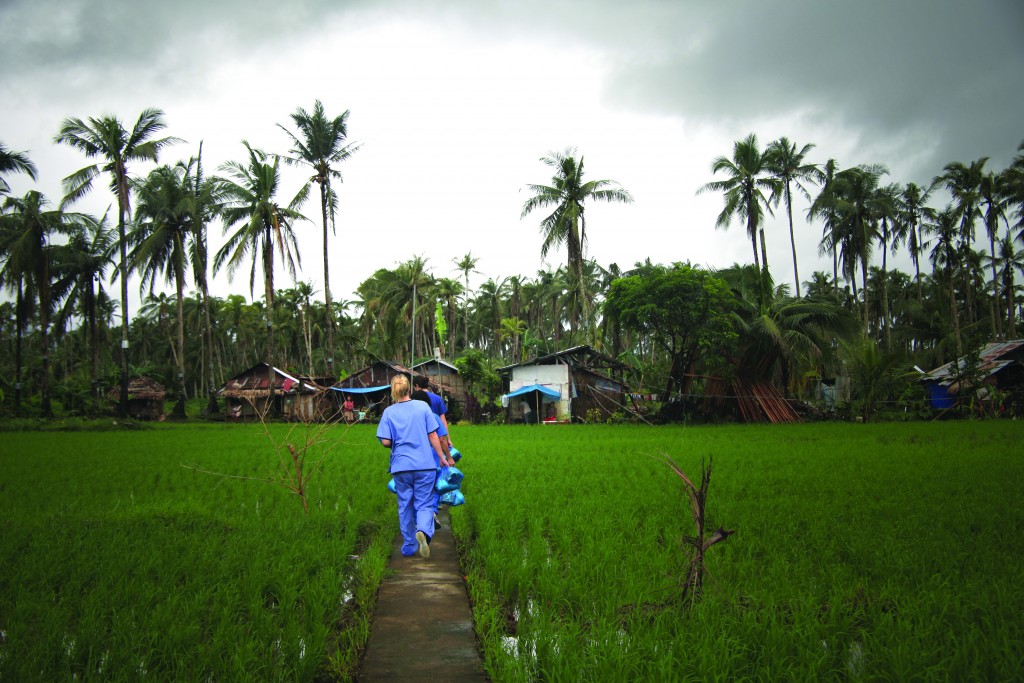 The typhoon that struck the Philippines last fall was the deadliest ever seen there, claiming at least 6,201 lives and, according to a United Nations estimate, affecting 11 million people. The tragedy tugged at the heartstrings, and if that country was one's native or ancestral homeland it tugged all the harder.
For two physicians at Saint Barnabas Medical Center, it was a call to action. They were among a large number of individuals at the medical center who perform charity and volunteer work of various kinds. One of them, ob/gyn Ernani Sadural, M.D., is co-founder of a humanitarian organization called LIG Global. (See "Inspired to Serve Others" on the opposite page.) Formed in 2010, LIG Global has made more than 25 trips to eight different countries to bring medical and other services to impoverished or otherwise needy people. But this January the group made its biggest trip yet. A team of 75 doctors, nurses, medical staff and other volunteers went to the Philippines to help that country recover.
More than 50 of the volunteers were from Saint Barnabas, which sponsored the mission. LIG Global was joined in the effort by another relief organization, the Marian Rose World Mission, which is headed by Cris Pamaar, M.D., a Saint Barnabas anesthesiologist.
Dr. Pamaar grew up in the Philippines, and Dr. Sadural's Filipino parents moved to Chicago shortly after his birth. "We work together," says Dr. Pamaar, "and we thought, 'Why not have a joint project in the land of my birth and his heritage?'"
The weeklong mission had several goals. The volunteers provided medical care to the residents and expanded the National Cervical Cancer Screening program, which they began earlier in 2013, in Dr. Pamaar's hometown of Ilo Ilo City, which was relatively unharmed by the typhoon. A group of physicians and staff set up at the local hospital doing about 50 gynecological, plastic, cleft palate, breast reconstructive and thyroid surgeries. The trip also included fieldwork in the disaster areas; half of the team was in the hospital, half in the field, and they switched mid-week.
The field teams visited the city of Tacloban, "ground zero of the typhoon," says Dr. Sadural, to do needs assessment and prepare for future medical work, and they traveled to the coastal areas of Ilo Ilo Province, where the typhoon did extensive damage.
The group had hoped to build new homes for residents on another island, but bad weather prevented that excursion. However, they joined a program called Adopt a Fisherman, which gave money to those working in the southern Philippines' largest industry to build new boats. "We sponsored 15 fishermen, who for $350 each could build a fishing boat with basic equipment and get back on their feet," Dr. Sadural says.
And they supported a New Jersey restaurateur named Leo Alquiros, who is part of yet another organization, the Love One Another Foundation. Alquiros built a food truck and spent two months cooking and serving about 2,000 meals a day to typhoon survivors.
Drs. Sadural and Pamaar plan more trips to the area, and part of their mission is to help the locals take care of themselves, through training and program development. Having the fishermen build their own boats is one example of their approach, says Dr. Pamaar, as is the cervical cancer program.
"We don't just dole out money," she explains. "That's a guiding force of the two charities: We want to establish longevity in what we do." —D.L.