Helping Parents See Their Babies
Thanks to one woman's persistence, funding is found for a new camera system for the neonatal intensive care unit.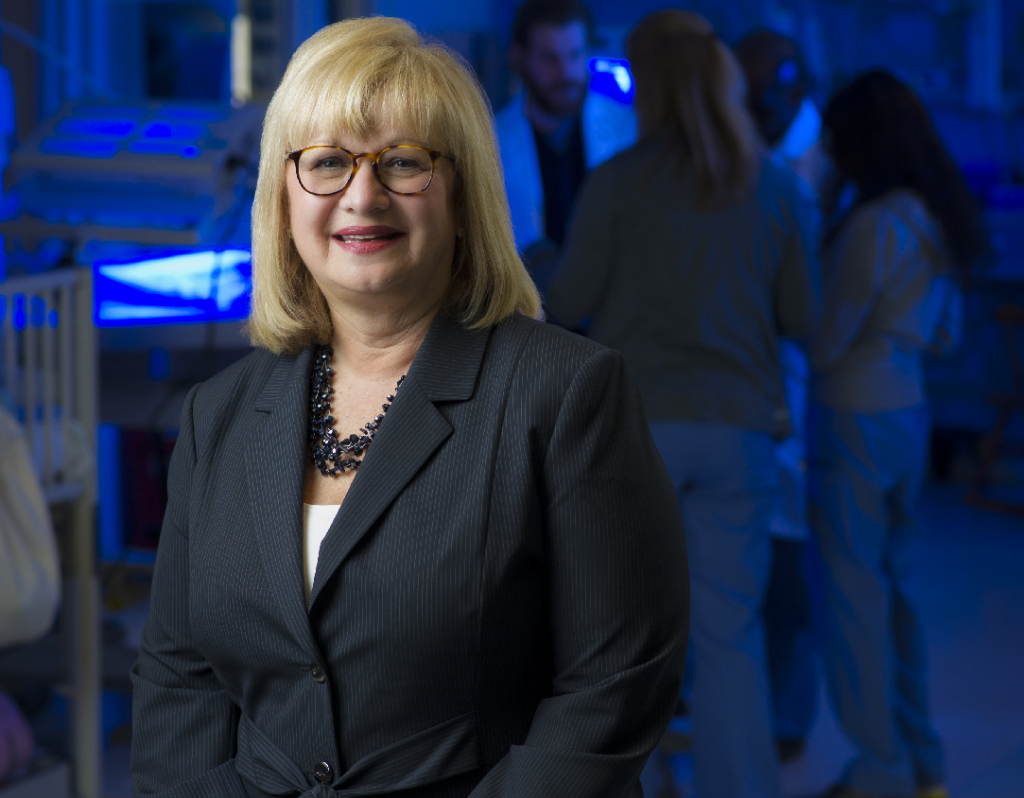 It took some doing to get past "maybe."
Karen McMullen, a member of the board of The Provident Bank Foundation, was charged with helping the foundation select worthy causes in the community to assist. And this cause—giving parents the chance to see their babies in the Neonatal Intensive Care Unit (NICU ) in The Children's Hospital at Saint Peter's University Hospital, on video, from anywhere at any time—seemed worthy. But $100,000 for a single gift?
Readers of the Winter 2013 Central Jersey Health & Life may remember "Babies on Camera," which described the new NICVIEW video system, which parents can access securely through any Internet-enabled device. That was the gift for which McMullen pushed—successfully, as it turned out.
McMullen, an executive at the Center for Financial Training as well as a foundation board member, became highly motivated when Ronald C. Rak, J.D., president and CEO of Saint Peter's Healthcare System, took her on a tour of the NICU .
"It just took my breath away to see these tiny children," says McMullen, who lives in Montclair with her husband, John Cina, a vice president at Valley National Bank.
When her stepdaughter needed surgery a few months later, McMullen was introduced to Mark Hiatt, M.D., director of neonatology and of the NICU . "He took me on another tour and talked about the unit and what they wanted to do," she says. That included installing the new video system.
"So many parents couldn't see their children as often as they wanted to, and the children are often there a long time," McMullen says. "I thought a lot about that, and asked if the hospital's foundation could put together a grant request for The Provident Bank Foundation."
Her foundation, which she has served for 10 years, has given, on average, about $1 million a year to thousands of organizations in central New Jersey. But $100,000 for a single gift was a heavy lift, and that's what the NICVIEW system would require.
"We hadn't been giving that amount at one time," she says. "I told them I was not sure this would happen. But I kept thinking about it. I wrote a note to the chairman of our board, which I'd never done before. I thought, if they could get that camera system, what a remarkable thing that would be for parents!"
The board approved the grant, the largest one-time gift in its history. "This project drew some responses I didn't see coming," says Jane Kurek, executive director of The Provident Bank Foundation. "It was very personal—more so than I recognized at first—for many of our members. But on reflection, how could one not get emotional about those infants?"
McMullen certainly did. "I'd never seen a unit quite like this," she says. "Some of these tiny babies looked as if they would never recover. They had so many tubes and so much going on. But it was reassuring to hear Dr. Hiatt say, looking at an infant, that though it would take some time, this little guy or gal would be fine. And I was moved by the compassion of the nursing staff. They hovered over these infants as if they were their own children.
"I live by my phone and iPad, as most of us do today. So I realized what a wonderful gift this could be for a mother who works or is ill and can't get to the NICU ," adds McMullen.
Of course, it isn't just for moms. Fortunately, firm support for the donation also came from a dad—The Provident Bank Foundation President Chris Martin, whose personal experience made him see the value of the new video system. "My son was a preemie," he says, "and it was tough not to be able to see him when I was working and couldn't be there."
But he agrees that most of the credit for bringing the hospital this "24-hour virtual window to newborns" belongs to McMullen.
"We were thrilled to be able to do this," she says. "I am eternally grateful to serve on the foundation board." And parents at the Saint Peter's NICU , in turn, are grateful that this persistent advocate helped to turn "maybe" into a resounding "yes." —D.L.