History in the Hills
Just a short drive away, the Bear Mountain Inn blends a touch of luxury with lots of character.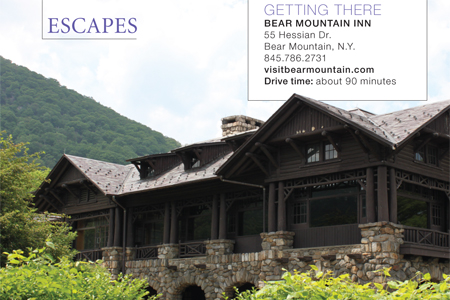 Driving along the winding mountain road called Seven Lakes Drive, I'm transported back in time by the untouched beauty around me. My grandmother, you see, used to enjoy this very road because it reminded her of her hometown in Oregon. But this lovely Bear Mountain area offers enchanting echoes of the past no matter who your grandmother is. And a visit to the Bear Mountain Inn—surprisingly close to home—feels like an otherworldly getaway.
You'll find the inn up in the hills, near a relatively undeveloped stretch of the Hudson and within hiking distance of the Appalachian Trail. Its main structure was built in 1915 by the firm Tooker & Marsh and was inspired by Eastern architecture and the Adirondack Great Camps—those grandiose, lakefacing, late 19th-century family compounds of the wealthy.
The inn was recently renovated, and much of the log cabin–style furniture and even a few light fixtures have been restored to their original glory. With the renovations came a spa and two restaurants. Both menus boast mouthwatering bites. Restaurant 1915 is a foodie's dream: inventive modern flavors with a "rustic chic" feel (and reasonable prices). Executive chef Michael Matarazzo's goal is to "change the perception of park food." But while breaking with the institutional past, he pays homage to retro fare with homemade pork rinds accompanied by a delicious béarnaise sauce. And that's just the amuse-bouche!
After a decadent meal (perhaps a Hudson Valley duck breast or a succulent steak with heirloom tomato panzanella) and a good night's sleep, I recommend hitting the Spa at Bear Mountain for a little "me" time. I chose the Lavender Garden Dream, an 80-minute experience that awakens every cell in your body. Seasoned German masseur Armin begins by dry-brushing your entire body, followed by a massage with lavender oil, a hot stone massage and more. You will leave feeling cleansed and utterly pampered.
Following your spa visit, you can enjoy the jogging path around Hessian Lake, a ride on the carousel or a walk through the zoo (yes, there's a small zoo here, with indigenous creatures—owls, coyotes, bears and such—that because of injury or some other problem can't survive on their own). Or set up a picnic and play ball on a field where the Yankees and Dodgers have played. (Babe Ruth negotiated his first contract with the Yankees at the inn, and the Dodgers had training grounds near here during World War II .)
There's a lot to see and do at Bear Mountain State Park, and this historic inn is the perfect place to retreat to at the end of a fun-filled day.
—MEREDITH McBRIDE KIPP