Hit A Big Shot on These 6 Tiny Courses
Families and friends battle for bragging rights at Bergen's mini golf centers.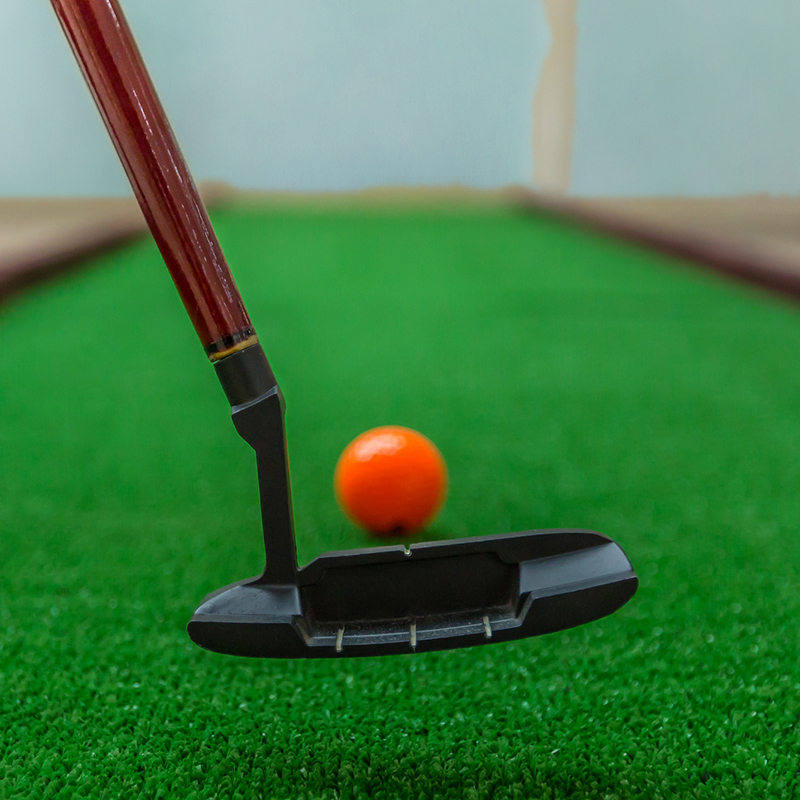 While the big boys and girls play 18 on full-size golf courses and at golf simulators, a smaller and more scaled-back version can be a fun, carefree activity for families and friends. This is putt-putt or miniature golf, a sport where hitting the ball straight or avoiding sideline props isn't necessarily the best way to play.
In Bergen County, there are a number of mini golf courses that allow players of all ages and skill level to test their putting skills. And with several of them located in indoor facilities, golfers can play any time of year—whether there's a tropical storm in the forecast or a blazing heat wave that's stalled in the Northeast. Here are six courses to try when the itch to golf strikes:
Angry Birds Mini Golf, East Rutherford. The first of two indoor miniature golf courses in the American Dream mall is filled with twists, challenges—and slingshots—based on the popular Angry Birds video game.
*1 American Dream Way, East Rutherford, 833.263.7326 
Black Light Mini Golf, East Rutherford. Also located in American Dream, this indoor course is played entirely under black lights, bringing out unique colors and a space-themed background. Whether you're with family or friends, you'll be certain to leave with plenty of new Instagram content.
*1 American Dream Way, East Rutherford, 833.263.7326
Bogota Golf & Sports Center, Bogota. Take your pick: The facility has a driving range and simulator, batting cages and a basketball court, but the indoor mini golf course is the ideal activity any time of the year. It's a straight-forward course without characters and props, but the indoor "river" can quickly wash away any errant shot.
*30 Cross St., Bogota, 201.489.2400
Closter Golf Center, Closter. Adjacent to the double-deck driving range is this outdoor course. Though it doesn't have a giant clown or outrageous obstacles, there are plenty of scenic water features and a giant giraffe that add to the relaxing ambience.
*153 Homans Ave., Closter, 201.768.0990 
Monster Mini Golf, Paramus. This playland features bowling and an arcade, but its main draw is its monster-themed, glow-in-the-dark indoor mini golf course. Here, a sinister clown head is just one of the animated monsters in the way as you try to hit a hole-in-one. And you thought your chipping game on the real course was scary!
*49 E. Midland Ave., Paramus, 201.261.0032
Paramus Mini Golf, Paramus. The county's most popular outdoor mini golf course is dedicated to all things Jersey—characters, props and obstacles are based on Garden State personalities and landmarks. There are stretches dedicated to the GWB, Jersey Shore, Statue of Liberty and even the Fritz Behnke Museum in Paramus.
*314 Paramus Rd., Paramus, 201.447.6079
Which mini golf course in Bergen County is your favorite? Let us know!