Holiday Eats
Here's a simple—yet elegant—three-course meal that's perfect for when guests stop by.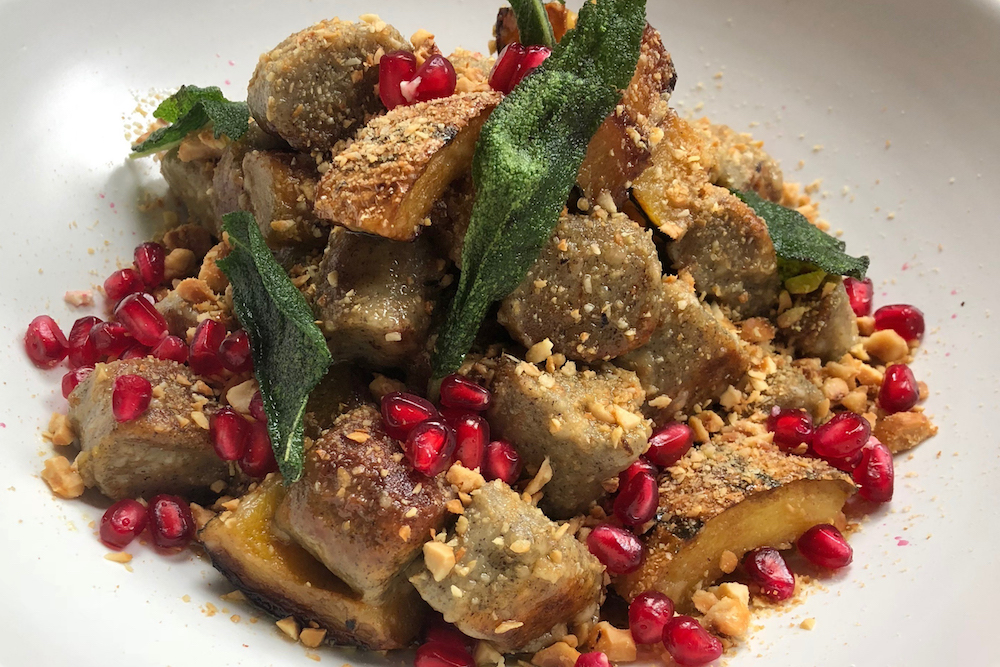 MARTYNA KROWICKA, CHEF DE CUISINE, FELINA, RIDGEWOOD
GNOCCHI WITH SQUASH, HAZELNUTS AND POMEGRANATE SEEDS
INGREDIENTS:
1 delicata squash
1 pomegranate
2 eggs
2 cups ricotta cheese
1¼ cup grated pecorino cheese
1 Tbs. salt
½ tsp. ground black pepper

¼

cup buckwheat flour
2 cups all-purpose flour, plus 1 cup for dusting
2 cups hazelnuts
1 cup canola oil, or any neutral oil
½ stick butter
2 cups chicken stock, vegetable stock or water
1 bunch sage leaves
juice of ½ lemon
DIRECTIONS:
Bring a large pot of water to a boil. Meanwhile, mix ricotta, eggs, 1 cup pecorino cheese, salt and black pepper in a large bowl. Once combined, add buckwheat and all-purpose flours one cup at a time. Mix with your hands until all the flour is thoroughly blended. The dough should be a little wet but not to the point that it sticks to your hands. Set the dough aside and let rest.
Cut delicata squash in half lengthwise and scoop out the seeds. Then cut the squash into ¼ inch pieces. To fry the sage, pour about one cup of oil into a sauté pan on medium high heat. When the oil is hot, add the sage leaves; they should crisp up in 15-30 seconds. Remove the sage using tongs or a skimmer and lay them onto paper towels to cool. Reserve the oil for later use.
Toast the hazelnuts in a 350°F oven for 8 minutes. Once nuts are cool, place in a resealable plastic bag and squeeze out as much air as possible. Using a rolling pin or heavy-bottomed pot, beat the nuts in the bag until they are mostly broken up, then set aside. Cut pomegranate vertically from top to bottom. Place half of the pomegranate in your non-dominant hand with the seed side facing your palm and spread your fingers apart. Using a wooden spoon, strike the pomegranate over the bowl so the seeds fall out. Set aside.
Cut dough into four pieces. Roll each piece into logs that are about 1-inch thick, add flour to the surface as needed so it doesn't stick and cut into 1-inch pieces. Once all gnocchi are cut, season your boiling water with salt and put half the gnocchi into the boiling salted water. The gnocchi are ready once they float to the top. Oil a baking sheet and remove the gnocchi from the boiling water using a skimmer and place onto the oiled baking sheet. Cook the rest of the gnocchi. Heat a large sauté pan and add some of the "sage oil" from earlier. Place the delicata squash in the pan and allow them to cook on each side for about 3 minutes. Add a little more oil and ½ stick of butter. Add the gnocchi to the pan and let them get a little crispy. Add your stock or water, allowing the liquid to reduce for 1 minute and stir as needed.
Add remaining cheese and lemon juice and season with ½ tsp. salt. Spoon gnocchi into a large bowl or 6 individual bowls. Sprinkle nuts on top of the gnocchi, followed by pomegranate seeds, and garnish with sage leaves.
CHEF JOSEPH CUCCIA, 17 SUMMER, LODI​
ROASTED RACK OF LAMB WITH CABERNET POACHED PEARS INGREDIENTS:
2 racks of lamb (8 ribs each)
4 Bartlett pears, peeled
2 small acorn squash, cut in half and seeded

½

tsp. fresh thyme, chopped

½

tsp. fresh rosemary, chopped
4 cloves garlic, peeled and smashed
1 bunch flat leaf parsley, chopped
1 tsp. kosher Salt

½

tsp. freshly ground pepper
4 cups Cabernet Sauvignon

½

cup water
¼ tsp. ground cumin

¼

tsp. whole clove n extra virgin olive oil
DIRECTIONS:
Season the lamb with kosher salt and freshly ground pepper. Heat medium skillet until hot, about 3 minutes. Add 1 tsp. olive oil into hot pan. Be sure the racks of lamb are dry and seasoned liberally with salt and pepper.
Carefully place one rack at a time into the hot skillet. Sear on all sides. Remove from skillet and transfer to roasting pan or backing tray with wire rack. Mix garlic, thyme, rosemary and parsley together until incorporated into a loose paste, and add olive oil if too dry. Rub onto seared lamb. Roast at 375°F for approximately 15 minutes for medium rare. Allow meat to rest and reabsorb all the natural juices.
Place whole peeled pears in a large saucepan. Cover with Cabernet Sauvignon and water. Add ground cumin and whole clove. Bring to simmer and cook pears until fork tender, approximately 15 minutes. Remove from heat and allow to cool, keeping the pears in the poaching liquid.
Once cool, cut pears into ¼ inch pieces and set aside. Once ready to serve, add one tsp. of oil to a frying pan, add cut pears and season with kosher salt and pepper. Look for some caramelization on the pears and serve with lamb.
Season inside of the acorn squash with kosher salt, freshly ground pepper and olive oil. Place face down on a non-stick baking sheet. Bake for 40 minutes at 400°F. Slice acorn squash and serve with the lamb and pears.
CHEF PETER ANGELAKOS, BACARI GRILL, WASHINGTON TOWNSHIP
CHOCOLATE PANNA COTTA
INGREDIENTS:
2 cups heavy cream
2 cups milk
¾ cup sugar
8 egg yolks
1 whole egg
8 oz. bittersweet chocolate
3 leaves bloomed gelatin

¾

cup malted milk powder (optional)
TO SERVE:
Oreo cookies, crushed
cigarette cookie
whipped cream
cherries
mint leaves
DIRECTIONS:
Heat the cream and milk with the malt powder, if using, until just below boiling. In a bowl, whisk sugar and eggs until combined.
Place chocolate in a separate bowl. Temper eggs with hot cream. Cook over medium-low heat, stirring constantly with a wooden spoon. Cook until thick enough to coat the spoon and return saucepan to stove.
Strain mixture into bowl with the chocolate. Wait 5 seconds and whisk until well combined, being careful not to overmix. Stir in bloomed gelatin while still warm. Fill glasses (Irish coffee cups work well) ¾ full and chill until set.
Top with crushed Oreo cookies and whipped cream and garnish with cigarette cookie, cherry and mint leaf.