Hollywood Happenings
Read BERGEN's exclusive with Ramsey resident Geoffrey Cantor.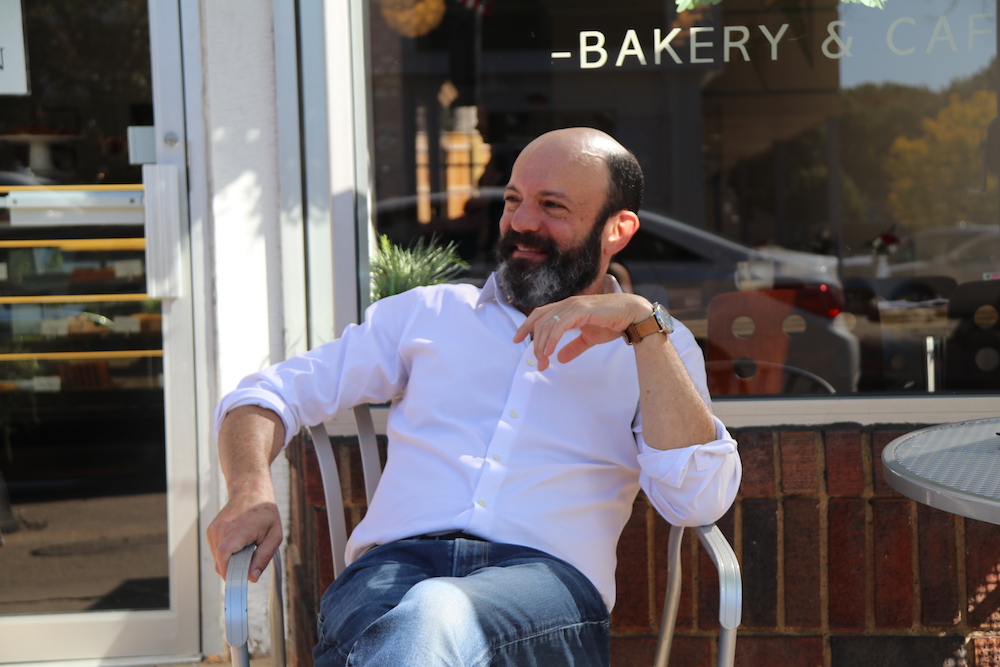 Ramsey resident Geoffrey Cantor has made his mark on TV, film and the Broadway stage. Now, in a BERGEN exclusive, he talks about his role on Netflix's Daredevil, how he landed a part in the Coen Brothers' Hail Caesar! and what it's like to be this close to Scarlett Johannson.
Have you always been a Bergenite?
I'm a New Jersey boy since first grade and lived in Bergen County since third. My parents are still in Woodcliff Lake. I had sort of a Wonder Years meets Red Oaks kind of life. I was in London for a bit, and then lived in Jersey City, Englewood and Chestnut Ridge, N.Y.—and now here I am in Ramsey.
You've done shows ranging from Law & Order to House of Cards. Which has been the most interesting/challenging to work on?
I've been very fortunate to play very different characters in these shows. In the 12 Law & Order episodes I've done, I've played drug and sex addicts, lawyers, a shady journalist and a husband whose wife is strapping bombs to her body. I played a nerdy bank manager, therapists, FBI agents, and of course the newspaper editor in Daredevil and Punisher. In films, some roles have been even more removed from my "type." Each one offers its own challenges, which is precisely what interests me. Some of the challenges have as much to do with shooting schedules, 16-hour days, even weird weather conditions. But there's a great sense of accomplishment when you can do good work no matter what.
One of your best-known roles is Ellison in Daredevil. Do fans recognize you in public?
I would say that Daredevil is the first job I've ever had where the recognition is immediate. What I used to get was, people would look at me, and they knew they'd seen me in something because they'd watched Law & Order—but they wouldn't know quite who it was that they were recognizing. With Daredevil, the beard is iconic, so there's much more character recognition. So I do get stopped on the street a little bit.
Do you have any special memories about your audition?
I'd had knee surgery and, two weeks later, slipped and dislocated my shoulder. I punched it back in and broke it in two places—we got the MRI on a Friday. My surgery wasn't until Tuesday, so that Monday, with a broken shoulder and some painkillers left over from my knee surgery, I went in and auditioned for Daredevil. And I got it. I also auditioned for Blacklist that day and got that too. So it turned out to be a lucky day. I think I should break bones more often—I'd get a lot more work. (laughs)
What was it like auditioning for Hail Caesar! in front of the Coen Brothers?
The Coen Brothers are two nice Jewish boys from Minnesota, so there was something very recognizable there. I don't get starstruck—that wasn't a problem— but I was auditioning against all my friends. I knew every actor who was trying out, and we were all having the same feelings: We all wanted to be in a Coen Brothers movie. Because everybody wants to be in a Coen Brothers movie. During my first audition, the Coens weren't there; my second audition, the call-back, they were. I was doing Daredevil at the time and had the full beard, and I knew it wasn't appropriate for the role—it wasn't the right time period—but I couldn't shave. So I brought a picture of me without the beard. I wasn't nervous—I was excited—and they were just nice guys. They laughed and were really friendly. I did it a couple of times and they asked if I'd shave, and I said of course. Next thing I know, I was flying out to L.A.
You were certainly surrounded by the cream of the crop in that film—George Clooney, Scarlett Johansson, Josh Brolin, Ralph Fiennes and Channing Tatum come to mind. Any standout memories?
I have to admit that my favorite part of it was when Josh offered me a ride from downtown L.A. where we were shooting to Santa Monica, where it just so happened we were both staying. We chatted about everything non-acting related—family, travel—and I got door-to-door service. The fact that I am now working with Jonah Hill again [on the upcoming TV series Maniac] is a treat. I just saw him again, and he recognized me and gave me a hug.
So you weren't starstruck at all on the Hail Caesar! set?
Look, I'm working with everybody now, which is great and exciting. But they're all normal people—all of them are normal people! They are not movie stars.
Not even a goddess like Scarlett Johansson?
I will admit that, when I was filming that scene in the office with her, I was sitting this far away from her (motions a couple of feet with his arm), and this room is lit beautifully. And there she is in that hat and that ivory outfit—this far away from me—and yes, she was a movie star.
So she has the entire package. Have you worked with anyone who doesn't?
I mean, I've had experiences where I've thought, "Why them?" But there's a certain level you're not going to get to because you're beautiful. I'm not working with the Kardashians—I'm not working with people who are famous for being famous—I'm working with people who have a body of work behind them. I mean, Josh Brolin is an exceptional actor, and Scarlett has a huge range. And Jonah Hill, he works his ass off. These are not people who are just sitting around.
What's your dream role?
I really want to be a series regular on a show based out of New York. Besides the security, it offers you a knowable schedule and time to do other things, like take a holiday, or do theater that may not pay as well. And I'd really really like to play Shylock in Merchant of Venice.
Is there one TV show you'd have loved to be in?
Something like The Office. If you were to offer me a regular role on a show right now, I'd be hard-pressed to be too picky, but I've been really fortunate. I've done everything, and I love it all. The best part about not being a regular on a show is that I get to do all of this huge range.
What advice would you give to a youth who wants to become an actor?
Get a good education, get well-trained, work your ass off, prepare like a fiend, know yourself well, do it because you love it, and realize that it is joyously hard work.
What's the best part of raising your family in Bergen County?
For me, it's about family. My sister is down the street and my folks are two towns away. It's where I grew up, and I knew how to be a parent here. It's safe. And it's close enough to New York where my work is, but far enough away that when I want to slow down, I can.
What's your favorite local restaurant?
I love Panache right here in town. It is our family go-to for celebrations. When we walk in, we always feel welcome. And the food? Their elegant menu always has an excellent range of choices, and they source their produce locally. I'm a huge fan of the duck.
Any favorite local haunts?
I love the Ramsey Farmer's Market. It's been here for a few years, and we now get a good deal of our produce there from Blooming Hill Farms, our pickles from Dr. Pickle, hummus from Taiim Hummus, olive oils and other gourmet goodies from Jeff at JD Gourmet and gluten-free baked goods from Mostly Myrtles (where my daughter worked this past summer, and where I have even manned the stall). It's not even shopping, really—it's more like a fun Sunday activity. We know the vendors, and they know us. It's a place of real community.