Home Game
Turn your yard into a 24/7 play space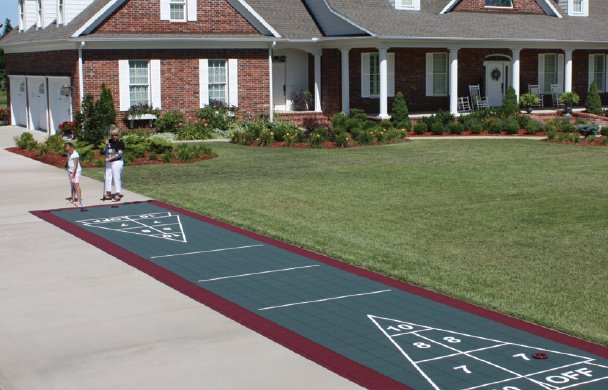 Want to turn your backyard into a 24/7 play space? Here's what it takes to shoot, swing and chip to your heart's content:
There's no surer way to put more muscle behind your tennis swing, develop your slam dunk or perfect your putt than with a court or green in your own backyard. Think about it: No club dues are required, you can hit the play space any time and the dress code allows PJs. If you'd like to try for your own "home field advantage," however, there are some questions to ask:
Can your yard handle it?
"One of the biggest obstacles is town requirements," says Neil Christensen of MultiSport Surfaces LLC in Hillsdale. "How much impervious surface are you allowed to have on your property?" The answer can derail your dreams of a hard-surface court. So get thee to your town surveyor to find out about permits (and fees), engineering needs and other municipal must-haves. What's the grade? Of your yard, that is. The slope will dictate if you need retaining walls and site work. "If the topography needs to be corrected, it will take materials to correct," says Michael Lehrer, owner of Home Green Advantage, an Armonk, N.Y.–based company that has installed more than 600 putting greens since 1995.
Is it easy to access?
Ideally, your contractor will transport materials to the site on a skid loader. But if a gate, fence, landscaping or neighboring property makes it impossible, that means getting them into your backyard by hand—and all that time and labor will jack up the price. In some cases, landscaping has to be removed and replanted.
Where will your play space go?
Typically, you'll want to put it in a corner so it doesn't obstruct the view of your yard. Adds Lehrer, "With a putting green, be aware of what can go wrong when hitting shots." Translation: You don't want to break any windows—your own or your neighbor's! He recommends a sunny spot where the wind blows to avoid any water buildup and consequent mold. What's the ground like? Wetlands are not viable for putting greens, says Lehrer, while "sandy loam has to be compacted. And any grass or deep roots have to be removed entirely because if they're left beneath the surface they will decompose."
Who will build it?
"This isn't cutting grass!" says Christensen. "You need people who do this—and do it often." Adds Lehrer: "Get someone who's done it 500 times!" The pro you pick should have lots of experience, be willing to show you his work and be happy to provide references. The consensus is that top-of-the line products like VersaCourt, SofTrak and Flex Court tiles (which are kinder to creaky knees) will yield the best results. Says Christensen: "We don't offer a discounted putting green; we're constantly making sure the products we use are the best."
Are you up for the upkeep?
The good news is that if you opt for state-of-the-art materials, your play space will likely be low-maintenance. Removing leaves and other debris, an annual power-washing and perhaps a professional TLC session once a year will keep your court or field like new—and you at the top of your game.
Related Read: LAWN GAMES