Home Projects That Pay
Here are 6 upgrades and how much they'll add to the value of your house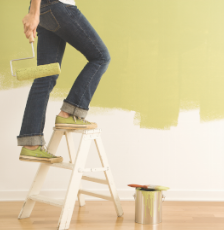 At least once a year, my husband and I look around our house and think of all the ways to make it better. "We could repaint the dining room, fix up the kitchen, transform the attic into a master bedroom or replace those front shrubs to increase curb appeal," we say. "Or win the lottery and do them all!"
Whether or not you're planning to sell, it never hurts to add value to your home. "Resale value is only one factor when considering a remodeling project," says Sal Alfano, editorial director for Remodeling magazine, a publication for contractors. "People typically remodel for emotional reasons—they want more space, better space, new space." 
Yet, with smaller budgets and an unstable housing market, it's only smart to ask, "Is it really worth the cost?" Here are some projects, ranked from least to most expensive, that may pay off:
1. Dress up your lawn. Your green thumb can help bring in the "green," according to the 2012 National Home Improvement Survey by HomeGain, a website that calculates home values. The survey polls nearly 500 real estate agents nationwide. Investing a little more than $500 in a yard—by way of mulch, manicured lawns, bushes, plants and flowers and the removal of leaves, branches, weeds and debris—increased home values by an average of $1,777. That's a 215 percent return on investment (ROI).
2. Paint on the appeal. "For remodeling, one can of quality paint generates a really big bang for the buck," says Stephen Melman, director of economic services at the National Association of Home Builders. The average price to paint your inside walls is $967, and it will increase the price of your home by $2,001—a 107 percent ROI, says the HomeGain survey. (Don't forget to touch up woodwork, doors and window frames.)
3. Update your door. Experts say installing a steel front door is a low-cost way to add high curb appeal
 to your home's façade. According to 
the Remodeling 2012–13 Cost vs. Value Report, for which real estate agents across the country were queried, it will cost you $1,243, on average, and will boost your home's resale value by $974. Why steel? "Steel doors are insulated and weather- resistant, and they are a bit cheaper than wood entry doors," says Alfano.
4. Go minor, not major. Especially in kitchens and bathrooms, minor upgrades (replacing fixtures, appliances and finishes) beat out big expansions and overhauls. According to the Remodeling report, a minor kitchen renovation for under $5,000 was expected to recoup 75.4 percent of its cost on a national average basis, while a major kitchen remodeling returned an estimated 59.7 percent of its more than $100,000 price tag. "Kitchens and baths are still the sexiest rooms in the house, making the biggest impression on prospective buyers," says Alfano. "The smaller 'face-lift' projects get higher returns."
5. "Do-over" your deck. Homeowners who add an outdoor wooden deck to their homes recoup on average 77.3 percent of the project's average $9,327 cost, according to the Remodeling report. Wooden decks have the greatest ROI, but experts say they don't last as long as composite ones.
6. Add new bedrooms. Despite hefty price tags, a remodel of the attic ($47,919) and basement ($61,303) have ranked high on the list of profitable projects for several years, each recouping more than 70 percent of its cost. Alfano suggests it's because they add living space without increasing the home's footprint. "They are less expensive than an addition and easier to get permits for," he notes. Another explanation: the growing number of young adults moving back home. —SUSAN AMORUSO JARA