Hometown Hero: Paige Alenick, Tooth fairy to the underprivileged
An everyday act leads to the launch of a nonprofit promoting dental health both locally and globally.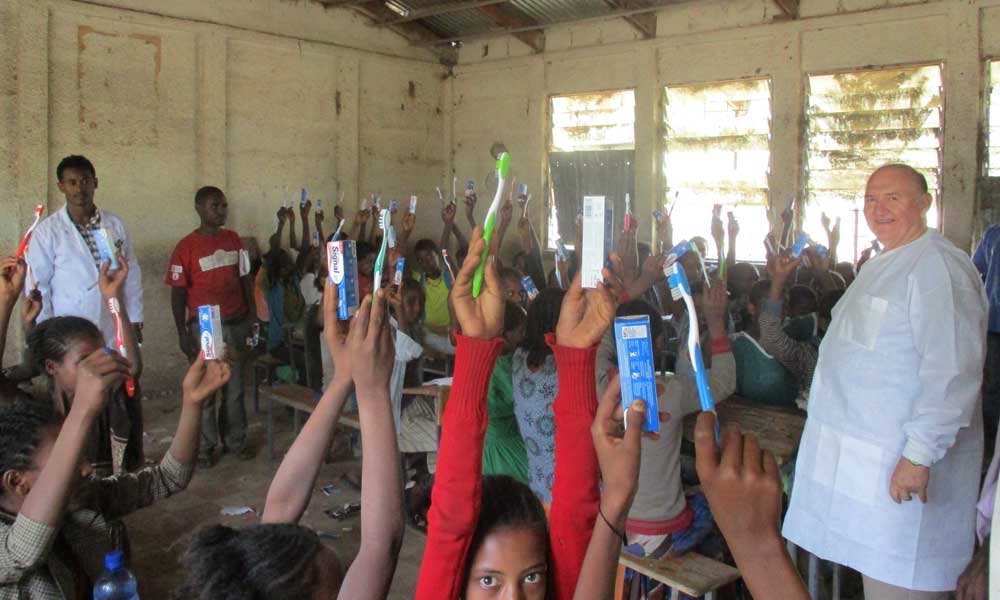 When you meet 21-year-old Paige Alenick, it's no surprise to learn this intelligent, wellspoken young woman has spent two-thirds of her life in volunteerism. But would you believe she's helmed her own nonprofit, Donate a Toothbrush, for the past six years, sending more than 250,000 toothbrushes to those in need?
The light bulb moment for the Woodcliff Lake resident occurred when she was 15, when during the simple act of brushing her teeth she realized many people around the world don't have access to such "luxuries" as toothbrushes. "When you think about impoverished countries, you think about how people need food and shelter" rather than hygienic needs such as oral care, she says. But, she adds, poor dental hygiene can lead to an array of health issues, from heart disease to problems with the kidneys and liver.
That moment spurred Alenick—with help from her parents and older sister—to launch Donate a Toothbrush, a 501(c)(3) nonprofit that collects toothbrushes and monetary donations. Through a partnership with Oklahoma-based World Dental Relief (WDR), which provides volunteer dental services during mission trips around the globe, the toothbrushes Alenick collects are distributed to countries like Costa Rica, Senegal, Kenya and Ethiopia. Alenick says her nonprofit fills an important gap, enabling the less fortunate to maintain their dental health after they are treated by volunteers from the relief group.
Locally, Donate a Toothbrush also benefits area organizations from food pantries and domestic abuse shelters to the Rutgers Dental School and the KinderSmile Foundation. Since its inception seven years ago, Alenick's nonprofit has received donations from individuals in 40 states and more than a dozen countries, distributing nearly a quarter of a million toothbrushes. It's a cause that draws the support of young children, too—Alenick once received packages from a Brownie troop who raised money to buy toothbrushes and from the family of a 2-year-old who used his birthday party to collect toothbrushes to donate in place of gifts.
Contributions don't only come from individuals, who can find information on how to send brushes or funds through her website, donateatoothbrush.com—Alenick's been able to convince large companies such as Colgate and Benco Dental to donate to the cause.
Her first brush with volunteerism dates back to the tender age of 7, when Alenick served as the youngest member of Joining Old & Young (JOY), a Demarest-based choir that serenades nursing home residents with tunes from the 1950s and '60s. "It was incredible to see how people who were in wheelchairs, on stretchers and receiving oxygen responded to the songs—they would start tapping their toes and bobbing their heads," Alenick recalls. She spent 11 years with the group and even served as its president.
Now her main focus is Donate a Toothbrush, her work for which has won her a number of scholarships and accolades, including a Russ Berrie Award for Making a Difference. She's also had the opportunity to speak at a United Nations Youth Assembly conference.
Photographs of those who benefit from her hard work keep Alenick going, even when college midterms and essays demand the bulk of her attention—she's currently a senior at New York University, where she studies psychology and hopes to work toward a doctorate in industrial organizational psychology. "I see little kids and adults holding their toothbrush up like it's a trophy. For some, it might be the only toothbrush they'll get in their whole life," Alenick says. "It's something we take for granted every day. Seeing that inspires me to keep growing the organization."