Hometown Thrills
How many of these Garden State adventures will you experience this summer?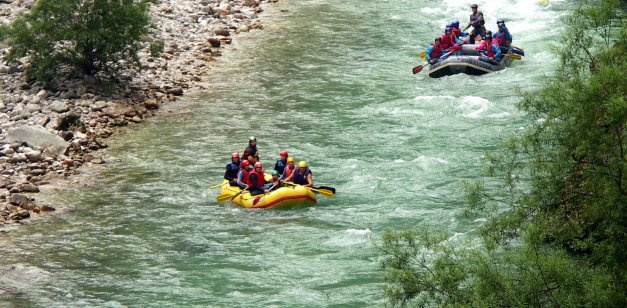 If New Jersey were a distant destination, you might have journeyed here to discover its many wonders long ago. But who expects travel thrills in their own backyard? Fact is though, we Monmouth residents are blessed: Within a short drive there are sandy beaches, lush farmlands, rolling mountains, scenic rivers-and unforgettable experiences.
1 Parasail Over the Atlantic
Seagulls aren't the only ones who can relish a bird's-eye view of the Atlantic Coast-you can too, thanks to numerous Jersey Shore companies that offer parasailing, soaring in a parachute towed by a motorboat. For a view of the Garden State's coast, try Ocean City Parasail in Ocean City (609-399-3559, www.oceancityparasail.com), which provides single, tandem, even triple rides lasting eight to 15 minutes in the air ($65 per person), operated by United States Coast Guard-trained captains. Hang on tight, because your flight could reach heights up to 500 feet-the highest permitted by New Jersey law. Want to relive your flight on land? Sign up for the photos package and you'll receive a memory card of digital pictures of your flight ($23).
2 Hike the Appalachian Trail
Spanning approximately 2,178 miles from Maine to Georgia, the Appalachian Trail is the nation's longest footpath, with 72 of its miles running through northwestern New Jersey along the Kittatinny Range. You can enjoy breathtaking scenery on a hike through all or part of the Jersey trail, which extends from the Delaware Water Gap opposite Pennsylvania to Abram S. Hewitt State Forest in Passaic County. On the southern end check out Sunfish Pond in Worthington State Forest, a 44-acre glacial lake surrounded by a chestnut oak forest. In the north, a walk through the rocky ridges of High Point State Park offers stunning valley and mountain views.
3 Paddle Through the Pinelands
Encompassing about 1.1 million acres of tranquil pine oak forests, streams, rivers, farms, crossroad hamlets and small towns in southern New Jersey, the Pinelands National Reserve-also called the Pine Barrens-is the largest body of open space on the Mid- Atlantic seaboard between Richmond and Boston. Though numerous hiking trails are available for visitors, paddling through the Pineland's pristine waterways is perhaps the best way to enjoy its largely untouched beauty in the summertime. The Wharton State Forest in Atlantic, Burlington and Camden counties permits canoeing on the Mullica, Batsto, Wading and Oswego rivers, where you can observe bald eagles, red-tailed hawks, river otters, Pine Barrens tree frogs and more. Don't own a canoe of your own? You can rent one to take onto the Wading or Oswego rivers at Pine Barrens Canoe Rental in Chatsworth (1-800-732-0793,www.pinebarrenscanoe.com; $50 per canoe).
4 Spot Whales in Their Natural Habitat
You can observe the world's largest mammals with a family-friendly whale-watching cruise offered by the Cape May Whale and Research Center in Cape May (609-898-0055, www.capemaywhalewatch.com). The two- to three-hour journeys take you on the Atlantic aboard the 80-foot-long M/V Whale Watcher, where you'll learn about the feeding, migratory and breeding habits of whales, dolphins and local birds, as well as "spotting techniques" for viewing whales and dolphins in the water. ($28 to $38 for adults; $18 to $23 for children ages 7 to 12.)
5 Visit the Lakota Wolf Preserve
Listen to the howls of tundra, timber and arctic wolves-and watch them run and play from a safe vantage point-at the Lakota Wolf Preserve in Columbia (1-877-733-9653, www.lakotawolf.com). Lakota offers Wolf Watch programs twice daily, allowing you to view four packs of wolves in a special observation area and learn interesting facts about them, such as their social structure and eating habits ($15 for adults, $7 for children under 12). Because photos taken at the Wolf Watch program will reveal chain-link fencing installed for safety reasons, more serious photographers can enjoy a guided photography session around each individual wolf compound ($300 for two hours), which provides numer- ous opportunities to photograph the wolves up to 3 feet away through special portal openings in the fencing.
6 Take a Hot-Air Balloon Ride
Want to capture the full beauty of Hunterdon County's serene rolling hills, tranquil farmlands and breathtaking old estates? Leave the car behind and hop on a hot-air balloon. Hunterdon Ballooning Inc. (908- 788-5415,www.hunterdonballooning.com) in Flemington launches 45-minute flights-in the evening daily, with additional morning launches on weekends-taking you on a dreamy voyage a few thousand feet in the air. Visitors float over picturesque corn and grain fields, lakes, meadows and forests-and on clear days can sometimes even see the New York City and Philadelphia skylines as well as the Delaware Water Gap. Wear comfy clothes and bring a camera and your thirst for adventure. ($215 to $295 per person, include a complimentary champagne toast and snacks following your flight.)
7 Tube on the Delaware
Forget water parks-you can enjoy a real lazy river ride by renting single, double and triple tubes from Delaware River Tubing in Frenchtown (908-996-5386, www.delawarerivertubing.com). Tube launches begin along the banks of the Delaware River, accessible by a free shuttle from the company's headquarters on Route 29. From there you'll soak up the summer sun and take in the beauty of the region as you follow the river current for three to four hours, spanning about 5 or 6 miles. Admission fees include a barbecue lunch at The Hotdog Man, a snack stand located about halfway through your voyage on Adventure Island (you can munch your meal on picnic tables placed in the water), life jackets and a shuttle to and from Delaware River Tubing's head- quarters ($19.62 on weekdays; $25.23 on weekends and holidays). If you want something a little faster, you can also choose to rent rafts, canoes or kayaks.
RELATED READ: Escape to Crystal Springs Resort