Hope for Fragile Babies
Lauren Hirschmann, 13, is a typical teen. You'd never know that when she was born, she spent 96 days in Saint Barnabas Medical Center's Neonatal Intensive Care Unit (NICU), fighting for her life.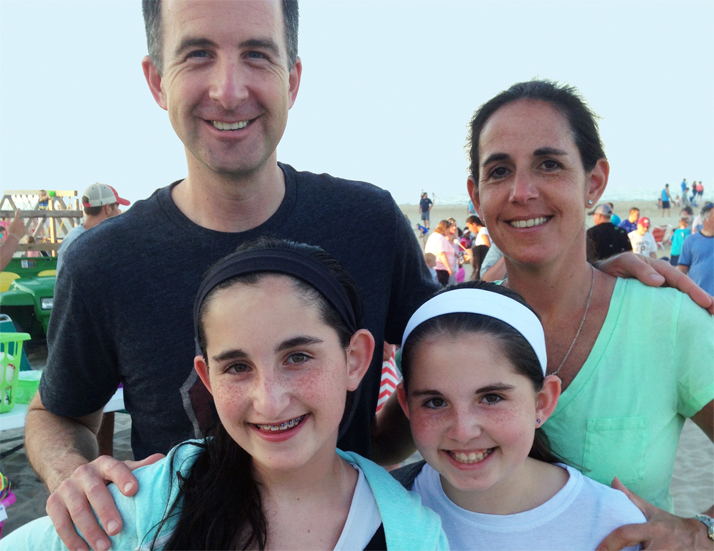 Lauren Hirschmann, 13, is a typical teen. She gets good grades and is active in school plays and sports. You'd never know that when she was born, she weighed just 1 lb., 10 oz., and spent 96 days in Saint Barnabas Medical Center's Neonatal Intensive Care Unit (NICU), fighting for her life.
Sadly, her twin brother, Matthew, "wasn't ready" when the two were born at just 25 weeks' gestation, says Hayley Hirschmann, their mom. He died several hours after birth. But Lauren was able to overcome "typical preemie problems," Hirschmann says, including feeding difficulties and eye ailments that eventually needed surgery. "Since then, Lauren's health has been really fantastic," she says. "She didn't even need glasses until this year."
That happy outcome is the result of the expertise and skill of the Saint Barnabas NICU staff, says Hirschmann, 45, a clinical psychologist, who lives in Livingston with her husband, Jonathan, 46, a marketing specialist, Lauren and their other daughter, Jessica, 12. They were so grateful that they organized a fundraising event called the Miracle Walk to thank the staff in honor of Lauren and in memory of her brother. "We wanted to give something back to these incredible people and this incredible place," she says. And give back they have—13 Miracle Walk events have so far raised about $4.4 million.
How Technology Helps
That money is much needed, explains Shyan Sun, M.D., medical director of the NICU. State-of-the-art technology can make the difference between a successful outcome and failure. "All of these new technologies are very expensive," Dr. Sun says. "The funds from the Miracle Walk help us acquire some of this super high-tech equipment so we can provide gentle care for our most fragile babies."
The new machines include noninvasive continuous monitoring technology, which has replaced frequent blood drawings and reduced the need for frequent blood transfusions. "Today, oxygen and carbon dioxide levels are continuously and painlessly monitored through a sensor on the skin, and as a result oxygen toxicity and eye damage are significantly reduced," Dr. Sun says.
Other cutting-edge advancements include sophisticated ventilation equipment and the use of nitric oxide gas. "This gas can open up collapsed blood vessels in the lungs to improve blood flow for adequate ventilation," he says. "These new modes of ventilation aim to reduce ventilator-induced lung injuries. Together, they have saved many, many lives."
Top Staff, Top Results
The Saint Narnabas NICU is one of the most highly rated units in the country, according to the Vermont Oxford Neonatal Network, which compiled data on more than 950 NICUs from 25 countries. "Our survival rate for extremely low gestational age and birth-weight babies is among the best in the country," Dr. Sun says. "During the past four years, 76 percent of babies born at 23 weeks at Saint Barnabas Medical Center survived to be discharged home as compared with the Vermont Oxford Network rate of 40 percent. Our long-term severe disability rate is also lower."
That success is due in part to having neonatologists available around the clock, every day of the year. "The time with the highest risk of death is in the first hour of human life," says Dr. Sun. "Also, babies face tougher survival odds if they're born at night or on weekends or holidays. Research shows that the early neonatal death rate (within the first seven days of life) is 40 percent lower in a hospital with a neonatologist available in-house at all times than in one with a neonatologist on call from home at night and on the weekend."
At Saint Barnabas, all high-risk births are given meticulous attention. "We provide a neonatal resuscitation and stabilization team consisting of one neonatologist, at least one NICU nurse and one respiratory therapist for all high-risk deliveries and c-sections—one team for a single birth, two teams for twin deliveries and three teams for triplets," Dr. Sun says.
As a regional perinatal center, the Saint Barnabas NICU has 56 beds and admits 90 to 100 babies a month. The NICU staff comprises 12 neonatologists, three pediatric surgeons, three pediatric cardiologists, 130 nicu registered nurses, a team of neonatal respiratory therapists, onsite neonatal pharmacists, neonatal occupational and physical therapists and numerous pediatric subspecialists.
For all the complexity of the work, the medical and health care professionals treat everyone like family, says Hirschmann. That makes the Miracle Walk more than just a fundraiser to those whose lives have been touched by the NICU. "It's like a reunion," she says. "The nurses man the food tents and tables, and the parents show off their kids and grandkids. It's an amazing, feel-good day."
It feels good for her family as well. "Every single year, families tell us, 'we don't know how to thank you for starting this. We wanted to do something to give back, and now all we have to do is form a team and come out to walk,'" says Hirschmann. "So many families leave this unit so grateful. We want to let the staff know that we are so appreciative, because we wouldn't have our families without them." —David Levine