House of Stone
In this Tenafly home, a wall of marble and limestone combines with dark wood to create a welcoming entertaining area.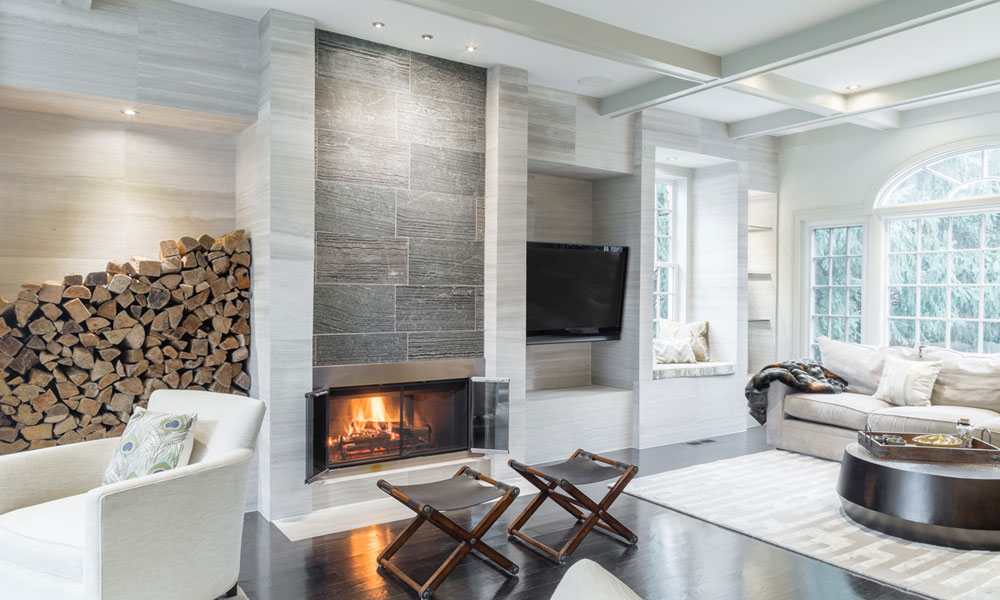 Shelley Cekirge's living room is a study in contrasts. When the Tenafly homeowner renovated the space, she covered an entire wall and wet bar area in ash limestone and Zebrano marble from Artistic Tile but wanted to temper the coolness of the stone with warm wood used throughout the room. "I tried to incorporate a lot of wood because I think it softens the look," says Cekirge, who owns her own design firm, Shelley Cekirge Interiors. The dark floors, which are 5-inch-wide white oak planks stained dark brown, also stand out against the lighter taupe, gray and ivory furnishings. The room isn't just a formal entertaining space, it serves as the main hangout in the house, so Cekirge sought to make it functional as well as beautiful. She designed three separate seating areas in the room: a TV nook on one side, a conversation space on the other side and a game table with four wooden chairs in the rear. Two wooden and leather stools in front of the fireplace provide extra seating when needed. "A lot of the furniture was repurposed from our previous home in Los Angeles," says Cekirge, who moved back to the East Coast about two years ago. "I didn't spend a lot of money on furnishings because I knew our three kids were going to be running in and out of here. I spent more on the stone on the walls because I knew they weren't going to damage that."
The walls and counter of the wet bar on the other side of the room are covered in the same stone, with open shelving that showcases Waterford crystal and vintage gold art-deco glasses by artist Carole Stupell that were once featured in Manhattan's Museum of Modern Art. Nambé champagne flutes from Cekirge's wedding sit on the counter above a wine fridge. "I wanted to make sure people used this room because we don't have an open floor plan," says Cekirge. "We did everything we could to really drive the traffic in here when we entertain. We use the game table for hors d'oeuvres, and we use the wet bar to make drinks. This is a very well-utilized room, which makes me really happy."
"The cushions on the window seats are covered in a Sunbrella fabric that I bought many years ago," says homeowner Shelley Cekirge. "It has a little bit of gold—it's just the right amount of color." She chose dark-brown coffee tables that play up the darker stone found above the fireplace.
The marble and limestone motif carries to the wet bar, where glass shelving holds stemware by Waterford and artist Carole Stupell. This page: In front of the fireplace, two folding stools provide extra seating. "The idea of a textured, matte-finished stone wall appealed to me," explains Cekirge. "I liked that it was not super-finished and polished, just more raw. It brings in a rustic element, and it brings in a bit of history, and I liked the way it felt when I looked at it. I've always loved using natural materials."