House Warming
Once plain and cold, a Cresskill mansion is adorned with elements of style that reflect the homeowners' personality and heritage.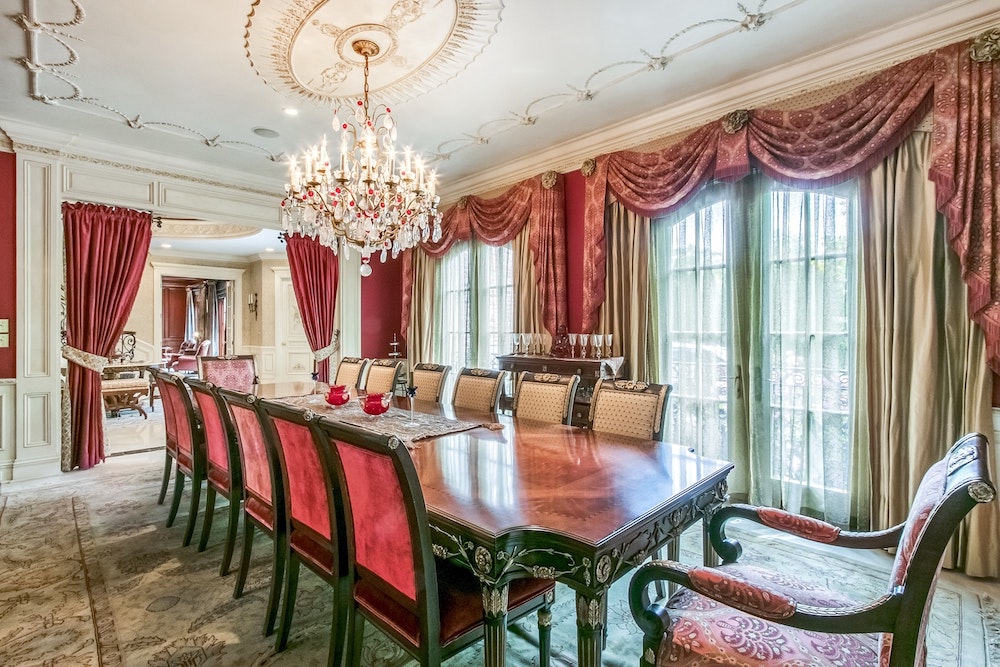 Design by Diane Boyer
Photography by Vishal Moorjani
Diane Boyer inherited a relatively blank canvas when she was asked to redesign the interior of a nearly 7,800-square-foot, six-bedroom Cresskill mansion. The house, built in 2004, was the original builder design marked mostly by plain white walls. The lackluster appearance was in stark contrast to the personalities of the homeowners and their three children, all of whom loved to use the space for parties and get-togethers.
"Not every family follows the neutral look that's trending today," says Boyer, who runs an eponymous interior design firm in Verona. "This is a family of lovely, vibrant people who entertain and embrace their Indian heritage and traditions. We shared a vision to make a decorative home where nothing is ordinary."
Entertainment central starts in the kitchen, an integral first-floor room for a mother who enjoys cooking and a daughter who's enrolled in culinary classes. The old kitchen was "one big space," recalls Boyer, who ultimately divided it in a way to create more cabinets and a large island with ample prep space as well as a table for quick bites and conversations. The cabinets were custom-made by Showcase Kitchen & Bath, as was the canopy installed over the main island. Also above the island—and in the adjacent, octagon-shaped breakfast nook—hang antique chandeliers.
"Mixing antiques and custom pieces is part of creating a unique feeling," she says. "You don't have to rip everything out to do that; you can add and redo a great deal."
Boyer also redid the dining room, which too had no particular points of interest. Red is a color of celebration and happiness in the family's culture, so Boyer dressed the room with crimson wallpaper and a similar shade for the window treatments. The texture of the drapes and chair upholstery were also important, as the homeowners are Garment District professionals. Hanging from the custom-designed ceiling and above the 14-seat Francesco Molon dining table is the centerpiece.
"The dining room chandelier is critical," she says. "With the red walls, the glow from this piece is very exciting."
In the nearby library, Boyer added molding to the former flat ceiling and walls to create visual interest. Built-in cabinets and a custom-made L-shaped desk provide the perfect workspace when the father of the family invites clients to his home office. Those clients, Boyer says, are treated to a "cocoon of comfort," as they sit in either a cozy sofa or armchairs, each with textured fabrics.
"Everything is comfortable when you go there," she says. It's a very warm house now, from the art and draperies to the moldings and color scheme. "When you're working with someone, you make sure both your visions are going in the same direction. And we accomplished that, creating a dream environment for the family."