How Stepfamilies Thrive
Always smooth sailing? Nope. But such combo clans can work—just ask five not-so-wicked Bergen stepmothers.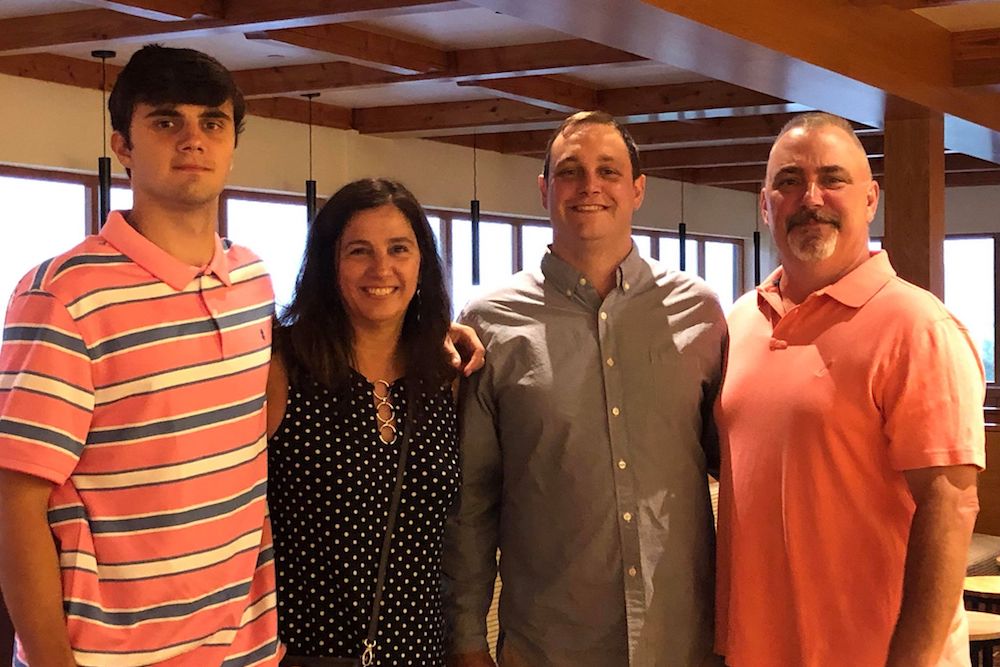 In pop culture, a negative connotation is often put on stepfamilies, stepmothers in particular. But National Stepfamily Day, celebrated annually since 1997 on Sept. 16, is part of an effort to change the narrative surrounding these modern-day families, which are on the rise. About 42 million adults in the United States have been married more than once (up from 22 million in 1980), according to the Pew Research Center.
To shed some light on this increasingly common family structure, BERGEN chatted with five local stepmoms, who share how they achieved positive relationships with their stepchildren (or how their children did so with their husbands) and offer advice for others in similar situations. Though no family dynamic is the same, one thing remains constant: Communication and respect are paramount.
"I met my stepson Kyle when he was nine years old. We used to spend a lot of time together until my son, Tommy, was born. Kyle started hanging out with his friends in Ridgewood more during his teenage years, and I was busy taking care of the baby. As Tommy got older, Kyle started coming around more, and their relationship grew organically. No one was putting pressure on either boy to spend time together. It wasn't always easy. I don't like the term 'stepmom.' I could clearly see how Kyle had enough people in his life telling him what to do; I wasn't his mother, so I tried not to 'boss' him around.
"When Kyle was in his late 20s, he nonchalantly told me what a big influence I was on his life growing up. He told me that some of his fondest memories are of all the places I took him and his friends, and he really appreciated all that I did for him during a time when he was struggling with back-and-forth visits between his parents' houses. I got so emotional because I did everything from the bottom of my heart and didn't realize I was having any effect on him. Kyle is 32 now and Tommy is 17, and their bond was and still is beautiful and priceless. My heart swells with love for my stepfamily. Even better—Kyle's mother and I sometimes walk at the county park together!"
—Georgette Georgiadis, Glen Rock
"My husband Richard and I and my stepson Ray became a stepfamily in 2007. When my husband and I first met, Ray, then just 12, treated me like a nonperson, like I wasn't even there. He was not a warm and fuzzy kid. Because of his age when I came into the picture, I never got involved in the discipline or decision-making in his life. He had two parents that were doing this for him, and it would overcomplicate things and cause resentment to have a third voice that was different from what he was used to. I was always kind and generous with him even when I wanted to give him a piece of my mind for the way he was treating me; I always tried to have compassion for what he was going through and understand that that's how kids his age deal with their feelings. It really wasn't personal. I also tried really hard to not criticize my husband's parenting or my stepson's behavior toward my husband. I vented to a therapist and my good friends and kept my mouth shut at home, which helped my marriage a great deal.
"I myself got a stepmother when I was around Ray's age and she did the opposite of all these things and I resented her and totally rebelled, which is why I resolved to do it differently. Now, Ray is 23, and we are friendly, conversational and cooperative—and his six-year-old twin half-siblings see him as their hero."
—Monica Maresca, Montvale
"My husband Larry and I have been together since 2006. We were both divorced, and we each have two sons from our prior marriages. We also have a 22-year-old niece who came to live with me when she was 11 after her mother, my stepsister, died of brain cancer. Stepparents have it tough sometimes. We see the struggles and want to see everyone happy, but sometimes our advice is not welcome. Listening and not attempting to repair a situation is the No. 1 thing Larry and I work on—we work every day on listening and not responding. We also make it known that family does not mean just blood relationships. Blood is thicker than water, but everyone gets a transfusion in an integrated family. And we don't play favorites. Everyone is our child and is loved equally and unconditionally. Larry especially ensures that we spend time with each other, even though everyone lives in different cities now. Each of our children knows how much we love him and can count on us to support him, and the boys support each other and know they have each other to rely upon. This doesn't mean there is never conflict, but there is always forgiveness and kindness at the very core of our family values."
—Fran McCaffrey (with help from husband Larry), Ho-Ho-Kus
"I have been divorced for more than eight years. My ex-husband is remarried and has two children with his new wife. I am not remarried, but in 2016 I moved in with my boyfriend Alex, who was never married and has no kids of his own, and we consider ourselves to be husband and wife. As we were transitioning into our new way of life, my ex-husband, with whom I had shared custody of my children (now 10 and 12), moved to Georgia for a job. Our kids stayed back with me.
"It was a very difficult time, and transitioning took a lot of work and a lot of time, especially since my kids had to deal with their father moving away. But Alex has stepped up to the plate in so many ways over the past several years. I think part of the reason we've made it all work is because my ex and I deal with our emotional stuff behind closed doors and not in front of the kids. Putting kids in the middle of battles is just so unhealthy for everyone. Also, I never viewed my ex's children as 'the other kids' from 'the second wife.' They are my kids' siblings. They are their blood, and that makes them a part of my family, no matter that they came from a different mom. I am also a huge believer in therapy for the individual, a couple or a family. I am the founder of Yin and Yang Mom—it's a mommy mental health community here in Bergen County—and I speak a lot about our personal parenting dynamics. I try to tell people that we are a true success story and proof that with a lot of self-introspection, respect, communication and collaboration, there can be happiness after difficult times."
—Renee Jensen, Harrington Park
"Our stepfamily was created in July of 1982, when my stepdaughter, Tracy, was almost 10. Her mother was living, but largely uninvolved. Needless to say, Tracy and my husband Charlie have always shared a very special bond. I respect what they have and do not find it threatening. Initially my relationship with Tracy was difficult because I did not know anything about 'kid stuff' and never wanted to have children of my own. But our relationship evolved over the years. I have always believed that what helped the most was the love and patience shown by both Tracy and Charlie. They never gave up. The two of them actually taught me the meaning of love. Tracy and I long ago stopped using the 'step' prefix. She is my daughter; I am her mother. Tracy, now a mother herself, eventually would end up becoming an OR nurse like I am and working in the same operating room I worked in. Blending families is no doubt as difficult today as it was 37 years ago, but it can work!"
—Barbara Gorga, Waldwick
What Experts Say
On how to establish trust with a stepchild: "A successful relationship with stepchildren requires the strong foundation of the parents, i.e., teamwork. With this strong commitment to each other, the stepchildren will feel secure and will prosper. A stepchild needs understanding, love and a firm, guiding hand. Be sure not to step over your boundaries as a stepparent—take it slow in order to gain the child's trust. Patience is the name of the game."
—Lenore Millian, Ph.D., author and licensed psychologist, Woodcliff Lake
On how to ensure a healthy stepchild/ stepparent relationship: "Stepfamily life is complicated but can be very rewarding. The main thing to keep in mind is stepfamilies do not 'blend.' New stepfamilies are biologically based and the bio-parent needs to be primarily involved with his/her children. Stepparents are not replacement parents. Also, know that it takes time for stepfamily relationships to feel like a family; the average stepfamily takes five to eight years to bond."
—Robert Klopfer, LCSW, director, Stepping Stones Counseling Center, Ho-Ho-Kus