How to Cook Smarter with Wi-Fi Connected Kitchen Appliances
SPONSORED CONTENT—Planning a new kitchen? The Appliance Experts at AjMadison have you covered! Learn more about the top trending smart appliance products.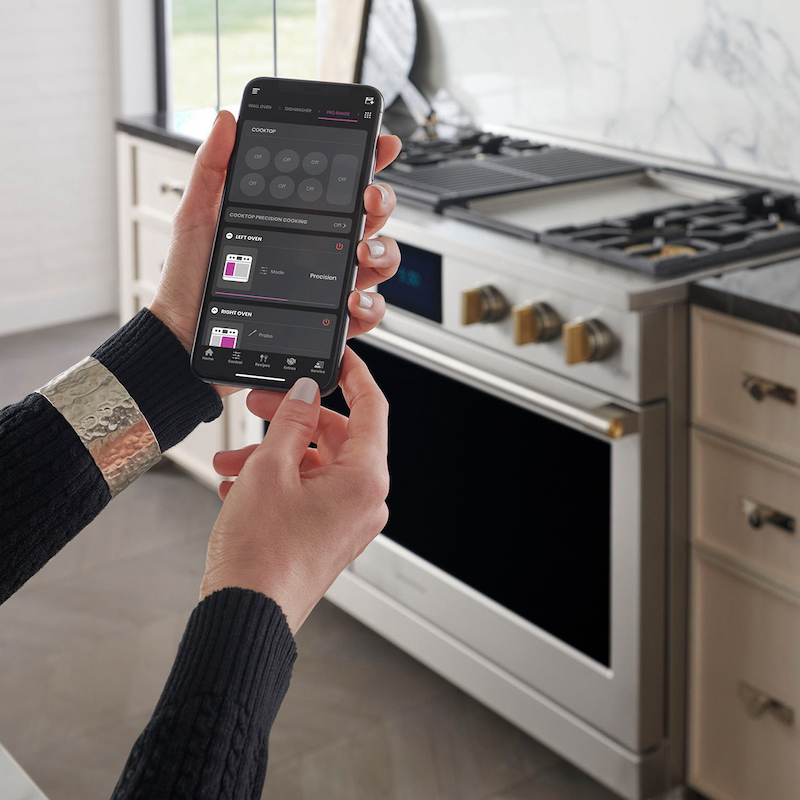 Tips for Smarter Cooking
Appliances can bring joy and excitement to cooking at home. Whether a seasoned chef or an aspiring culinary arts enthusiast, today's appliances will bring homemade meals to the next level. With so many possibilities, the options are seemingly endless. To get started, consider your cooking style, favorite dishes, and recipes and select cooking appliances that will help you prepare meals to perfection. AjMadison offers an unrivaled selection of top-rated appliances.
Looking to the future, the possibilities are limitless. With smart cooking appliances, anyone can make restaurant-quality meals at home. Trending Wi-Fi-connected appliances can help the cook with step-by-step instructions. Select guided cooking appliances can calibrate for confounding factors like portion size or pan type. They provide guard rails against failure in the kitchen, ensuring perfectly prepared results every time.
How to design your kitchen with the right appliances? With so many brands and available products to choose from, the Appliance Experts at AjMadison make choosing your kitchen appliances easy and fun!
Top Trending Smart Appliances in 2021
1.    Indoor Hearth Oven
The Monogram ZEP30SKSS hearth oven brings cooking at home to a whole new level. It's superior performance and easy-to-install electric design makes this piece a must-have for culinary enthusiasts and pizza lovers. It is the best indoor solution for making artisan-style meals at home. The Hearth Oven reaches 1300 degrees to make restaurant style pizza in 2-3 minutes. Plus connect with other smart devices and apps like Amazon, Alexa, DiGiorno, Drop, IFTTT, Innit, Sonos, and the Google Assistant. Making pizza can be a fun activity the whole family will love. One of a kind pizza oven for residential use. Create your own "brick oven" pizza in the comfort of your own home. This oven is also great for other meals like cast iron casseroles, baked fish, or roasted vegetables. Delicious would be an understatement.
2.     Double Oven with Air Fry and Air Sous Vide
The Electrolux ECWD3011AS wall oven comes with top features like convection baking, Wi-Fi guided cooking, air fry mode, and steam assisted cooking. Experience ovens designed to enhance nature's flavors and inspire culinary creativity. In-oven sous vide modes enhance juiciness, texture, and flavor. You'll master complex recipes with innovative multi-stage cooking modes, which can change the temperature on its own. Download the Electrolux App to your smartphone to connect and to program your oven on-the-go.
3.     Cooktops with Bluetooth Connectivity
Induction is the most popular electric cooktop surface for its easy cleaning, safety, and responsive control. This Bosch 800 Series NIT8669SUC cooktop can communicate with compatible vent hoods delivering optimal ventilation.
4.     Microwave Combi Oven with Steam
Instead of investing in multiple appliances to take on small, specialized tasks, multi-purpose appliances pack a greater variety of functions and features. The Dacor DOC30P977DS Transitional combination wall oven has it all. It is a Wi-Fi-connected smart combination oven with a speed microwave oven on top and a steam-assisted convection wall oven.
5.     Built-In Coffee Coffee Station
A built-in coffee machine is a cozy addition to any kitchen or dining area. A dedicated coffee station will deliver comfort and luxury for your daily needs and hosting future gatherings and holidays. A coffee connoisseur's dream, The Thermador TCM24PS smart coffee machine delivers exceptional coffee, tea, and espresso beverages. Operate this intelligent coffee maker from your smartphone, speaker, or Tesla through the Open-Source Home Connect app. Take a tasting tour and download traditional warm beverages from around the world.