How To Make the Most Of Remote Learning During COVID-19
A remote learning specialist in Bergen County shares how parents and teachers can make online classes beneficial, not stressful, for their kids and students during this time of uncertainty.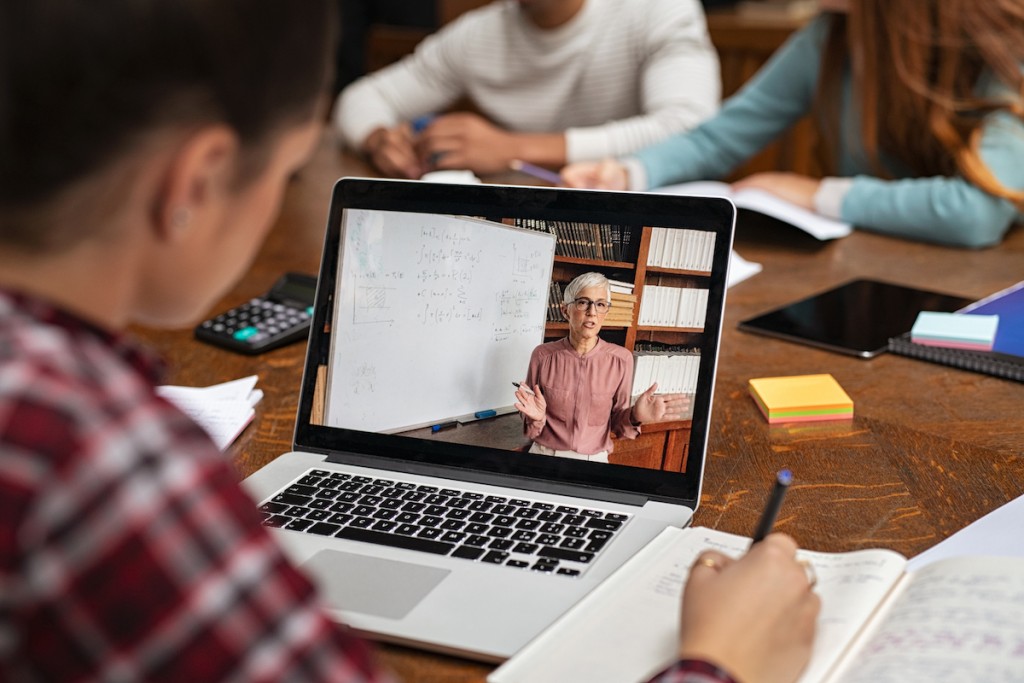 We hate to say it, but it's likely going to be months, not weeks, until schools throughout Bergen County and the rest of New Jersey open and classes resume as normal. That means parents and teachers will be schooling kids of all grade levels remotely—thanks, technology—until restrictions amid COVID-19 are lifted. So that's why BERGEN asked a remote learning specialist (and former New Jersey Teacher of the Year, by the way) to share his tips for how we can make the most out of virtual learning—and let us know that yes, it's going to be okay.
Below, read our Q&A with Ridgewood's Robert Goodman, a former science teacher at Bergen County Technical Schools and the current executive director of the New Jersey Center for Teaching and Learning (NJCTL). Editor's Note: For more tips on teachers' innovative aids, check out the May issue, delivered to your mailbox and online.
BERGEN: First and foremost, what is the most important thing you want parents to know about remote learning during COVID-19?
Robert Goodman: It might be tempting to think of learning as something that could be put on hold for a while, and that might be true about its long-term benefits…you could make up that lost time later. But if weeks go by without students being in an effective learning environment, they will miss out on the pleasure of discovering new things and taking on intellectual challenges and overcoming them. It's a lot like exercising. It may not be what you want to do every day, but you always feel better after you do it.
BERGEN: What is the parent's role in remote learning, regardless of the grade levels of their kids?
RG: A parent's role depends very much on the age of the child. A child's at-home learning should reflect the type of schedule he or she had in school. That will be very different for a Pre-K than a high school student, but regardless of grade level, maintain the balance between study, play, art, music and socializing that's appropriate for the child's age. Also, if your child's teachers provide a coherent program of learner-centered instruction, you should follow that as closely as possible.
BERGEN: How can parents teach their kids remotely beyond just the use of screen and video conferencing tools like Zoom?
RG: Keep in mind that there is also time in the school day for socializing, physical activity, labs, projects and lunch—it's not all taking place in the classroom. It makes sense to mirror the amounts of time your child was spending in each of those during their time in school. That includes giving them time to talk to friends using a chat or video service, have lunch with friends in a Zoom room, exercise in or out of the home, do lab projects using materials at home, etc.
BERGEN: Many parents who are also teachers have the extra burden right now of teaching their students and teaching their own kids. Do you have any advice for these men and women?
RG: This very much depends on using tools to provide asynchronous instruction [pre-recorded lessons, as opposed to live ones, that students can do at their own pace]. Lecture is not effective in classrooms and is less effective online via platforms like Zoom. Now is the time to fully embrace "flipped-classroom" approaches in which learning core ideas are created by immersing students in a rich virtual environment. Then the time in Zoom is for students to ask questions and discuss ideas that emerged from their study. This will lead to more effective teaching and learning and lower the stress on teachers and their students.
BERGEN: How does NJCTL and its focus on STEM specifically come into play at a time like this?
RG: NJCTL has complete comprehensive sets of free materials for teaching and learning mathematics and science each year from kindergarten through 12th grade and AP. These were initially designed to be used by teachers in their classroom and replaced textbooks, but they are equally useful and accessible to students and parents and can be used on any device by using the posted PDF and Word versions. Those are located at njctl.org/materials.
And now, with the advent of school closures, NJCTL created student versions of these courses, leaving in just the instruction about the subject itself. These are available free. They are self-study courses that allow each student to learn at his or her own pace. You can learn more at https://njctl.org/parents.