How to Pick the Right Gym
5 ways to help make sure working out will work out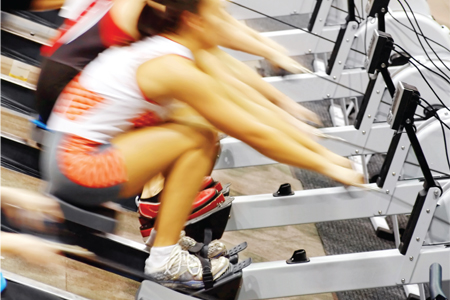 As the days get shorter and the weather worse,more people turn to health clubs, workout studios or gyms to stay in shape. In fact, some 51 million Americans belong to these facilities, according to the International Health, Racquet & Sportsclub Association (IHRSA ).
Predictably, January is a boom time for new gym memberships. Alas, the good intentions often don't last long: Forty-five percent of members will quit going to the gym in a given year, and 30 percent will cancel their memberships, according to the American Heart Association.
To avoid ending up out of pocket (and out of shape), choose wisely:
Prioritize convenience.
"The facility you pick needs to be not only a convenient commute, but convenient at the times you are likely to go," says Bill Lutz, a certified personal trainer and certified strength and conditioning specialist in Waldwick. "If you pick a gym on Route 17 and you're likely to go at 5 p.m., know that you'll be hitting traffic both ways."
Similarly, visit the health club at the times you're likely to want to work out. "If the club has 20 stair steppers, that may look like a lot—but it's not if there are 25 people wanting to use them at the same time you do," Lutz says.
Soak in the vibe before signing up.
"Too many gyms try to put different kinds of animals in the same cage, and they may not get along," Lutz says. "The ambiance has to be acceptable to you. If a club has a focus on power-lifting, a bunch of sweaty guys screaming and yelling may not be conducive to a softercore approach." Many clubs will allow prospective members a brief trial period to check out the facility. Ask.
Know thyself .
A zesty Zumba class, massage services and an Olympic-size pool do you no good if you won't take advantage of them. Reflect on what you enjoy and feel you need most. Yoga, Pilates, spinning or a compact circuit of workout machines that gets you in and out quickly? Identify the factors that will keep you coming back and you'll be less likely to find excuses not to go.
Check for cleanliness.
This is not only a matter of aesthetics, but also of health: Skin infections and other ills can spread like wildfire when many people share equipment and showers. "Check bathrooms and showers at more-trafficked times to be sure they're clean—not just at 7 a.m. after the overnight cleaning crew has been through, but at 6 p.m. after there's been a fair amount of traffic," says Lutz. "Is antibacterial soap available? Is there ample toilet paper? Are there paper towels? Does the air smell fresh?"
Be realistic about what you can pay.
Cost is the number-one reason people cancel their memberships, according to IHRSA , and indeed the fees can be significant. Shop around.
Many clubs will offer lower monthly fees if you sign a yearly contract, but it may be smarter to pay more for a month or two until you know whether you'll really make good on your resolution to go to the gym. If you do opt for a yearly contract, be very clear about the cancellation policy, including what happens if something—a move, an illness—requires you to cut the commitment short.
In any case, know that cost is negotiable—particularly at the end of a month, when managers may be under pressure to reach sales targets. A health club may be responsive to cutting or eliminating the sign-up fee, matching the offer you got from a competitor or throwing in free sessions with a personal trainer.