How to Set a Winter White Table
A local florist extraordinaire shares her secrets to creating a modern tablescape in a fresh new palette.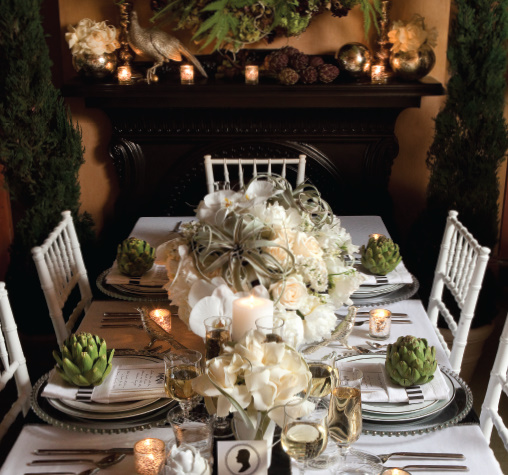 We asked Anne Miller, retail and event director of The Little Flower Shoppe in Ridgewood (201.652.7600, thelittleflowershoppe.net), to share her tips on how to create a gorgeous wintery white table for the holidays.
"Don't be afraid that there is too little color," says Miller. "All the volume and merriment of the season will ring through in an elegant and balanced manner when you pair sculptural green vegetation such as ornamental artichokes with white and cream botanicals. Let your muse for this season be found in the market through mission figs and deep black raspberries and porcelain berry vine. Choose a single botanical element such as cream roses or white amaryllis to be the driving force in your winter white tablescape."
To set the tone for a luxurious wintry night, Miller likes:
• Fair Bianca garden roses paired with silver Tillandsia and Lamb's Ear.
• Citrus elements including calomondin oranges and kumquats that are still green. "They are beautiful when paired with white Ranunculus," says Miller. "The scent of the citrus is quite beautiful and doesn't overpower with heavy floral notes. Instead, they offer a lovely citrus scent."
• Black privet berries, porcelain vine and black raspberries. "They are great nestled between large white Amaryllis," says Miller.
• Green artichokes. "They are so sculptural and provide unexpected sophistication," explains Miller. "If you're intimidated by flowers, turn to fruit or vegetables for the table.
To continue the mood, click here to download our chic holiday party playlist.
Held together with hints of weighty Bossa Nova, orchestral flair and bluegrass, this sexy, hip (and classic) mix blends many genres to create the perfect background for an intimate dinner party or a laidback evening of cocktails.