'I lost 72 pounds'
A lap-band procedure puts a lawyer on the path to a healthier life.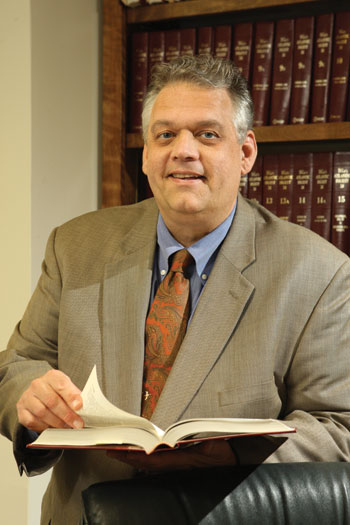 A lap-band procedure puts a lawyer on the path to a healthier life.
Everyone deals with stress differently. For Mark F. hughes iii of rumson, food was the way to relieve the pressures of life. But too much food caused its own problems, and when Hughes reached 407 pounds, he and his family knew that he needed help, and fast.
That help came in the form of a family intervention that forced Hughes to face his problem, and the skills of Frank J. Borao, M.d., who is both the surgical director of the Gastric Esophageal Center and chief of minimally invasive surgery at Monmouth Medical Center. Dr. Borao performed a bariatric procedure called lap-band surgery on Hughes in March of 2009. Since then, Hughes has lost 72 pounds. "Our goal is to get him down to around 220," Dr. Borao says. "there's no question that he can do that."
Hughes, an attorney, has a wife, Lisa, and a son, Connor, 10. though he was heavy as a child, he says he grew tall in sixth grade and carried 175 pounds on his 6-foot-1-inch frame through high school and college.
But while attending Brooklyn law school and working as a legal assistant, he put on weight. "I was working in Manhattan, then going on the subway to night classes, and eating a lot of junk food," Hughes says. "I had no time for any physical activity."
After law school, Hughes got busy working on his career. In 1993, he worked as a law clerk in the Monmouth County prosecutor's office, moving into criminal defense work in 1994. he spent a number of years with his father's civil practice before returning to criminal defense. He served as a
municipal prosecutor while working for a state senator and then opened his own practice in 2006.
He also got married and had a son, by which time his weight was up to 325 pounds. "I was using food to manage the stress of supporting a family while running my own business," he recalls.
Achieving professional independence didn't help. "I expected it to be better being my own boss, but that didn't translate to weight loss," says Hughes. "Even though there were financial rewards, there is always the pressure of keeping a small business afloat. I had little time for my family and I wasn't doing anything to lose the weight."
Finally, Hughes began seeing a personal physician, who tried to help him lose weight. "This was about three years ago," he says. "She said I was digging a deep hole for myself, and broached the idea of bariatric surgery. I went to one seminar on it, but I wasn't crazy about the idea, so I didn't act on it."
His weight kept increasing and soon caused health problems. He developed high blood pressure, hyperglycemia and sleep apnea. He also suffered from a chronic skin condition called cellulitis. "Cellulitis is a diffuse inflammation of connective tissue that is associated with infection of the skin," says Dr. Borao.
At this point, with his weight around 400 pounds, his family forced his hand. "My parents and my wife came to the doctor's office with me," Hughes says. "They knew that I needed to do something drastic and offered to help in any way they could, so I agreed to do the surgery. I did not resist them at all. I saw the writing on the wall and capitulated immediately."
His doctor then referred him to Dr. Borao, and Hughes immediately started the six-month pretesting program that is required of all bariatric surgery patients. "I needed six months of attempted weight loss with a physician," he says. "When I didn't lose any weight, I was interviewed by the staff psychologist, nutritionist and Dr. Borao." They decided to try the lap-band procedure, which entails making a small pouch at the top end of the stomach with a saline-filled band.
He scheduled the surgery for February 2009, but another bout of cellulitis sent him back to the hospital that January. His surgery was delayed until March 30, 2009.
Because it's done with minimally invasive techniques, the procedure requires no overnight stay in the hospital. "I got there about 5:30 a.m. and came home later that afternoon," Hughes says.
The surgery and subsequent weight loss quickly brought results. "He has reduced his blood pressure and hyperglycemia medications, and he's sleeping much better," Dr. Borao says. Though his weight loss has slowed in the past few months, Dr. Borao can modify the lap band to help him continue to reduce the amount he eats. "The nice thing with the lap band is we can adjust it as needed and there is no limit to the number of adjustments," Dr. Borao says. "It takes five minutes to perform and is done in the office."
Hughes now says his earlier apprehension about the surgery was unfounded. "It turned out to be very workable," he says. "It was a 100 percent positive experience. There is nothing to fear and everything to gain by pursuing this surgery if you are an appropriate candidate and follow the regimen."
Though he still feels tempted to overeat, he knows he can't take that path again. "I did some real damage to myself because of what I was eating, and I don't want to do that anymore," he says. "Surgery helped me to acknowledge I have nothing to gain by abusing food and everything to lose. I needed surgery to jar myself loose from old habits. The true value of surgery is it tells you that you can change, and I want to change. I want to be around for my son."
To find out more about bariatric, or weight-loss,surgery at Monmouth Medical Center, please call 888-SBHS-123 (888-724-7123).